Getty Images
FTC orders study of deceptive advertising on social media
The Federal Trade Commission has ordered eight social media companies, including Meta's Facebook and Instagram, to report on how they monitor deceptive advertising.
In response to what it says are numerous complaints, the Federal Trade Commission will order eight social media companies to provide detailed reports on how they monitor deceptive advertising on their platforms.
The FTC on Thursday voted to issue orders to social media platforms including Meta's Instagram and Facebook, as well as video streaming platforms such as TikTok and YouTube, requiring the companies to provide written responses describing processes for assessing and classifying advertisements, and to turn over information such as ad revenue and documents concerning policies and practices addressing deceptive advertising.
The FTC is issuing the order under Section 6(b) of the FTC Act, which gives it authority to require a company to answer specific questions about its business practices.
The motion to issue the orders and conduct the study on deceptive advertising passed unanimously.
A lot of the FTC's work has uncovered that major social media and video streaming platforms have become a significant vector for misleading ads, financial scams and other types of fraud.

Lina KhanChair, Federal Trade Commission
"A lot of the FTC's work has uncovered that major social media and video streaming platforms have become a significant vector for misleading ads, financial scams and other types of fraud," FTC Chair Lina Khan said during the FTC's public hearing Thursday. "Given these broader trends, it's important for us to understand why fraud is proliferating on social media."
FTC study on deceptive advertising
FTC staff has received numerous complaints regarding fraud originating from ads on social media, a trend that seems to be increasing, said Laura Sullivan, an attorney in the FTC's division of advertising practices. The study will assess advertisement data from 2019 to 2023.
"These orders seek information about the companies' business practices to screen commercial paid advertising and curb consumers' exposure to fraudulent healthcare products, financial scams, the sale of counterfeit and fake goods, and other fraud," Sullivan said during the hearing.
The study aims to provide the FTC with an understanding of social media platforms' disclosure tools for advertisements, the scale of deceptive advertising and consumer groups harmed, and processes for creating ads on the platforms through the use of emerging technology such as generative AI systems.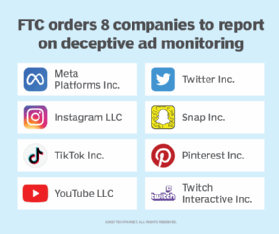 Khan said she's interested in whether social media platforms' business models, which she said focus on driving user engagement, provide an incentive to crack down on fraud or, in some instances, to willfully disregard deceptive advertising.
"I'm also going to be especially eager to understand how the personalization and targeting tools the platforms are providing may also be enabling fraudsters and scammers to target their victims with greater precision," she said. "The findings in this study could equip the commission to combat consumer fraud more effectively."
FTC Commissioners Rebecca Slaughter and Alvaro Bedoya applauded the study's goal of assessing both English- and Spanish-language advertisements.
"There's good reason to believe that non-English speakers receive fewer protections and investments in safety online than English speakers," Slaughter said during the hearing. "Of course, there are many more languages spoken in the United States than just English and Spanish. But studying the second most-spoken language is a great start and underscores the commission's commitment to protect consumers in every community."
Makenzie Holland is a news writer covering big tech and federal regulation. Prior to joining TechTarget Editorial, she was a general reporter for the Wilmington StarNews and a crime and education reporter at the Wabash Plain Dealer.