Getty Images
Capital One study: Businesses battle with self-service data
Technical, cultural and financial issues hinder organizations from enacting self-service data strategies that include business users as well as data specialists
Most organizations want to offer enterprise data to an expanded user constituency -- including non-technical professionals -- but few are managing to do so.
A Capital One Software-commissioned study published today found 86% of the 150 data science and analytics decision-makers polled viewed self-service data strategies as critical to business success. But less than a quarter of respondents' organizations have engaged business-focused roles in such strategies. Forrester Research, which conducted the survey on Capital One Software's behalf, defines self-service data strategies as approaches that let technical and non-technical professionals "leverage data faster without a central tech team."
Patrick Barch, senior director of product management at Capital One Software, cited the discrepancy between the value businesses place on self-service and their lack of success in getting there as the study's most surprising result.
"That suggests to me there are a whole bunch of leaders staring at the problem and they don't have a way to solve it," Barch said.
Varied issues affect self-service data
The difficulty stems from a mix of technical, cultural and financial considerations. On the technical side, 49% of respondents ranked "maintaining user friendly environments" among their top challenges. User experience is a complicated issue, given the different groups that need to access or manage data. Depending on the use case, those groups could include data producers, consumers and stewards or finance, technology platform and business teams, Barch noted.
The goal is to create an environment "for all of these people to get their jobs done," he added.
Other key technical challenges included increasing data trust and quality, which 49% of the respondents cited, and scaling self-service for decentralized environments, which 47% of the respondents identified, according to the study.
But technology is only half the battle, according to Barch. Organizations must work through cultural issues, which also arise from the diverse nature of the teams producing, consuming and managing data. Each of those teams have bespoke needs and, generally, build their own tooling and patterns -- ways of producing, consuming and governing data -- to do their jobs, he noted.
"But as cloud and big data are forcing more collaboration, they're having to adopt new tools, new routines and new ways of working," Barch said. "Scaling anything is hard, particularly when you are trying to enable different persona groups with differing objectives."
Against that backdrop, 75% of the data and cloud decision-makers polled in the Forrester Research-Capital One Software survey said their firms' culture must become more collaborative for self-service to succeed.
The financial aspect, meanwhile, challenges organizations to develop a solid ROI story. More than half of the respondents cited difficulty funding self-service data strategies, with the difficulty of creating a through line from strategy to business success cited as the main obstacle.
"High upfront costs are eclipsing the potential for cost savings down the road," the study stated.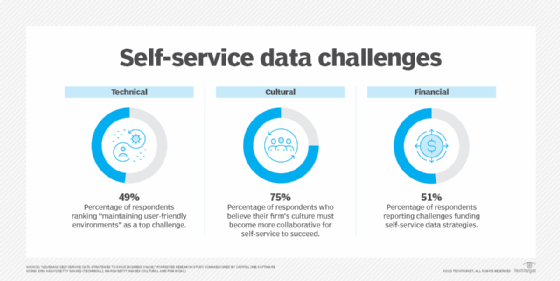 Demonstrating self-service ROI
To overcome the funding hurdle, Barch recommended organizations treat self-service as a table stakes requirement for any data initiative, rather than a standalone initiative needing separate investment. This approach generally makes it easier to get funding since self-service becomes part of a broader data initiative.
[The study] suggests to me there are a whole bunch of leaders staring at the problem and they don't have a way to solve it.

Patrick BarchSenior director of product management at Capital One Software
Including self-service as a component of any data initiative maximizes the value the broader data investment, Barch added, noting the connection between self-service and business success.
In addition, an organization must tie the benefits of self service to a tangible business outcome such as improved decision-making, higher-quality data science models or reduced risk, he said. The risk reduction benefit comes into focus as more of a business' data adheres to governance principles.
"There are really multiple ways to think about evaluating and quantifying the ROI," Barch said.
Barch said much of the survey's results track with Capital One's self-service data experience, noting the financial services company's continuing steps to improve the data-consumer experience and make governance easier.