Getty Images/iStockphoto
Cloud costs increase amid SaaS pricing hikes
CIOs face higher SaaS prices, with a new report pegging the inflation rate at 8.7%. The wider cloud segment saw a 3.2% inflation rate in October, according to U.S. government data.
Cloud prices edged up in October according to the U.S. government's latest wholesale inflation index, while an industry report highlighted SaaS pricing as a cloud cost contributor.
The Producer Price Index (PPI), released this week, reported a year-over-year price increase of 3.2% for data processing, hosting and related services, a category in which cloud computing is an important contributor. The month-over-month price increase was 0.4%. The October PPI uptick was enough to set a new mark for inflation in the data processing and hosting services category. The previous cloud pricing peak was established in August.
Other segments within the cloud computing market are experiencing higher inflation. Vertice, which provides a cloud and SaaS cost optimization platform, pegged the 2023 SaaS inflation rate at 8.7%. The London company's annual SaaS Inflation Index, published this week, noted that nearly three-quarters of software vendors raised prices over the past 12 months.
"Among the quarter of vendors that didn't raise prices, almost all have reduced the size of the average discount afforded to customers -- effectively raising spend without touching the list price," said Joel Windels, vice president for North America at Vertice.
Vertice found a growing disparity between SaaS and consumer price inflation rates. While SaaS inflation remained fairly steady in the company's 2022 and 2023 indexes, with rates estimated at 9% and 8.7%, respectively, the United Nations' global consumer inflation projections dropped from 7.5% to 5.2%. That translates into a gap of 20% between SaaS and consumer inflation rates in 2022 and a 68% gap in 2023, according to the Vertice report.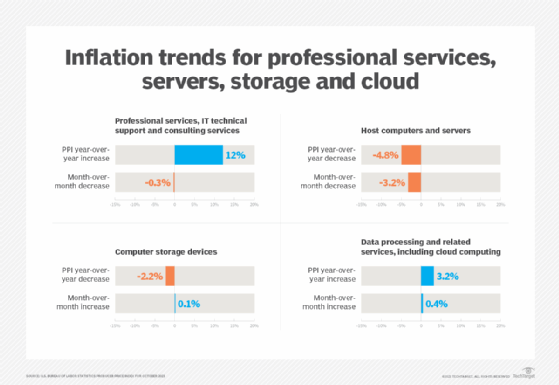 Cloud inflation drivers
Several issues influence cloud inflation. Vertice cited cloud providers' desire to grow revenue in a challenging economy as one consideration.
While it's natural for product pricing to evolve over time, software vendors are hiking prices at a much more aggressive pace than other sectors.

Joel WindelsVice president for North America, Vertice
"Tech companies' revenue growth is not as good as it was in previous years, and increasing prices is a relatively simple way of trying to squeeze more dollars out of their customers," Windels said. "While it's natural for product pricing to evolve over time, software vendors are hiking prices at a much more aggressive pace than other sectors."
Aashish Chandarana, CIO at Productiv, a SaaS management company in Palo Alto, Calif., suggested cloud vendors have increased prices to offset the effects of customers cutting back on usage. Coming out of the COVID-19 pandemic, which saw a significant uplift in cloud adoption, CFOs are demanding more control over spending based on macroeconomic conditions, he said. CIOs, for their part, have focused on optimizing cloud use.
Another issue: changes in cloud contracting. Chandarana said cloud contracts 10 to 15 years ago had renewal clauses where pricing was set on a base fee plus the inflation rate. That practice disappeared over the years, but now that language is coming back into cloud contracts, he added.
Cloud vendors also pass along their own increasing costs. Persistent chip shortages have driven up hardware expenses.
"Their costs have genuinely gone up," Chandarana noted.
'Shrinkflation' becomes a factor
Vertice, meanwhile, also pointed to the trend of cloud shrinkflation, in which SaaS vendors charge the same fee for a reduced set of functionality. SaaS shrinkflation comes in many forms, including "unbundling," in which a vendor might switch from providing an all-in-one platform to "pricing for individual modules to squeeze more revenue per customer," Windels said.
Conversely, vendors also use bundling as a pricing strategy, bringing together multiple products into a single offering, he added. A customer might only need one product, but would be compelled to purchase the entire bundle to access it.
Windels said SaaS shrinkflation has affected 28% of businesses. That figure comes from Vertice's analysis of its customer base over the past year and the company's pricing database of 16,000 software vendors.
John Moore is a writer for TechTarget Editorial covering the CIO role, economic trends and the IT services industry.