Creativa - Fotolia
Alfresco cloud services aimed at business customers
Alfresco toes the line of open-source lineage while wooing new business customers with a suite of tools simplifying workflow customization as well as managed services.
Alfresco announced Alfresco Cloud, a managed-services suite meant to aid deployment and maintenance of the content management platform on AWS. It is currently in preview, to be released sometime in 2020.
Also part of the Alfresco Cloud is a content management-as-a-service app and a low-code development platform for customers to create their own apps for custom workflows.
Alfresco's content services are cloud-agnostic, deployable on Google, AWS or Microsoft Azure clouds. But the AWS-specific Alfresco Cloud was spurred by two large financial-services customers who didn't want to run Alfresco on premises or manage it in AWS themselves, said Mark Stevens, vice president of strategic programs at Alfresco.
From that grew a tool that Alfresco generalized, the company hopes, to appeal to businesses of all sizes. Alfresco Cloud will also pass along AWS storage and security services at a lower price point for some customers because of the Alfresco cloud's scale, Stevens said.
"They love the platform, they like building their digital operations on it, they just don't want to run the platform itself," Stevens said.
Alfresco Cloud courts business customers
The content management vendor, rebranded in mid-2017 as a digital business platform and acquired by private equity firm Thomas H. Lee Partners in February 2018, looks to stay true to its open-source roots while offering more business-friendly tools that require less developer overhead, said analyst Alan Pelz-Sharpe, founder of Deep Analysis.
Like its competitors, including OpenText and Acquia, Alfresco recently added AI and machine-learning features to automate content management and curation. Taken together with the rebrand and with growth-minded new ownership, these tools will expand the appeal of Alfresco to a wider audience.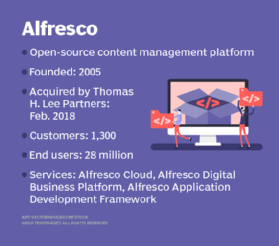 The app platform, for example, will enable customers to customize routine workflows for marketing campaigns, customer onboarding and other office processes such as OCR of scanned paper documents, with less capital outlay. Such projects will likely be accomplished with internal teams of three or four people, instead of outsourcing it to teams of 20 or 30 developers, Pelz-Sharpe said.
"If you want to grow the company, you need to be doing more than providing great open-source tools," Pelz-Sharpe said. "That was a great business model 10 to 15 years ago. After all of these years of developing the core technology, they have a great base to build on."
CX users to benefit
Alfresco Cloud will include Alfresco-certified connectors into popular CX platforms such as ServiceNow and Salesforce, Stevens said. Customers can use them to build apps that flow content in and out of those systems.
Pelz-Sharpe said those will be a big help, as many companies are still in early stages of connecting CX-enabling technologies to enterprise back-end systems that actually fulfill the experiences.
"It's great to have a beautiful website, but to do real work -- customer onboarding, claims processing -- you really need to tie them neatly into those back-office processes," Pelz-Sharpe said. "It's very logical, but up until now they've been quite separated."
Dig Deeper on Content management software and services