ustas - stock.adobe.com
Microsoft buys Softomotive to boost Power Platform RPA
Microsoft's acquisition of Softomotive gives Power Automate users a low-code RPA system to build bots for Windows-based tasks.
Microsoft acquired robotic process automation (RPA) vendor Softomotive for an undisclosed sum to boost the low-code bot-building capabilities of Power Automate, formerly Microsoft Flow.
Softomotive has more than 8,000 customers; the acquisition makes it immediately available to about 300,000 more licensed Power Automate users. The company disclosed the acquisition during its Microsoft Build 2020 virtual developer conference this week, where CEO Satya Nadella touted the virtues of RPA during his keynote.
Softomotive's WinAutomation low-code environment enables Power Automate users to author bots that take on Windows-based tasks, wrote Charles Lamanna, Microsoft corporate vice president, Citizen Application Platform. It will boost Microsoft RPA's capabilities with thousands of new features, he added.
RPA options
There are two kinds of RPA bots: unattended, which run without human interaction, and attended, which are activated by humans. WinAutomation's attended RPA bots are immediately available free to Power Automate licensed users. Microsoft did not disclose licensing costs for unattended RPA bots.
Bots written with Softomotive and other RPA platforms typically involve processes with apps where APIs aren't available, said Terry Simpson, technical evangelist for Nintex, a process-automation company and large Microsoft partner. Bots record a person's mouse movements and repeat them, porting data. Two examples include at checkout at Lowe's home-improvement stores and at ticketing at Delta Airlines' ticket counters, which connect modern web interfaces to ancient, but stable, legacy applications.
Softomotive also adds 315 APIs to Power Automate, connecting Windows applications to SAP, Java, Citrix and traditional green-screen terminal applications.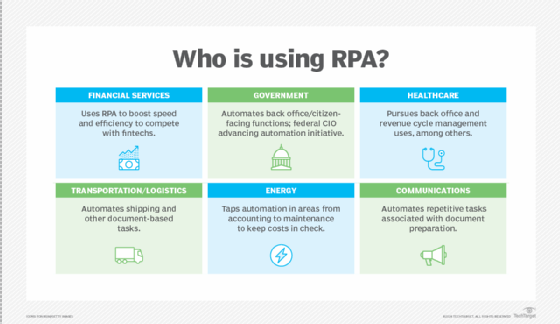 While Microsoft has low-code RPA features in the Power Automate suite called UI Flows, they are cloud-based, which doesn't work for many customers, said Craig Le Clair, a principal analyst with Forrester Research. Softomotive, on the other hand, can generate desktop bots that run offline.
"[Previously], if you wanted to run RPA in a call center, you needed a persistent internet connection -- and that wasn't always available and even if it was, the agent's desktop in a customer service environment can't withstand any delays," Le Clair said. "Softomotive gives them a solid, attended-mode solution that doesn't require that persistent connectivity."
How Softomotive's RPA fits Microsoft Power Platform
In typical companies, many departments can use RPA, from HR to IT help desks. Customer experience teams also find utility in RPA to help human agents more quickly solve problems and to create customer service bots to handle simple tasks, such as password changes and order shipping status.
Softomotive gives [Microsoft] a solid, attended-mode solution that doesn't require that persistent connectivity.

Craig Le ClairAnalyst, Forrester Research
On the content management side, SharePoint users typically use Microsoft RPA bots to gather data from disparate sources as complicated as SAP systems or as simple as Word documents and Excel spreadsheets housed on local drives in SharePoint repositories. There, they perform repetitive tasks such as populating forms, Forrester's Le Clair said.
Microsoft's acquisition of Softomotive validates the up-and-coming RPA technology sector, Le Clair said, adding that acquiring a smaller RPA vendor that caters to smaller workgroups makes sense, because that's who tends to use Microsoft's Power Platform to build automation bots.
Larger RPA vendors including Blue Prism, UiPath and Automation Anywhere have more capabilities to uncover oft-repeated processes ripe for automation and to collect data from unstructured content. Microsoft RPA users, Le Clair said, tend to have less complicated needs.
Nintex's Simpson believes that Microsoft bought Softomotive, ultimately, to drive Azure consumption and revenue. Getting low-code appdev capabilities into the hands of more users will ultimately accomplish that.
"Developers can only allow Microsoft to scale to a certain point," Simpson said. "If they want to be able to scale much faster and automate a lot more processes, they have to allow the citizen developer to go out and automate things ... and the bots gotta run somewhere."
Dig Deeper on Information management and governance