Getty Images/iStockphoto
DocuSign launches AI-backed live video ID verification tool
The e-signature vendor's new AI-supported identity confirmation tool uses biometrics and live video to verify signers' identity and physical presence at the time of signing.
DocuSign on Tuesday released an AI-backed identity verification tool.
The electronic signature vendor's new tool, Liveness Detection for ID Verification, uses biometric visual scanning in live video recordings to confirm a document signer's identity and presence at the time of signing. It's generally available today as part of DocuSign's ID Verification and ID Verification Premier offerings at no extra cost, according to DocuSign.
DocuSign partnered with Onfido, an automated identity verification vendor, to create the system.
A native integration
DocuSign's new tool differentiates the e-signature vendor from competitor Adobe because Adobe does not offer this capability under the Adobe Sign license, according to Futurum analyst Keith Kirkpatrick.
Rather, it has Adobe Digital Identity Gateway, which lets users access such tools from a third-party vendor.
By contrast, Liveness Detection for ID Verification sits in DocuSign's eSignature workflow, making it a native capability, which may take less time to access and use, Kirkpatrick said.
"DocuSign appears to be making it far easier to implement AI-powered ID verification in a much more integrated and simple way, which many organizations will value," he said.
Other competitors also offer comparable tools, IDC analyst Holly Muscolino noted. Like offerings from other platforms, DocuSign's new tool instructs users to move their heads in a particular way while on video to ensure they are real. However, the supporting technology is different.
"I have seen similar capabilities from other vendors, but they are not necessarily 'AI-enabled,'" she said.
DocuSign holds a strong position against other electronic agreement vendors and maintains it by acquiring outside technology and developing modern tools, Muscolino said.
"DocuSign continues to dominate the e-signature market in terms of market share," Muscolino said.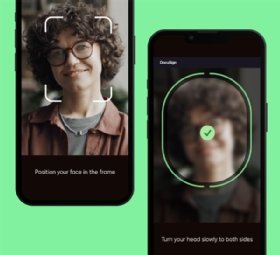 Aiming for accuracy
Liveness Detection for ID Verification uses AI technology in biometric analyses of users' live video selfies and compares it to analyses of users' photo IDs to confirm a true match.
The goal is to block the use of fraudulent documents and pre-recordings as well as deep fakes, which are digitally altered video recordings that impersonate real people, and digital spoofing, which is impersonation through data.
When using AI technology to provide authentication, analysis accuracy is a main concern, Kirkpatrick said. This accuracy depends on the diversity level of the data sets used to train the models that inform the algorithms, with higher diversity giving higher accuracy, he added.
DocuSign appears to be making it far easier to implement AI-powered ID verification in a much more integrated and simple way.

Keith KirkpatrickAnalyst, Futurum Research
"Using AI models that are not highly accurate can have significant real-world repercussions, particularly if an AI identification-verification tool prevents a signer from completing a legal document, such as a contract, lease or employment offer letter," Kirkpatrick said.
DocuSign boosts the algorithm's fluency by evaluating liveness checks, according to Prakash Nanduri, DocuSign group vice president of product management and strategy.
"We will get the feedback and we will fine tune the algorithms … to improve the algorithmic accuracy," Nanduri said.
At this time, computer vision technology and biometric analysis support the new tool. It does not actually use generative AI, but DocuSign is planning to incorporate the widely popular new variant of AI in the next 12 to 15 months, according to Nanduri.
Mary Reines is a news writer covering customer experience and unified communications for TechTarget Editorial. Before TechTarget, Reines was arts editor at the Marblehead Reporter.