peshkova - Fotolia
DocuSign Agreement Cloud digitizes contract management
DocuSign's Agreement Cloud includes its classic e-signature tools, as well as new products and integrations to help customers digitize the agreement management process.
DocuSign has rebranded its products as DocuSign Agreement Cloud and launched several new products in the process. This marks a move away from the company's e-signature roots and toward a more complete approach to agreement and contract management.
DocuSign Agreement Cloud brings together existing e-signature, notary and legal compliance capabilities, as well as three new products -- DocuSign Gen for Salesforce, DocuSign Click and DocuSign ID Verification -- so customers can manage agreements in one place. It also includes workflow automation tools for contract management, integrations with business applications and industry-specific tools for real estate and government.
Organizations spend a lot of time and resources putting together contracts and getting them signed. The real challenge comes after the contract is signed, however, when an organization has to keep track of next steps, such as payment, said Ray Wang, principal analyst and founder of Constellation Research.
"A lot of time, that stuff is all over the place, and it is very hard to keep track of what has been completed," Wang said. "This announcement is very exciting, because customers want this all in one spot."
New features of Agreement Cloud
DocuSign Agreement Cloud includes DocuSign's e-signature product -- a contract lifecycle management tool from SpringCM, which DocuSign acquired in September 2018 -- as well as three new ones:
DocuSign Gen for Salesforce is available in the Salesforce AppExchange and draws from customer data and contract templates available in Salesforce to create ready-to-sign contracts. Customers can sign contracts from within the Salesforce interface. The goal is to increase the productivity and accuracy of the sales team and close deals faster.
DocuSign Click enables organizations to verify customer consent to standard terms and agreements through a click, rather than signature. This will make it easier for companies to comply with GDPR and the upcoming California Consumer Privacy Act. It will also be valuable in the future as a companion to blockchain and smart contracts, Wang said.
DocuSign ID Verification automates the process to verify government IDs, such as driver's licenses and passports, for confidential transactions. A user can take a picture of their ID with a mobile phone and upload it to DocuSign for verification.
Gen for Salesforce and Click are currently available, and DocuSign plans to make ID Verification available in April. Agreement Cloud integrates with more than 350 business applications, including Salesforce, Google G Suite, Microsoft Office and Dynamics, SAP Ariba and SuccessFactors, Workday and Box.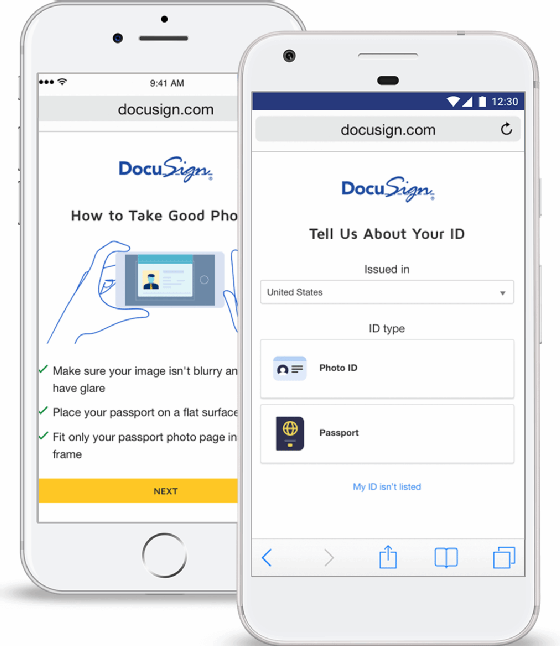 Future of DocuSign
Customers are asking [DocuSign] to solve this, because there is lots of paperwork that you can digitize.

Ray Wangprincipal analyst, Constellation Research
DocuSign's focus is no longer on digitizing just signatures, but making the whole agreement process part of its customers' digital transformation efforts, DocuSign CEO Dan Springer said in a press release.
DocuSign has come a long way, Wang said.
"The challenge here is to figure out the best approach to go after the heart of B2B contracts and even consumer contracts to embed themselves in IoT devices and to build a market," he said. "Customers are asking [DocuSign] to solve this, because there is lots of paperwork that you can digitize."
Adobe Sign, DocuSign's only serious competition in the e-signature market, has products with similar features, but has not announced plans to bundle them together in a product similar to DocuSign Agreement Cloud.
"We are not sure if Adobe Sign is going to come into this space in the long run, but it is a big piece of commerce they could go after," Wang said.
Dig Deeper on Content management software and services