Oleksiy Mark - Fotolia
4 Office 365 collaboration tools that mirror SharePoint
In order to convince users to move away from SharePoint, Microsoft has built Office 365 collaboration tools that improve upon the legacy platform's core capabilities.
Many large organizations prefer Microsoft SharePoint as a collaboration and enterprise content management platform. Enterprises use SharePoint to store and access files, automate workflows, create forms, and view business intelligence dashboards, and they can access all of those features within a web browser.
However, Office 365 collaboration tools now include many of SharePoint's distinguishing capabilities as Microsoft attempts to wean users off of SharePoint to move to other products that provide more real-time communication via chat, audio and video. These capabilities fall under four categories.
1. Data collection and form services
Microsoft updated and enhanced PowerApps -- a tool that enables nontechnical users to build mobile applications and interactive templates -- after it announced plans to stop supporting InfoPath, a form-building capability within SharePoint, in 2013.
PowerApps includes similar capabilities to InfoPath, but it is a stand-alone solution independent from SharePoint and it is more mobile-friendly. While SharePoint delivers custom forms using lists to collect business data, PowerApps enables forms to interact with mobile device hardware such as cameras and GPS, enabling users to capture that information with one touch.
2. Workflow automation
SharePoint enables organizations to automate business processes such as document approval, email notifications and the creation of documents. However, the ability to interact with external data sources is limited, and developers frequently create custom workarounds.
Instead of updating SharePoint, Microsoft introduced Microsoft Flow, a workflow automation tool that interacts with SharePoint documents and connects to online services such as Facebook, Twitter, Slack, Dropbox and Office 365.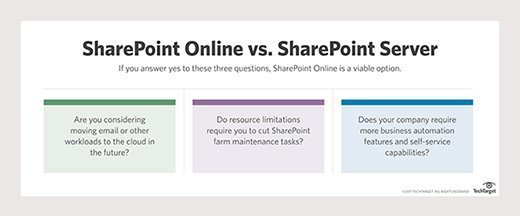 3. Collaboration workspaces
Office 365 Groups and Microsoft Teams are Microsoft's new preferred collaboration platforms that can store shared documents, maintain calendars, share news and assign tasks to users -- replacing SharePoint. Microsoft Teams also provides real-time communication capabilities, providing virtual meeting spaces to collaborate using instant messages, audio and video conferencing.
4. Dashboards and business intelligence
SharePoint's PerformancePoint enables users to create dashboards and reports, attracting many business leaders. Now, many of PerformancePoint's features exist within Power BI, a data visualization tool within the suite of Office 365 collaboration tools. Unlike PerformancePoint, Power BI delivers dashboards through its dedicated mobile app and offers more data connectors to online services such as Twitter, Google Analytics, Microsoft Dynamics and SharePoint Online.