chris - Fotolia
5 best practices to complete a SharePoint Online migration
Moving from an on-premises system to SharePoint Online offers businesses new capabilities, such as Power Suite and site analytics. These best practices can help with migrations.
As Microsoft adds new features to SharePoint Online, many organizations are considering a shift from their old on-premises legacy system to the cloud.
Some reasons businesses may consider a SharePoint Online migration include the following:
running old versions of SharePoint that are no longer supported;
IT overhead costs;
enhanced security;
better collaboration capabilities;
consolidating content;
superior mobile access; and
improved user experience.
Many of Microsoft's new services and capabilities are available through SharePoint Online, including Power Suite, Lists, Syntex and enhanced content security, which are not available without a Microsoft 365 subscription.
A SharePoint Online migration can be a big undertaking, especially for large organizations with an abundance of content, configurations and customizations to move.
"When you're doing big migrations, there's no nice and easy way to do it; some people will get left behind," said David Drever, a Microsoft Office 365 MVP and senior manager at Protiviti, a management consulting firm, during a session at SPTechCon 2019, an annual conference for SharePoint admins. "But the key is communication to let people know what's going on."
Here are five SharePoint Online migration best practices you can follow to ensure a smooth transition from an on-premises system to the cloud.
1. Analyze your content
The first step is to create an inventory of content and decide what to move. You can move relevant content that is still in use to Office 365 and toss outdated, irrelevant content.
You should also take stock of what customizations are in place in the on-premises system.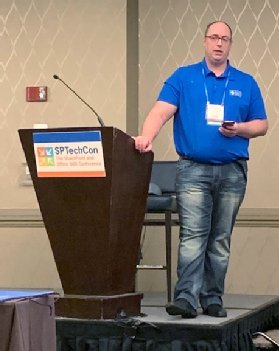 There are five types of customizations:
Branding: Colors, fonts, logos and themes
Functional: Computations, web parts and navigation
Workflow: Approvals, moving content between systems, updating content based on events and timer jobs
Forms: Surveys, service requests, HR forms and polls
Reporting: Dashboards and reports for sharing and printing
Figure out what you really still need. Just because you needed the customization once doesn't mean it's still necessary in the migration to SharePoint Online.
If you're unsure whether a customization is still in use, try turning off the functionality in the old system to see if users reach out to IT saying they can no longer access it, Drever said. If this happens, you can simply turn it back on and move it during the SharePoint Online migration.
A SharePoint Online migration can be a big undertaking, especially for large organizations with an abundance of content, configurations and customizations to move.
2. Design your system
The second step in the process is to set up the online environment. Ask these questions: What will the future state look like? How will the old application map to the new? Do you need to update existing content? Do you need new governance?
For this best practice, you should evaluate how your organization currently uses SharePoint and understand what a SharePoint Online migration offers. You should work with site owners to document the different business use cases and components they use and then possibly remap those based on what SharePoint Online has to offer today.
Some examples of this mapping are:
Power BI replaces SharePoint PerformancePoint, which companies use to review KPIs and scorecards;
Power Automate replaces Workflow Engine, which automates approvals and other processes; and
Power Apps replaces Microsoft InfoPath, which businesses use to collect end-user data in forms.
You should also decide whether to use SharePoint classic or modern sites. Modern sites offer more contemporary, mobile-friendly experiences and are also the default in SharePoint Online.
3. Migrate your content
After you decide how to set up the new environment, it's time to make the move. However, it's imperative to create a migration schedule and continually communicate with users about the status of the migration.
Break down the migration into logical, manageable chunks -- perhaps by department or site. This enables the migration team to properly test and train end users in phases to avoid getting overwhelmed with any potential issues that end users discover if all the sites migrate at once. It also enables the migration team to introduce other tools and services, and gives them ample time to train and support the users to ensure better user engagement.
If your business has a heavy load of content to migrate and you do not break down the migration into smaller groups, you may face bandwidth restrictions. The upload speed may slow the transfer and cause delays in the migration.
4. Verify that the new environment works
Once you migrate everything to the cloud, be sure to test the content and customizations to uncover any issues early on. You must test and review each migrated site to confirm proper functionality to reduce risks on the business. This is important in the case of significant changes to the processes and tools that employees use -- such as, moving to Power Apps from InfoPath or Microsoft Lists instead of SharePoint lists.
5. Decommission old system
Once you are satisfied with the SharePoint Online migration and the application is working to your liking, it's time to bid adieu to the old system and recover any licensing costs, if possible.