Seraphim Vector - Fotolia
5 new features for SharePoint modern pages
SharePoint modern sites, a set of upgrades for SharePoint Online, give administrators the ability to customize sites without third-party applications.
Microsoft is ushering its classic collaboration platform into the 21st century with the SharePoint modern pages rollout to make intranet pages mobile-friendly and easier to customize.
Out of the box, classic Microsoft SharePoint does not provide adequate support for self-service or attractive site themes. In fact, with the classic SharePoint view, many developers rely on third-party apps and graphic designers to customize the site design. Armed with applications such as ShortPoint, LiveTiles and Powell 365, developers can transform classic SharePoint sites into something full of rich content and media that is visually appealing.
The introduction of SharePoint modern pages in SharePoint Online -- and the shift away from classic sites -- was necessary to deliver an improved, contemporary and mobile-friendly experience that addresses SharePoint's current limitations.
Custom themes for modern SharePoint sites
Customization capabilities within SharePoint Online allow users to change the look and feel of sites. Administrators can choose from a variety of colors and themes for their SharePoint modern pages layout.
To further customize a site, Theme Generator, a tool that was introduced in 2017, offers developers format settings. The tool can generate themes to be used across multiple Office 365 services, creating a uniform user experience across multiple Office 365 portals.
Custom background support for web parts
No current Microsoft components support background customization, but with the upcoming changes, SharePoint administrators will be able to modify the background of some webpage sections.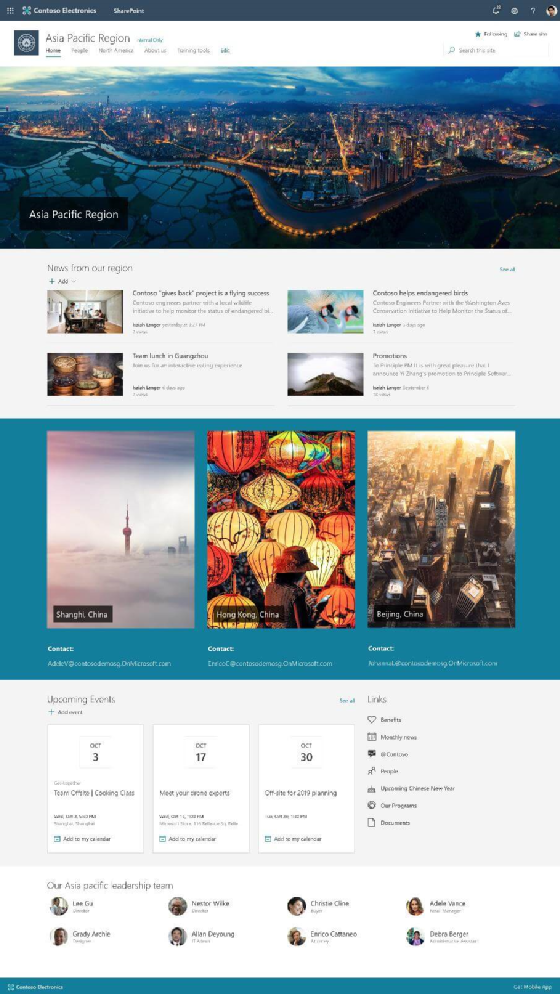 New customization capabilities for the top navigation bar
Until now, site navigation offered no flexibility. This limited organizations looking to customize top navigation bars, forcing them to either stay with the classic sites or implement third-party components.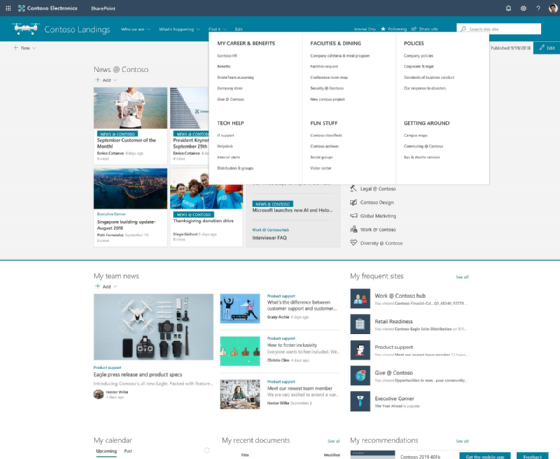 With the upcoming enhancements, users can expect options for dynamic drop-down menus, as well as the ability to add backgrounds and transparent logos to the top navigation bar. Administrators will also be able to choose the page placement of the navigation bar.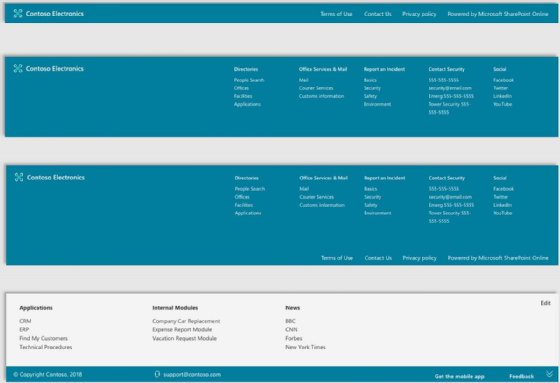 Custom footers finally arrive for SharePoint Online
Another capability that developers are excited for within the SharePoint modern pages layout is the ability to customize site footers, which provide additional site navigation, other links, legal documents or social media sites at the bottom of the website. This option was not available with the old design and required some advanced programming to deploy.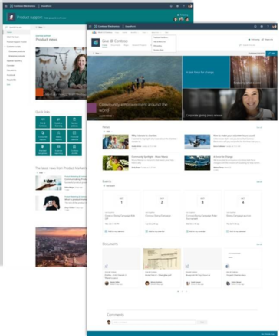 Custom SharePoint modern page design templates
With classic sites, administrators relied heavily on master pages to force sites to fit specific templates. This was made possible by using either an HTML editor or SharePoint Designer to maintain the site. With the SharePoint modern pages layout, Microsoft recommends developers stop using master pages to change layouts. Developers can now customize the structure of the website so any sub-sites will conform to predefined corporate standards and maintain a consistent look and feel across all the pages. The majority of the new enhancements are expected to be available by the end of 2018, with the exception of the hub footers and audience targeting in the hub sites, which will be released in early 2019.