Fotolia
What's new in SharePoint features in 2020?
Microsoft released some new SharePoint capabilities in 2020 to help increase user engagement with the platform. Learn more about what's new in SharePoint this year.
Microsoft continued to modernize SharePoint Online in 2020, adding new features to increase user engagement in the digital workplace.
Microsoft plans to improve SharePoint user productivity when employees use the system to access and interact with their digital assets. Some of Microsoft's areas of focus include intelligent search capabilities, navigation changes, updates to the enterprise content management platform's user interface and integration with Office 365 services.
Here are the new features in SharePoint Online in 2020:
SharePoint integration with Microsoft intelligent search
Recognizing that employees often struggle to locate relevant data in emails, presentations, OneDrive and SharePoint, Microsoft plans to release an AI content search engine called Project Cortex, which the company announced at its Ignite 2019 conference.
The new service consists of artificial intelligence algorithms designed to interact with Office 365 content to deliver search results that go beyond traditional keyword-based searches. Employees can use the AI engine to sift through all accessible data within the Office 365 ecosystem and ask queries using natural language. This will significantly reduce the amount of time users spend browsing search results inside SharePoint for content such as contracts, email communication presentations and any other digital assets.
General availability of Project Cortex is slated for some time in 2020. End users can expect to find the search box at the top center of all their SharePoint web pages when they sign into the SharePoint intranet.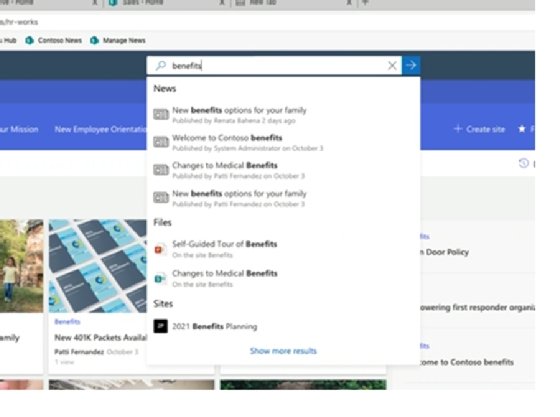 Improved navigation UI for SharePoint users
Another new SharePoint feature in 2020 is the responsive megamenus that render and display on mobile devices or the full desktop version for all SharePoint sites, including those not associated with hub sites. The megamenu feature is appealing to developers as it provides a way to natively deliver shortcuts to different web pages in SharePoint, using one navigation menu that is able to list them under different headings. Megamenus also support audience targeting, where some menus will provide a personalized view based on user permissions within SharePoint.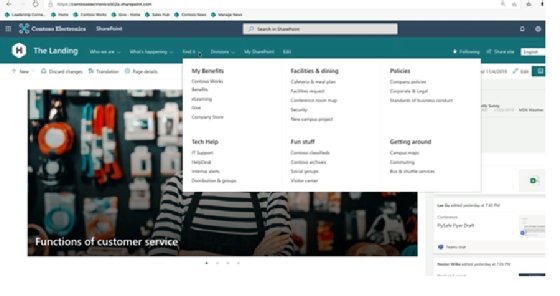 Yammer facelift
Yammer -- an enterprise social networking platform enabling users with the same email domain to connect with one another -- received a much-needed facelift. Yammer works in conjunction with SharePoint, displaying user conversation feeds through a web part from within SharePoint web pages. Yammer now provides users with new and improved features, such as customizable Yammer feeds that give users the ability to filter the content to what they want to see.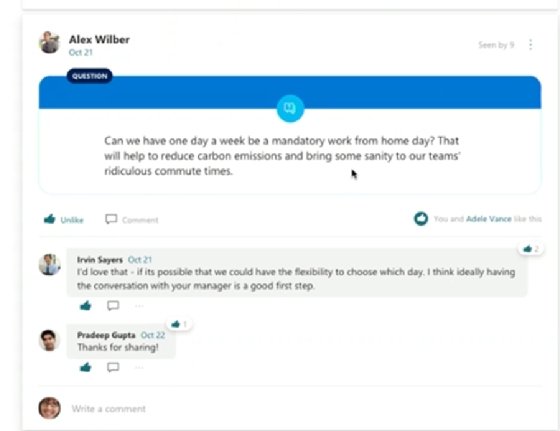 SharePoint Spaces is in preview
A year after introducing SharePoint Spaces, Microsoft invited some customers to a private preview of the new SharePoint augmented reality. SharePoint Spaces brings 3D computer-generated figures along with mixed reality -- online environments that combine physical reality and digital content -- to SharePoint lists, enabling site visitors to interact with a virtual catalog in 3D. Some use cases for this capability include employee onboarding and walkthroughs without leaving the office, and experiencing different objects and prototypes in 3D.
Dig Deeper on Content collaboration
With a sales enablement strategy, sales leaders can make their teams more efficient, well-trained and ensure all reps are consistent when they ... Continue Reading
Ownership of AI-generated content currently lacks clear, regulatory guidelines. With deepfakes and voice cloning on the rise, businesses must learn ... Continue Reading
A sales enablement manager helps sales reps boost productivity and improves their workflows to generate more revenue. Some organizations may have a ... Continue Reading