Fotolia
Yammer redesign includes tighter Microsoft Teams integration
The Yammer redesign underscores Microsoft's renewed commitment to the social networking app after years of speculation that it would discontinue the product and focus on Teams.
Microsoft has redesigned Yammer and integrated the business social networking app more closely with Microsoft Teams.
The move underscores Microsoft's renewed commitment to Yammer following years of speculation that it would shelve the product.
The new Yammer interface for web and mobile makes the product look and feel more like a consumer social networking app, such as Facebook. Companies can choose whether and when to switch to the new design, which launched this month.
"This refresh was heavily needed in my eyes," said a communications manager at a healthcare technology company in Europe. The manager requested anonymity because he was not authorized to speak publicly for his company.
The redesign, which Microsoft first previewed in late 2019, gives IT admins more tools to boost user engagement in Yammer. For example, IT managers can now pin posts to the top of the news feed and add polls to announcements.
Aside from modernizing the interface, the refresh also introduces a news feed that displays content based on each user's interests and interactions on the app. It also makes the search, notification and user profile features resemble more closely other apps in the Office 365 suite.
In the future, Microsoft plans to launch a new way to let businesses add external guests to Yammer while managing those profiles in Azure Active Directory. Another upcoming improvement will give network admins the ability to create posts in all Yammer groups without needing specific admin permissions for each.
Microsoft connects Yammer to Teams, Outlook
In other Yammer news this month, Microsoft added a tab for the social networking app to the mobile version of Microsoft Teams, its team collaboration app. The company previously added a Yammer tab to the Teams desktop client. The sidebars let users access Yammer's news feeds and groups without leaving Teams.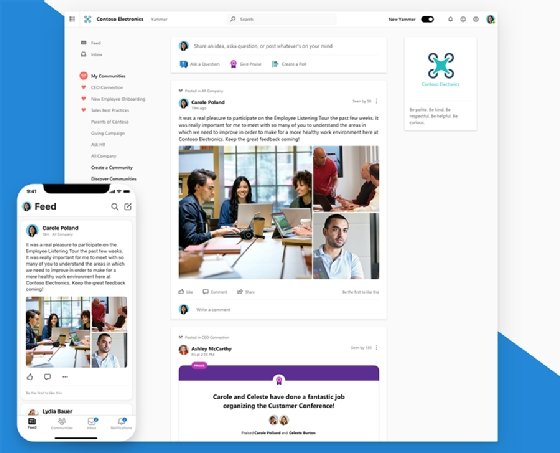 Microsoft has also integrated Yammer more closely with Outlook in recent months. Users can now respond to some Yammer posts through the email platform.
Over the past few years, collaboration apps like Teams and Slack have taken the limelight from the older Yammer and similar products. That shift put pressure on vendors to differentiate the social networking tools from the upstarts.
Microsoft and competing vendors like LogMeIn, which owns Jive, now position social networking tools as intranet replacements that can help spread news and build community across an organization, said Rob Arnold, analyst at Frost & Sullivan.
Microsoft has been under pressure to make Yammer more user-friendly because of the rise of Workplace by Facebook, a business version of the popular social media app. Facebook has attracted more than 5 million paid users to the product, which facilitates collaboration and internal networking.
Microsoft doesn't talk about Yammer that much because it's a free component of Office 365 with no potential upsells, Arnold said. But it's still a popular product with a growing user base.
"Microsoft has not buried it within its portfolio, but it's not as important to Wall Street," Arnold said.
Dig Deeper on Team collaboration software