Jezper - Fotolia
SharePoint hub sites raises migration questions among users
In the newest rev of SharePoint Online, what used to be sub-sites are now new freestanding sites. This change and others may create migration migraines.
When planning a SharePoint Online migration, CIOs can quickly predict a project's level of complexity and contributing...
Continue Reading This Article
Enjoy this article as well as all of our content, including E-Guides, news, tips and more.
variables, including the SharePoint maturity, customization used and size of content, as well as the SharePoint Server farm. But in the last few months, changes introduced to SharePoint Online have brought about a serious challenge for administrators planning their migration, forcing many to re-evaluate what they need to readjust or even scrap their migration plans and start from scratch.
SharePoint administrators are enthused about the continuous flow of features released in SharePoint Online. New enhancements and capabilities delivering a mobile experience, improved web parts and improved user experience make the platform even more attractive and relevant to end users.
Unfortunately, one area causing serious concern is the new release of SharePoint hub sites, which moves away from the traditional site and sub-site hierarchy that's familiar to most administrators. The concept behind hub sites is that every site becomes its own entity, can be assigned or grouped with other sites under a hub site, and can be reassigned anytime. In addition, all the sites that are members of hub sites are set in a flat hierarchy and can freely move from group to group, further simplifying permission settings.
Because of these changes, SharePoint administrators and CIOs have raised several questions and concerns about migrating to SharePoint. Here are the top five.
What impact will hub sites have on cross-site publishing and content query?
The last release of SharePoint hub sites presents a new way to query and interact with data coming from different sub-sites. Therefore, administrators will have to rely on the new Microsoft Graph API to query information from different sites.
All the sites that are members of hub sites are set in a flat hierarchy and can freely move from group to group.
This procedure has also introduced some delays in information being displayed at the time it was posted or updated. Affected sites that rely on content querying may require some development changes in order to take advantage of the new Microsoft Graph API calls.
Should the intranet be rebuilt from scratch to continue with the content migration?
While the concept of SharePoint hub sites brings a brand-new set of features related to look, feel, security and content roll-up, SharePoint administrators must first understand its limitations and what they can mean for their existing sites. Lack of support for the SharePoint Term Store, content types and other features may force some administrators to abandon the use of hub sites for their main intranet, while others with basic SharePoint requirements may find it adequate and a great opportunity to start from scratch.
Are sub-sites dead?
Near-term, SharePoint's classic sites hierarchy -- like parent-to-child site relationships -- will remain the same despite the introduction of a flat site structure. Most existing intranets are likely to contain numerous sub-sites that span across business units or departments to make them three or four levels deep.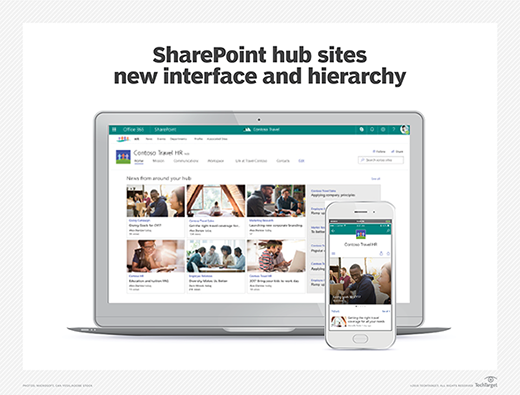 But the latest SharePoint hub sites -- now in production for many Office 365 tenants -- offer a much flatter site structure whereby a site can only belong to a hub site, forcing all sites to be no more than one level down. Despite the new push for a flat SharePoint rollout, Microsoft will continue to support traditional site hierarchies so sites can span and have many branches with sub-sites multiple levels down.
Will migration of existing site hierarchies be supported?
Microsoft still supports migrating current sites that include different sub-sites two or more levels deep. Both traditional hierarchies and the new, flatter site setups will coexist for some time, so administrators can still migrate their existing sites and choose to adopt some of the newer methods for site hierarchies.
What are some of the changes to SharePoint Online that CIOs should plan for?
The larger question that CIOs and SharePoint administrators must ask is what other tools offered alongside SharePoint they will need as they migrate away from their SharePoint on premises to the cloud.
Looking at what Microsoft has introduced as part of its Office 365 suite -- Teams, Planner, Yammer, Office Group, Whiteboard and hub sites -- IT leaders must update their collaboration strategy to help determine which new tools and services will replace some of the legacy SharePoint features. Examples include using Teams to collaborate in real-time or offline on different channels, Yammer to drive social interactions within the office, and Office Groups for shared calendars, conversations and documents.
Are there any surprises if an organization chooses to go with hub sites?
Despite the excitement surrounding its release, SharePoint hub sites has limitations. Some of these limitations can be showstoppers for some enterprises because they may limit functionality. Taxonomy and Term Store are just two of the features not supported by hub sites, even though they're popular within SharePoint. Content targeting for specific audiences also isn't available with the new hub sites. Also, its 50-hub-site maximum is signaling to many enterprises that hub sites might not yet be their legacy SharePoint replacement.
With the continuing trend of companies migrating to Microsoft Office 365 and looking to move their SharePoint away from their data centers into Microsoft's cloud, migrations are likely to be among the top projects facing CIOs. As with any migration, the destination must deliver a better experience, features and return on investment, otherwise, all of Microsoft's attempts to attract more organizations to its cloud will simply create more reasons to keep their intranets local or to seek other alternatives.