Share this item with your network:
Managing and protecting all enterprise data

Olivier Le Moal - Fotolia
Data backup tools: Users want to handle more data more easily
Businesses want data backup that handles more data than ever, but with software and hardware that's easier to implement and manage than what they're already using.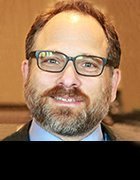 By
Backup may not be the most glamourous of IT tasks, but it is one of the most important. From disaster recovery...
Continue Reading This Article
Enjoy this article as well as all of our content, including E-Guides, news, tips and more.
and business continuity to compliance, big data analytics and cloud applications, data backup tools either form the foundation of or play a key role in making many of today's essential enterprise technologies and services possible.
TechTarget Research showed that a significant majority of businesses back up databases and virtualized servers. Meanwhile, slightly less than half back up data sets that users share as well as enterprise applications, while about a fifth of those surveyed back up endpoint or desktop data and virtual desktops.
More than a third of respondents, 38%, back up less than 10 TB of data; whereas 22% back up 10 TB to 49 TB; 11% 50 TB to 99 TB; and 8% 100 TB to 199 TB. The percentages drop down to the 2% to 4% range for totals of 200 TB and 999 TB before, interestingly, popping back up to 8% for 1 petabyte to 9 PB and dropping back down again to 3% for 10 PB or more.
Organizations back up an average of 770 TB of data. Subtracting the 3% of respondents who back up 10 PB lowers the average considerably to a still hearty 512 TB. Take this process a step further by eliminating the 8% in the next tier down, 1 PB to 9 PB, and the average drops even more drastically to 102 TB.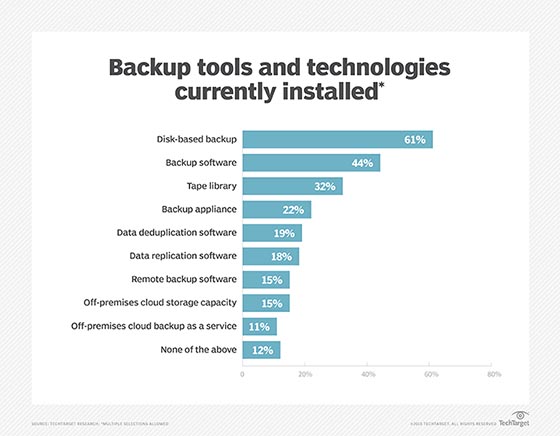 The road to more backups
Addressing growing data volume was the top factor driving new backup software purchases (45%), followed by gaining confidence in data recovery and restoration (40%). These were followed by compliance (35%), backup operations consolidation (25%), inability to meet backup windows (23%), re-evaluating data management plan (18%), support for new enterprise applications (16%), a desire for newer versions of technologies already in hand (15%) and seeking to reduce reliance on tape (14%).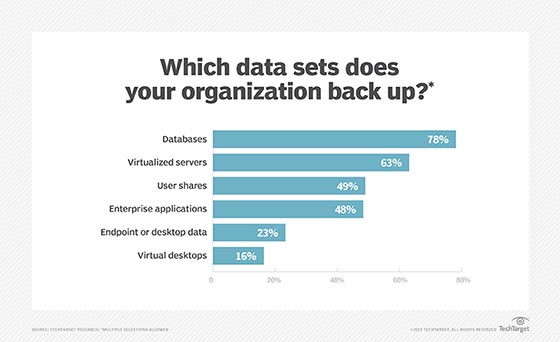 Many data backup tools features and functions are critical to the decisions about what backup software to buy. For upcoming backup software purchases, more than half of respondents chose ease of implementation and management (54%), with scalability (50%) and capacity (48%) close behind. These were followed by virtual machine (VM) backup (44%); recovery time objective demands (41%); physical server backup and ability to reduce or deduplicate data (33% each); recovery point objective demands (31%); backup report (28%); and modules for specific applications, such as Exchange, Oracle, SAP, SQL Server (26%) to complete the top 10.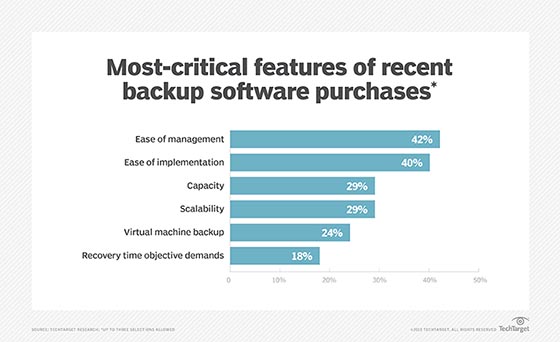 For backup hardware purchases, capacity and scalability led with 62% and 58% respectively, with ease of implementation and management at 44%, VM backup (34%), physical server backup and ability to reduce or deduplicate data (28% each). Backup and recovery for remote offices or remote workforce (16%), archive functionality (16%), ability to stage local backups for cloud targets (13%) and virtual desktop infrastructure support (8%) -- none of which made the backup software top 10 -- made it into the top tier of important factors to businesses when buying backup hardware.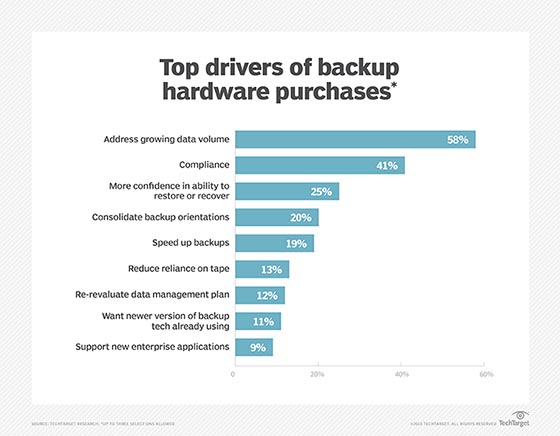 Time to make a decision
Fifty-eight percent of businesses made their most recent backup software purchases through a data backup tools reseller, the rest directly through the vendor. Of those who identified the vendor they chose, 19% went with Veritas or Symantec; 14% with Veeam Software; 12% with Dell EMC; 11% with Hewlett Packard Enterprise; and 5% each with Acronis, CommVault, IBM and Microsoft to round out the top nine. These were new purchases for 38% of respondents and add-ons to existing backup technologies for the rest.
Backup vendors are willing to offer discounts or throw in other perks to close a deal. Of those who recently bought backup software, 11% acknowledged getting a 10% to 24% discount, 9% got 9% off, 7% benefited from a 25% to 49% price reduction and 4% got 50% or more chopped off the sticker price. Eleven percent procured an extra discount off their data backup tools product above and beyond the initial one offered by the seller, while 7% received an extra year of maintenance, 6% additional product and professional services apiece, and 5% an enhanced service level -- all at no extra cost.
Dig Deeper on Data backup and recovery software