peshkova - Fotolia
Flexential launches nationwide backup-as-a-service platform
Seeing an increasing trend of data protection buyers, Flexential has rolled out a new backup-as-a-service offering and introduced a cheaper, 'self-service' tier.
Flexential wants customers to come for the colo, stay for the backup, after introducing a new cloud-based backup service.
The new backup as a service (BaaS) uses Flexential data centers spread across the U.S. and its FlexAnywhere network, the company's private 100 GB internet backbone. Flexential's primary business is colocation and cloud services, so it already has the hardware and infrastructure to provide highly scalable backup storage and long-term retention. FlexAnywhere connects all of Flexential's data centers and allows for intelligent, local distribution of customers' backup data, reducing network latency. This reduces the time to complete backups and perform recoveries.
Mike Fuhrman, COO of cloud and managed services at Flexential, said depending on how much data needs to be restored, Flexential's BaaS is able to support SLAs from eight hours to 12 hours. He said that is a different offering from Flexential's DRaaS, which can provide near-zero recovery through a full system failover, but is not appropriate for operational recovery for a few missing or corrupt files.
Flexential previously offered BaaS, but it varied with customers' geographical location and whether they were a colo or cloud customer. As a result of acquisitions, Flexential provided BaaS to customer groups through different vendors, such as Dell EMC Avamar, Rubrik and Commvault. The new Flexential BaaS replaced the old one, and all BaaS customers use a Commvault-based platform.
Fuhrman said servicing all of the company's BaaS through Commvault makes for a simpler, consistent offering. Flexential chose Commvault because of its previous partnership with the backup vendor and because Commvault's capabilities covered a wide swath of workloads. Flexential's BaaS is capable of supporting legacy systems and applications along with Office 365, SharePoint and OneDrive.
Other cloud-based BaaS vendors include Druva, Acronis, Barracuda, Carbonite and Commvault's Metallic, but Fuhrman doesn't regard those as competition. Flexential's core business is providing hybrid infrastructure, so BaaS isn't its core business. However, because backup is an important component of IT infrastructure, Fuhrman said a customer who turns to Flexential for cloud or colo might also look at adding backup through the same vendor to keep their bills, environment and support contacts simple.
"There's nothing more frustrating for an IT leader than being on the phone with two different support teams, both typically pointing fingers at each other," Fuhrman said.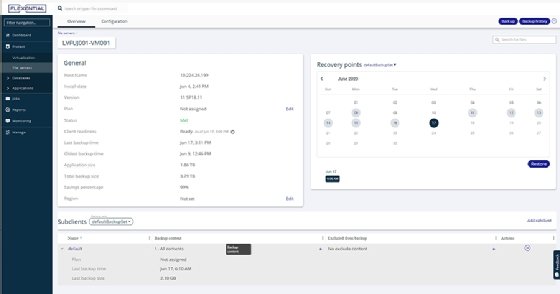 Flexential offers two new tiers of service. A traditional full-level service charges customers by how much backup data they store in Flexential's servers, but there is no fee for pulling the data out to perform a recovery.
Flexential's other BaaS option is a cheaper "self-service" tier for customers who already have backup expertise and only need the off-site hosting component of the service. Fuhrman said these customers want exposure to the "back-end sausage-making," such as configuring backup policies and monitoring and analyzing backup reports.
Krista Macomber, senior analyst at Evaluator Group, said a self-managed tier of BaaS would likely appeal to large enterprises. These companies are likely to have in-house IT expertise and enough staff to manage backup tasks. They would also be familiar with RTO and RPO requirements and know how to satisfy them.
Macomber said BaaS adoption rates among such enterprises are typically modest, but this has been trending up. Citing Evaluator Group's "Enterprise IT Responds to COVID-19" study conducted in April 2020, she said enterprises are investing more in security, data protection and public cloud as a result of the pandemic.
"The COVID-19 pandemic has introduced new cyberthreats, while placing a premium on scalability and remote accessibility, all of which backup as a service can address," Macomber said.
Macomber added that BaaS adoption has also been growing steadily alongside SaaS adoption. As more businesses deploy Microsoft Office 365 and Salesforce, it makes more sense to protect the data from these applications in the cloud than with an on-premises data center. Enterprises are adopting BaaS specifically for these workloads.
Craig Cook, Flexential's vice president of solutions architecture and engineering, has reported spikes in phishing attacks and more customers buying Flexential's data protection offerings since March 2020. Fuhrman said there is no doubt that COVID-19 has been driving an increased demand in data protection.