What is Fedora?
Fedora, also known as Fedora Linux, is a popular open source Linux-based operating system (OS). Designed as a secure, general-purpose OS, Fedora is developed on a six-month to eight-month release cycle under the Fedora Project. Both the OS and the Fedora Project are financially sponsored and supported by Red Hat.
Fedora is a free and open source OS platform for hardware, clouds and containers. Based on the Linux OS kernel architecture, Fedora Linux is a user-friendly OS that enables users to perform their tasks easily and efficiently with minimal friction. The name Fedora refers to the characteristic fedora hat in Red Hat's Shadowman logo.
This compilation of software packages, each under its own license, enables software developers to build tailored solutions for their use cases and users. The suite includes software for the following:
According to the Fedora Project, Fedora is "always free for anyone to use, modify, and distribute." It offers the same procedures and functionalities as many other OSes. A new Fedora release is launched every six to eight months in line with the Fedora community's "release early, release often" methodology. These timely and rapid releases ensure that Fedora users always have access to the latest technologies for their requirements.
Fedora is one of the most popular Linux distributions (distros), along with Ubuntu, CentOS, Debian and OpenSUSE. There are over a 100 distros based on Fedora, including Red Hat Enterprise Linux (RHEL) and RisiOS.
What are Fedora's features and benefits?
The Fedora OS is a reliable and stable OS that supports multiple architectures. It is also feature-rich, flexible and easy to use by a wide spectrum of users. This general-use, multipurpose system includes many software packages, including basic desktop applications, games, development environments, web services and database services. Since it is open source, it is freely available to anyone who needs to build tailored solutions in a comprehensive and reliable way.
Fedora is constantly being updated by its vast and growing community. Anyone can join the community and contribute to the Fedora Project to advance Fedora and keep it open source, regardless of their skill levels or preferred languages.
Fedora incorporates multiple security features and technologies, including Exec Shield and Security-Enhanced Linux (SELinux). SELinux implements many security policies that are missing in many Linux-based distros. These capabilities protect user systems from malicious software and threat actors without interfering with the user's day-to-day task workflow.
Other key benefits of the Fedora Linux OS are the following:
includes many graphical and utilities tools;
supports multiple file formats;
supports virtualization;
supports many programming languages;
updates automatically;
incorporates new features released into other Linux distros by the Fedora community;
provides spinning tools so anyone can create their own Linux-based distro;
provides custom security enhancements that make Fedora suitable for web servers; and
supports ability to test new software versions before production deployment.
What Fedora editions are available?
Five official Fedora editions are available. Each edition is free, open source and downloadable from the Fedora website. These editions are the following:
Fedora Workstation. User-friendly OS for laptops and desktops with a comprehensive tool set for developers and software makers.
Fedora Server. A flexible OS with the latest data center technologies to control and manage infrastructure and services.
Fedora Cloud. A powerful and minimal base OS image with tailored images for public and many private cloud applications.
Fedora IoT. A trusted and reliable platform to build strong internet of things.
Fedora CoreOS. A minimal, container-focused OS that automatically updates.
Other Fedora options are also available:
Fedora Spins. Suitable to install Fedora (pre-configured) for a user's preferred desktop environment, e.g., KDE Plasma Desktop or Xfce.
Fedora Labs. Curated software and content that can be installed as standalone full Fedora versions or as add-ons to existing Fedora installations.
Fedora Alt Downloads. Special-purpose alternatives for testing or for specific architectures, as well as standard Fedora versions' alternative formats, e.g., network installer format.
What is the history of Fedora releases?
Warren Togami started the Fedora Project in 2002, with the goal of making Red Hat software packages available to users who wanted to develop software related to this OS. The first few Fedora releases were launched between 2003 and 2005.
They were successively known as Fedora Core 1, Fedora Core 2, Fedora Core 3 and Fedora Core 4. Further releases, named Fedora Core 5-6, were released in 2006, followed by Fedora 7 in 2007, and then Fedora 8, Fedora 9 and Fedora 10 in 2007 and 2008. The latest version of Fedora Linux -- as of January 2023 -- is Fedora Linux 37. This release includes two new editions:
Fedora CoreOS. The successor to Red Hat Atomic Host, an open source variation of RHEL 7 that's optimized to run Linux containers, provides an automatic update mechanism and easy rollbacks for hosting container-based workloads and to simplify infrastructure management
Fedora Cloud. It provides a Fedora base to run workloads in public or private clouds.
In addition, Fedora Workstation features the latest GNOME release and enables users to slim down their Fedora installation. It focuses on the user desktop experience and provides them with information about the security of hardware and firmware on the system.
Other updates and improvements in Fedora Linux 37 include the following:
Fedora Comp-Neuro provides tools for computational neuroscience.
Fedora LXQt provides a lightweight desktop environment.
Alternate architectures Arm AArch64, Power and s390x are for use with AArch64 Server Base System Architecture-compliant systems, IBM Power systems and IBM z Systems, respectively.
Kernel-based Virtual Machine disk image in Fedora Server makes running the OS in a VM easier.
TEST-FEDORA39 policy moves away from Secure Hash Algorithm 1 signatures and previews changes planned for future releases.
There is support for Raspberry Pi.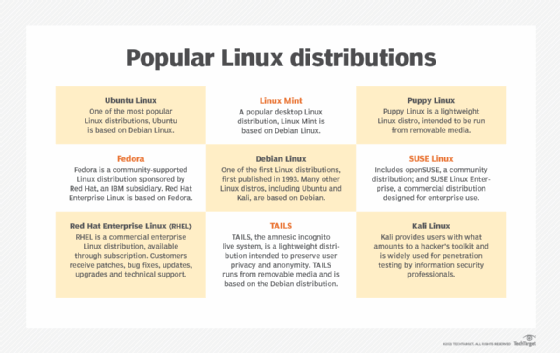 Fedora vs. Debian vs. Ubuntu vs. OpenSUSE
Fedora, Debian, Ubuntu, and OpenSUSE are all free and open source Linux distros. However, there are several differences among them.
For example, Debian uses the DEB format, dpkg package manager and apt-get dependency resolver, whereas Fedora uses the RPM format, the RPM package manager and dnf dependency resolver. Fedora has a single smaller global repository containing only free software applications, whereas Debian's repository contains over 20,000 software packages. Also, Fedora does not include a nonfree or contrib repository, whereas Debian does. Another difference is that Debian does not follow a time-based release model like Fedora.
Like Fedora, Ubuntu uses many of the same command-line tools and provides both cloud and server editions. Where they differ is that Ubuntu is a Debian derivative, whereas Fedora is not a derivative of any other Linux distro. Also, Fedora works as one unified project even with regard to spins. In contrast, Ubuntu flavors are separate, community-based projects with specific goals. Another difference is that Ubuntu's policies regarding proprietary or patent-encumbered software are more relaxed compared to Fedora's. Finally, like Debian, Ubuntu uses the DEB format, dpkg package manager and apt-get dependency resolver.
OpenSUSE, like Fedora, uses RPM as a package manager. It also has a time-based release model, although its release cycle is nine months long compared to Fedora's six-month cycle. Unlike Fedora, which uses the dnf dependency resolver, OpenSUSE uses zypper. OpenSUSE is available in both free and retail boxed versions -- with limited commercial support from SUSE. There is no retail version of Fedora.
Who can use Fedora?
Fedora is a fast-moving Linux distro focused on consistent innovation. Every new release includes the latest free and open source programs, tools and software libraries. Its fast release cycle and innovative tool set make Fedora Linux suitable for the following:
technology professionals
digital artists
software developers
game developers and gamers
academics and students
In general, any user looking for a stable OS and a feature-rich Linux distro that supports the latest hardware can benefit from Fedora. Since Fedora follows a "release early, release often" approach, it enables upstream project communities to get quick feedback from a large number of users in order to upgrade their features and fix any open issues.
What is the Fedora Project?
The Fedora Project was founded in 2003 to coordinate Fedora development. It is a community of people who work together to build a free and open source software platform. Members collaborate with each other to build and improve Fedora and share user-focused solutions built on the platform.
The community's mission is to build a platform rather than just a distro to enable the development of tailored solutions for hardware, clouds and containers. Its vision is to build a world where everyone benefits from open source software built by an inclusive and open-minded community.
The Fedora Project is built on four key foundational principles:
Freedom. The main goal is to maintain software and content freedom by using free alternatives to proprietary code and content and by limiting the effects of proprietary or patent-encumbered code on the Fedora Project.
Friends. People from all walks of life work together and find acceptable consensus to advance free software and improve Fedora Linux.
Features. The Fedora community creates technical features that make Fedora powerful, flexible and usable for a wide spectrum of users.
First. Fedora's rapid release cycle enables the community to focus on innovation and maintain the forward momentum of Fedora's technical progress.
Learn about the top five enterprise Linux distributions to consider adopting.
This was last updated in
February 2023
Continue Reading About Fedora
Dig Deeper on Data center ops, monitoring and management