Viktor - Fotolia
HiveIO seeks to create buzz in HCI market
HiveIO says artificial intelligence makes its Hive Fabric's Message Bus management unique; now, the HCI startup must prove it's really AI and not just an AI-wash.
Newcomer HiveIO Inc. is trying to make it in the already crowded hyper-converged infrastructure market by touting a software-only application that it claims uses AI for resource management.
HiveIO this week released Hive Fabric 7.0, its hyper-converged application. The vendor, based in Hoboken, N.J., has actually been around since 2015 and shipped its first version of Hive Fabric that same year, but has kept a low profile until now. HiveIO's co-founders Kevin McNamara and Ofer Bezalel came out of JP Morgan Chase's engineering team. HiveIO CTO McNamara said the goal was to create an infrastructure that consisted of one platform, was simple to use and was inexpensive.
"They thought about a single product, single vendor, hyper-converged fabric out of the box that just deploys and just works and reduces the complexity of the data center," said HiveIO CEO Dan Newton, who joined HiveIO last April from Rackspace. "Our team comes from an operational background, and we're focused on making our product operationally very easy, yet very stable. We try to make the technology work for the customers. We don't want the customers to have to work to make it work."
Newton said HiveIO has about 400 customers, including those it picked up by acquiring the assets of HCI software vendor Atlantis Computing in July 2017. HiveIO also inherited Atlantis' OEM deal with Lenovo, which packaged Atlantis' HCI software on its servers. However, HiveIO has no other hardware partnerships for Hive Fabric.
Newton said the goal is to provide HCI software that can deploy in 20 minutes on three nodes and requires little training to use.
We put the Message Bus into appliances and use machine learning to manage the appliances.

Kevin McNamaraCTO, HiveIO
HiveIO describes Hive Fabric as a "zero-layer, hardware-agnostic" hyper-converged platform that runs on any x86 server or in the cloud. Hive Fabric includes a free kernel-based virtual machine hypervisor, although it can also run with VMware and Microsoft hypervisors. Hive Fabric manages storage, compute, virtualization and networking across HCI clusters through its Message Bus. It includes a REST API and Universal Rest Interface to support third-party and customer applications.
McNamara called the artificial intelligence-driven Hive Fabric Message Bus "unique to the industry." he said the Message Bus relies on AI and metadata to format data in real-time and provide predictive analytics to prevent potential performance and capacity problems.
"It's all integrated into the stack," McNamara said. "We can see everything in the hardware, everything in the stack, everything in the guest server and everything in the application layers. We put the Message Bus into appliances and use machine learning to manage the appliances. You can move workloads across appliances."
Newton added, "Every piece of data point all comes through the Message Bus."
HiveIO released Hive Fabric 7.0 this week, simplifying resource management through a Cluster Resource Scheduler (CRS). The CRS uses AI to monitor resource allocation across the cluster, and moves guest virtual machines between servers to improve operational efficiency. Hive Fabric 7.0 also allows customers to run multiple mixed-application workloads.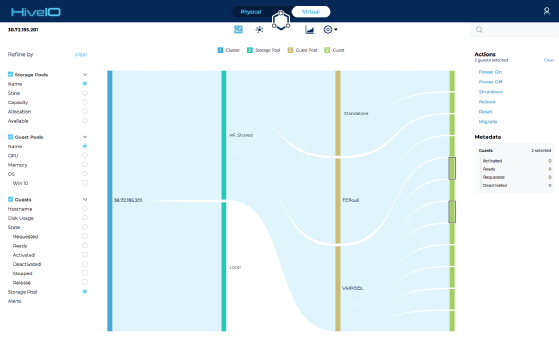 Forrester Research senior analyst Naveen Chhabra said HiveIO will need to prove its AI capabilities to make it in an HCI field that includes at least 15 vendors.
"A number of companies already have proven technology -- including Nutanix, Cisco, Dell EMC, VMWare," Chhabra said. "HiveIO can do the same, but they must deliver at least table stakes technology, and then find out what innovations they can come up with. They talk about the interconnect fabric with artificial intelligence. It's a transport layer for sending bits and bytes from one node to another. What kind of artificial intelligence does it have? Is it artificial intelligence or just AI washing like you hear from other vendors? And they have to find a strong use case for that artificial intelligence, even if it's just one use case."
HiveIO executives claim their early customers' workloads include general server virtualization, virtual desktops, databases, log analysis and test/dev.
Hive Fabric is sold as a monthly subscription based on the number of physical servers with no restrictions on memory, storage or cores.
HiveIO promises to support Atlantis Computing hyper-converged and virtual desktop infrastructure software through 2022. Newton said HiveIO will offer Atlantis customers an upgrade path to Hive Fabric. He said HiveIO hired some Atlantis employees but is not using its technology in Hive Fabric.
HiveIO has 30 employees in the U.S. and U.K. It has completed two funding rounds and lists El Dorado Ventures, Rally Ventures, Osage Venture Partners and Citrix as investors but does not disclose its total funding.