Managing and protecting all enterprise data

fotomek/stock.adobe.com
Modern HCI environment shaped by evolving IT priorities
Hyper-convergence simplified deployment and scaling of IT resources over the past decade, but modern IT is far more complex than it once was. HCI vendors evolved, but have you?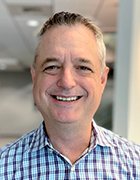 By
Hyper-converged infrastructure has been transforming data centers for approximately a decade, greatly simplifying IT infrastructure operations. In fact, HCI's many benefits help it rank as one of the more commonly identified IT modernization priorities of enterprises as cited by 24% of IT decision-makers in Enterprise Strategy Group's "2020 Technology Spending Intentions Survey" published in January 2020.
In recent years, the challenges IT administrators face have increased significantly. Converging the multilayer, traditional, on-premises data center architecture through traditional hyper-converged technologies addresses only a small piece of the modern IT complexity challenges that now typically span multiple data centers and cloud providers.
In response to this changing world, HCI vendors have evolved their products, making them more flexible and agile. Recognizing this progression -- and expanding your idea of what to expect from an HCI environment -- can help not just your IT organization, but your business as a whole.
IT complexity goes well beyond the data center
As businesses come to depend more on technology, their environments typically scale incredibly and become more diverse in terms of application types, infrastructure technology and location. For example, they must support container-based environments and integrate public cloud infrastructure services. Greater application and technology diversity also fuel increased complexity. Enterprise Strategy Group (ESG) has found that organizations with mature digital transformation initiatives are three times more likely than those with no digital transformation initiatives to recognize that IT is significantly more complex now than it was two years ago.
When requirements outpace what IT departments can manage and deliver, IT becomes a bottleneck that hinders revenue opportunities. Scaling personnel isn't a sustainable or feasible option, so infrastructure technology, software and hardware must deliver the answers. IT organizations already face problematic skill shortages with IT architecture and planning, and it's getting worse.
How modern IT changes what HCI should be
In the early years of hyper-convergence, the transformational benefits of an HCI environment were predominately based on the infrastructure paradigm's ability to deliver a one-size-fits-all approach. Hyper-converged technology reduced the number of components to be managed and configured in data centers.
Modern IT still needs a one-size-fits-all solution. But it can no longer afford a one-size-fits-all product.
Hybrid and multi-cloud are the de facto standards for enterprise IT infrastructure design. IT managers desperately need technology that can span multi-cloud environments, be sized to fit their specific application environment and support multiple application types, including VMs and container-based workloads.
What made HCI successful can apply to a hybrid cloud world
It is important to broaden your definition of hyper-convergence to include other deployment options -- such as converged, disaggregated HCI and software-defined storage offerings -- beyond traditional HCI. The important aspect is the experience and benefits.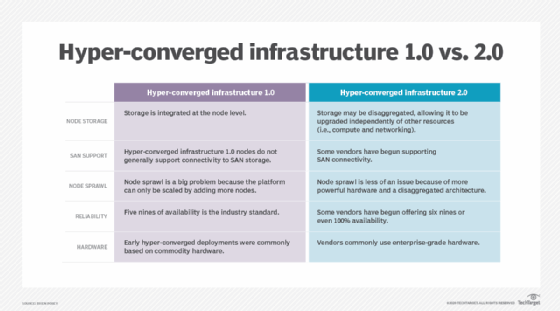 Here are some capabilities to look for when judging a modern HCI environment.
It must thrive in multi-application environments. There is a difference between supporting Kubernetes and VMs on the same platform and empowering the business to accomplish everything it wants to do with containers. Cloud-native container-based applications are designed to be spun up or down quickly, be portable and consume infrastructure automatically. Selecting an HCI-based environment that can support these capabilities is critical.
It must support and ease the integration of next-generation hardware. Can it support NVMe? What about storage class memory? Low-latency performance becomes more important when supporting container-based workloads. ESG's "2019 Data Storage Trends" survey released last November found that respondents were twice as likely to identify storage performance as a top storage challenge for container-based workloads than for traditional block-based workloads (36% vs. 17%). Infrastructure for containers not only needs to be high performing, it must be able to be provisioned quickly to keep up with resource demands.
It must span on- and off-premises infrastructure. Organizations typically intend container-based workloads to be multi-cloud. According to ESG's "Trends in Modern Application Environments" survey published in December 2019, 70% of the IT professionals surveyed were deploying or planning to deploy containers across an environment that combined public cloud services with a private data center. In addition, nearly half said they planned to deploy containers across multiple, disparate cloud providers.
It must deliver integrated intelligence and automation. IT managers are overburdened, and consolidation can simplify the environment only so much. Look for products that deliver integrated intelligence, typically using advanced telemetry data, and tools that offer automation. The larger, more diverse and disaggregated the ecosystem support is, the better. For example, simply consolidating updates and upgrades into a single package offers significant time savings. Look for offerings that provide a broad set of options to leverage actionable insights and fuel automated actions.
When it comes to new infrastructure purchases, we need to start thinking about everything in a hybrid cloud, multi-application context. Modern IT is simply too complex to be forced to rely on a hodgepodge of point solutions.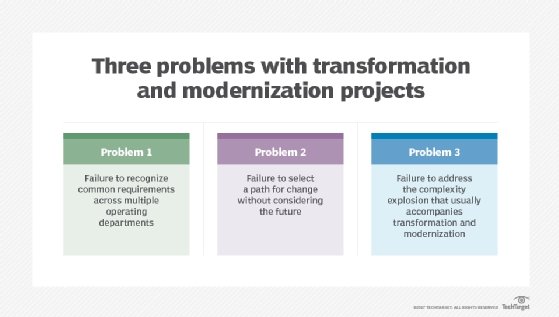 Fortunately, many HCI, converged infrastructure and hybrid cloud industry leaders are already heading down this path. Vendors such as Cisco, Dell Technologies, Hewlett Packard Enterprise, Hitachi Vantara, IBM, IBM Red Hat, Lenovo, NetApp, Nutanix, Oracle, Pivot3, Pure Storage and VMware, along with offerings from major public cloud providers such as AWS, Google Cloud Platform and Microsoft Azure, offer some or all of these capabilities.
Dig Deeper on Converged infrastructure management