Definition
customer data integration (CDI)
Customer data integration (CDI) is the process of defining, consolidating and managing customer information across an organization's business units and systems to achieve a "single version of the truth" for customer data. This golden record is generated by integrating information from all available source systems, including contact details, customer valuation data and information gathered through interactions such as direct marketing.
A customer data integration strategy can improve business processes and enable better information sharing among departments. As a result of this focus on improving customer service, CDI efforts are an essential element of customer relationship management (CRM).
Why customer data integration is important
Although many companies have been gathering customer data for a good number of years, it hasn't always been managed effectively. As a result, companies may maintain outdated, redundant and inconsistent customer data that was gathered via phone calls, emails, websites, webchats, surveys or in-person engagements with customers.
Customer data integration policies can help establish order over the data generated by these disparate source systems. This can lead to the following benefits:
Improved sales: Accurate customer data enables organizations to better understand customers and focus on personalizing Cross-selling and upselling opportunities.
Better customer service: Customer service agents can better understand the entire customer journey when responding to service calls.
More efficient data management on an ongoing basis: Once CDI policies and data quality efforts are in place, it becomes easier to update customer records, manage real-time data collection and consolidate data silos.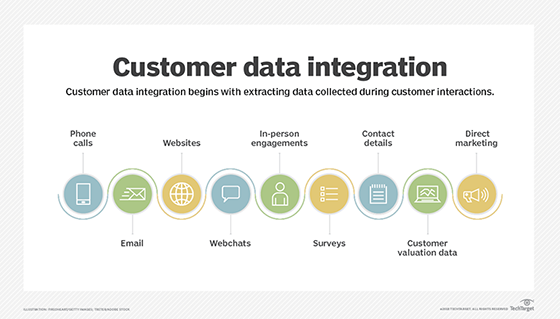 Types of data integration
Four data integration techniques used in CDI strategies include:
Data consolidation: Data is copied from multiple sources and integrated into a single data store.
Data propagation: Applications copy and push data from one location to another.
Data federation: Data federation software enables an organization to aggregate data from multiple source systems into a virtual database for use in business intelligence

(

BI) and other analyses.
Data warehousing: Data warehouses store data collected by various operational systems; the data is captured for access and analysis, rather than transaction processing.
Core components of a customer data integration strategy
When devising a customer data integration strategy, organizations can take steps that are similar to setting up a master data management (MDM) plan:
Define customer data and discover where it resides: Gain an understanding of the customer journey throughout the organization to understand the business processes involved with collecting and storing customer data.
Analyze the data sources, as well as how and where information is saved: Craft a common definition of who the organization's customers are. Determine who accesses the data and why.
Construct a customer data integration strategy: Ensure the strategy addresses data cleansing and duplication and addresses data quality.
Implement the customer data integration technology.
This was last updated in
September 2018
Continue Reading About customer data integration (CDI)
Dig Deeper on Data management strategies