Sergey Nivens - Fotolia
Database management tools from third parties make natives restless
Third-party database performance tools offer attractive alternatives to management software from DBMS vendors, provided their capabilities include orchestration, governance and integration.
Third-party tools for tuning and monitoring database performance offer IT teams potential alternatives to the management software provided by Oracle, Microsoft and other database management system vendors.
When evaluating these database management tools from application vendors and third-party providers, IT managers and database administrators need to consider several issues -- the cloud's influence among them. And they can't be examined in isolation, said Sean Knapp, founder and CEO of startup data pipeline platform provider Ascend.
Each tool should fit into the greater overall architecture and meet defined business goals. Other major considerations include orchestration, data governance and integration. The cloud could complicate using some of these tools, especially when a database is part of a business app. By the same token, the appropriate third-party database management tools could also enable more fine-grained control that can help reduce costs.
Orchestration a must with multiple tools
Orchestration involves the integration work that stitches all the different tools together to make them work as one. Without orchestration, Knapp explained, even the most well-thought-out implementation would likely fail as the data changes, dependencies grow and the interconnectedness among systems becomes increasingly complex.
The rise in new privacy regulations could also drive the need for third-party tools that provide better data governance capabilities. "Database vendors and cloud platform providers continue to deliver better solutions to support customer data needs, but they have lagged in creating a comprehensive solution for enterprise data governance," said Ray D'Onofrio, a senior data scientist at digital transformation consultancy SPR. That means tools that can define and manage data quality would need to be considered.
Third-party database management tools that track lineage can help companies define and implement governance oversight as well as promote collaboration among participants. Data governance requires a collaborative effort, including business leaders, data managers, data scientists, technical operations personnel and developers. And that may be the reason why database and cloud vendors have yet to deliver usable data governance or data quality tools, D'Onofrio said. Multiple third-party vendors may help bridge that gap.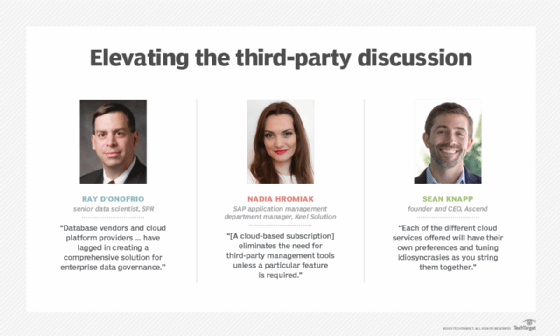 Native vs. third-party management tools
Data management tools from native database vendors are generally easier and faster to integrate than third-party tools when a database is part of a packaged application, such as ERP or HR software, noted Nadia Hromiak, SAP application management department manager at energy-industry IT consultancy Keel Solution. So even though third-party tools can be cheaper and offer a wider range of functionality, they're generally more expensive than native tools when the cost of integrating them into business applications is taken into account, she added.
In the on-premises world, infrastructure was more or less fixed and relatively simpler -- for better or worse. Moving applications to the cloud can make the decision to opt for third-party tools more complex.
Cloud-based versions of database systems and business applications, Hromiak said, are usually already equipped with all the available native performance management tools required for their most common applications. Cloud-based subscriptions may be pricier, but they offer more functionality. "This, consequently, eliminates the need for third-party database management tools unless a particular feature is required," she said.
In addition, different cloud platforms have different conditions for product usage, perhaps making it impossible to run a certain management tool, Hromiak conjectured. Moreover, when integrating a third-party tool into a cloud platform, a customized connection might be necessary. That could mean hiring an outside consultant or developer who, for example, might connect a third-party tool to the ERP system and database as well as convert the data into an appropriate format. Negotiations with the application provider might also be required, which could add more costs and complexity to the project if the API that enables the connectivity isn't publicly available.
While the shift to the cloud now means storage and processing resources are more flexible and always available, configuring and managing systems in the cloud does come with its own set of issues -- and complications.
"Each of the different cloud services offered will have their own preferences and tuning idiosyncrasies as you string them together," Ascend's Knapp explained. As a result, knowing when and what resources to scale for which service and how to operate them efficiently can be difficult and time-consuming. Performance management tools -- be they native or third-party -- can help provide that visibility to increase utilization and efficiency and protect against end-of-month cloud sticker shock.
Dig Deeper on Database management