Sergej Khackimullin - Fotolia
The business benefits of enterprise data governance and MDM
Data leaders from prominent large organizations provide insights into data governance best practices and benefits, at Informatica's MDM 360 and Data Governance virtual conference.
With seemingly overwhelming amounts of data coming from myriad sources, the need for effective enterprise data governance strategies is of paramount importance to many organizations.
Enterprise data governance has many facets and can often intersect with master data management (MDM) efforts. That convergence was on display at Informatica's MDM 360 and Data Governance virtual summit hosted on March 19.
The enterprise cloud data management vendor, based in Redwood City, Calif., has been particularly active in recent months, hiring a new CEO in January and expanding the company's product portfolio with updated governance, data catalog and analytics capabilities.
"We all want tomorrow's data yesterday, to make a decision for today," Informatica CEO Amit Walia said during the event's opening keynote.
Informatica's virtual conference was among the many similar events that tech vendors have held or are planning to substitute for in-person events canceled because of the coronavirus pandemic.
One notable tech conference producer, O'Reilly Media, sponsor of the Strata Data and AI conferences, among others, said March 24 it is closing its in-person conference business altogether because of the pandemic.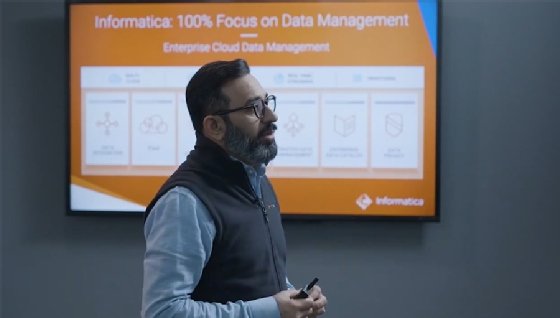 How Hertz is mastering enterprise data governance and management
Meanwhile, with its global car rental operations, Hertz Corporation possesses a lot of data that it needs to collect and govern, for some 100 million customers and a fleet of nearly a million vehicles.
We all want tomorrow's data yesterday, to make a decision for today.

Amit WaliaCEO, Informatica
Speaking at the virtual event, Richard Leaton, master data leader at Hertz, outlined the challenges his organization faces and the best practices for data governance and data management Hertz has used.
"The overall business objectives of MDM from an IT perspective, was a $1 billion transformation, changing our reservation system, rental system, sales engine and fleet management," Leaton said. "If it had an electronic component to it, I think we changed it."
As part of that effort Hertz needed to improve data quality and data governance, so there could be a single source of information for customer and fleet vehicle data.
Leaton noted that when he joined Hertz in 2017, the company had multiple sets of customer and vehicle master data sources and 30 years of mainframe-based proprietary databases. The systems were highly customized, not easy to upgrade and not uniformly governed.
Leaton emphasized that Hertz started with a process to engage all the right constituencies in the business.
"Data is an asset," he said. "Data can have real hard number committed to it and when you have hard numbers associated with a data program, you're going to have people who are helping you to make that data program successful."
The technology should be the easy part of data transformation, Leaton said. The business processes, the buy-in and making sure the right data quality is present become the hard parts.
Enterprise data governance is the key to master data management
The first step for enabling MDM is to start with data governance, according to Leaton.
"If you don't have your terms defined, you can't build an MDM suite effectively," Leaton said. "We were partway along the governance journey and started into MDM the first time and that's where we ran into trouble."
Hertz IT managers thought that they had defined enterprise data governance terms, but they came to realize that the terms were not agreed upon across the multiple platform of the business.
Securing executive buy-in for defining data governance across an organization is critical, Leaton said. He also emphasized that financial metrics and business value needs to be associated with the effort. Business leaders need to understand what the business will get out of a data governance effort. It's not enough just to want to have good data, leaders need to define terms.
The defined terms for data governance can outline how the effort will help ensure regulatory compliance and how it will help to grow the business because all the systems talk to each other and there is better operational efficiency.
Data governance at Invesco
Rick Turnock, global head of enterprise data services at financial services firm Invesco, based in Louisville, Ky., also has a structured process for data governance.
The Invesco enterprise data platform incorporates three core steps for data governance and quality. In the planning phase, much like at Hertz, Turnock said the organization needs to define and document data requests in terms of business outcomes.
In the capture phase of data, enterprise data governance policies for mapping and cataloging data are important. For data delivery, Turnock said data output should be delivered in the agreed upon format and with preferred mechanisms that were defined up front in the planning process.
Using data to improve healthcare at Highmark Health
Using enterprise data governance and MDM best practices isn't just about improving business outcomes. Those best practices can also improve healthcare.
Also at the Informatica virtual event, Anthony Roscoe, director of enterprise data governance at Highmark Health in Pittsburgh, explained how his organization embraced data governance and MDM. The key challenge for Highmark Health is that the organization had grown via acquisitions and ended up with multiple disparate data systems.
Operational integration of data is also part of Highmark Health's data journey, making sure that clinical data from health systems can be correlated with health plans. It's an approach that Roscoe said can help to streamline care decisions between the health insurance and care delivery portions of Highmark Health's business.
The overriding goal of Highmark Health's enterprise data platform is to take all the individual parts, find where the organization needs to gather data from so it can be organized, and ultimately govern the data so that appropriate access is in place.
"Mastering the data so that we speak a common language across the entire enterprise is key," Roscoe said. "Speaking from the same language can deliver accurate data statements and reports and other metrics across the different business units."
Dig Deeper on Data management strategies