NicoElNino - Fotolia
IBM Db2 update aims to simplify use with AI
IBM's new Db2 release adds a host of AI-powered enhancements, including a range of automated error reporting capabilities and tools to more easily create AI algorithms.
A major IBM Db2 update brings in new AI capabilities to simplify or automate a range of actions to save database administrators time and effort.
The capabilities in IBM's hybrid data management products include an enhanced natural language search function, a machine learning optimizer and new tools to build machine learning models in Db2.
A database administrator might be tasked with a complex query that requires fetching many petabytes of data from the database. Typically, the administrator would have to spend a large portion of time understanding and tweaking the access path for the query.
However, the machine learning optimizer in Db2 version 11.5 "can make the engine understand the access path of the query and improve it at each execution or iteration," said Prasun Mahapatra, a senior database administrator at Micro Focus and a former IBM employee.
"We then have a scenario where long-running transactions, as in the queries that take prolonged time to execute and complete, have their transaction data written to a separate set of logs," he said. "This helps the [database administrators] to isolate and focus on the long-running transactions and come up with better strategies to tune them."
Easing workloads
Largely, the goal of the IBM Db2 update is to ease the workloads of database administrators, as well as developers, said Matthias Funke, executive director of hybrid data management, offering management and strategy at IBM, said.
"We asked, 'How can we make the life of a [database administrator] easier?'" Funke said.
A new Augmented Data Explorer tool, now in beta, enables users to query data using natural language and delivers summarized results in natural language and data visualizations.
Another new capability in Db2 version 11.5 enables developers to draw on a series of newly available drivers for several open source programming languages and frameworks that enable developers to more easily use Db2 to build cognitive and machine learning models into their applications.
"We actively invested in the ability to use Db2 in environments that data scientists use today," Funke said.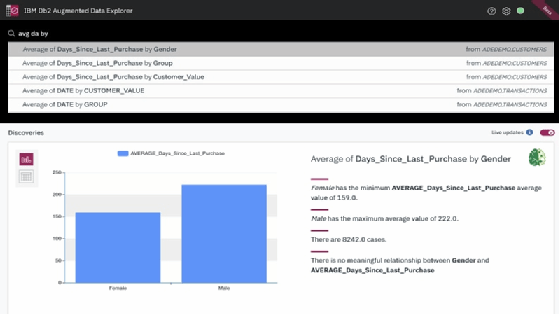 More than just AI
While IBM touted the AI-powered enhancements, the IBM Db2 update contains a number of other improvements, said Carl Olofson, a data management analyst at IDC. Those improvements include enhanced graph capabilities, as well as a range of operational enhancements, he said.
"What really makes the story work, including the AI part, is the list of enhancements and integrations that support data governance, data integration and integrated data access, including hybrid data management, that enable users to marshal the data they need to drive their AI operations," Olofson said.
"In effect, this supports their tagline: 'There is no AI (meaning artificial intelligence) without IA (meaning information architecture),'" he added.
The IBM Db2 update, according to Funke, aims to make for a more unified experience in the Db2 engine. The company hopes to attract new customers, as well as retain current ones, with the new features, he said.
This will be important for IBM's Db2, a legacy system that has faced competition from competitors such as Google and AWS. Db2 can be deployed on IBM's new multi- and hybrid cloud services, which, according to Olofson, "combined with the features in this release, make for a very compelling data management story, especially for enterprises with a large and diverse set of data to manage."
Dig Deeper on Database management