Sergey Nivens - Fotolia
ArangoDB 3.5 update improves multi-model database platform
ArangoDB 3.5 accelerates its database platform with improved query performance and enhanced data security capabilities, as market demand for multi-model platforms builds.
A number of different types of database models can be used to serve various needs, but users need a database that has multiple types of models. That's where the ecosystem of multi-model databases and ArangoDB come into play.
ArangoDB is a multi-model database with both an open source and enterprise edition, providing users with both NoSQL and graph database capabilities.
On August 21, the San Francisco-based multi-model database vendor made ArangoDB 3.5 generally available, adding new features to help accelerate data queries and improve data compliance.
Enterprises have a clear need for multi-model databases, said Mike Leone, an analyst at Enterprise Strategy Group (ESG).
"Organizations are looking for ways to consolidate their database footprints," Leone said.
Multi-model database demand
Whether relational or non-relational, transaction-based or analytical, Leone said ESG research shows that 38% of respondents report that they have between 25 and 100 unique database instances, while another 20% have more than 100. He added that database consolidation and modernization initiatives are well underway, with 50% of organizations currently consolidating their database infrastructures and another 25% planning to do so over the next 12 months.
"Multi-model databases present an effective way to consolidate, but not all multi-model databases are created equal," Leone said. "This is where ArangoDB introduces an interesting and differentiated value proposition."
By offering a single database engine and single query language to support numerous data types and relational models, ArangoDB sets itself apart in a crowded database market, according to Leone.
"We found a way that users can combine JSON documents, graph properties and key value data storage in one database engine, and with one query language," said Claudius Weinberger, CEO of ArangoDB. "So that means you can use it as a document database, you can use it as a graph database, without switching anything and you can even use both data models at the same time and combine them."
ArangoDB 3.5 multi-model database features
Among the improvements in the ArangoDB 3.5 update are graph query performance gains with the PRUNE.k shortest path addition. The shortest path feature enables users to traverse a graph faster when they are looking for a specific subset of data.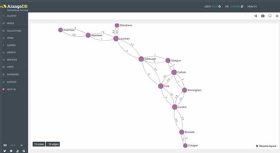 The ArangoSearch capability also gets a performance boost in the 3.5 update of the multi-model database platform.
"Arango search is a full text retrieval layer on top of the multi-model data," Weinberger said. "It's not the same, but has similar functionality as something like Elasticsearch and with the 3.5 update we have improved it, coming closer to the full text search engines that are on the market at the moment."
Another key addition with ArangoDB 3.5 is an accelerated incremental backup capability. Weinberger said that the new backup feature enables user to make a backup of a cluster in seconds.
Data masking
While performance optimizations are a highlight of the release, the feature that Leone said sticks out to him is the integration of new data masking capabilities.
With data masking, certain fields within a database can be hidden and secured, which is important for different privacy and compliance regulations. Organizations want to give more and more people access to data, but security and compliance are top concerns, Leone said.
"Features like data masking can enable organizations to provide guard rails for users to ensure they stay within their purview of data," Leone said. "This is one of the reasons why 47% of organizations view security as the most important capability when it comes to new database and analytics technology investments."
Another key addition for ArangoDB 3.5 that affects security is the multi-model database's Time-to-Live capability which determines how long a given data field will remain active before being deleted.
"You can configure the database to delete data automatically after a certain time period, and that is what people are using to become more compliant," Leone said.