YakobchukOlena - Fotolia
AWS and Oracle battle for hybrid cloud database deployment
Oracle's Autonomous Database and the Amazon Relational Database Service (RDS) are coming down from the cloud and are now available for users to run on premises.
Cloud databases are coming back on premises with a series of new offerings from Amazon Web Services and Oracle.
AWS said on July 6 that its AWS Outposts service now supports the Amazon Relational Database Service (Amazon RDS). AWS Outposts ports the AWS public cloud to an organization's own data center. Amazon RDS provides users with cloud versions of a number of different relational databases, including MySQL, PostgreSQL, MariaDB and SQL Servers.
With Amazon RDS running on AWS Outposts, the initial two databases supported are MySQL and PostgreSQL. With AWS Outposts, users run the database workloads on premises and get AWS cloud backup and control functionality that is the same as what is available in the public cloud offering.
Oracle launches hybrid cloud database deployment
Not to be outdone, on July 8 Oracle introduced its Dedicated Region Cloud at Customer offering, which brings Oracle's cloud services, including the Oracle Autonomous Database, to on-premises deployments. The new system provides Oracle users with a fully managed platform that is deployed in the user's own location.
"The autonomous database that's running in Cloud at Customer is identical to the autonomous database that runs our Gen 2 public cloud," said Larry Ellison, Oracle CTO, executive chairman and co-founder, during a virtual event July 8. "The Oracle Cloud manages the clouded customer database, but the data in the Cloud at Customer deployment always stays in your data center."
Ellison also used the live-streamed event as opportunity to compare his firm's on-premises version of a cloud database, to Amazon RDS, boasting that Oracle's is faster, though the claim has not been independently substantiated.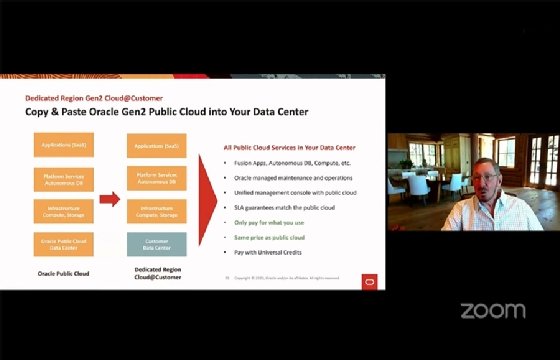 Two different views of hybrid cloud databases
While Ellison sees Oracle's offering as being directly competitive with AWS, analysts took a more nuanced view.
"I see the two products are largely distinct in the market, despite their superficial similarity," said Carl Olofson, research vice president at IDC.
The autonomous database that's running in Cloud at Customer is identical to the autonomous database that runs our Gen 2 public cloud.

Larry EllisonCo-founder and CTO, Oracle
Olofson said Oracle's product is aimed at Oracle Database users who want the benefits of Oracle Autonomous Database in the data center and who, for the most part, are heavily invested in Oracle technology.
"It is critically important to Oracle to keep those customers in the fold, and away from other cloud platform vendors," Olofson said.
In contrast, Olofson noted that AWS Outposts supports RDS, but not Amazon's premium online transaction processing (OLTP) relational database management system (RDBMS) Amazon Aurora. While RDS provides managed support for Oracle and Microsoft SQL Server, most RDS users are focused on open source: MySQL and PostgreSQL, he noted.
"This is a different market from that targeted by Oracle," Olofson said.
On the surface, the AWS and Oracle systems are similar, said Mark Peters, principal analyst and practice director at Enterprise Strategy Group. Both AWS and Oracle are offering the ability to run certain databases either in a public cloud or on premises.
"Each is an embrace of the clearly hybrid IT world that is going to be dominant for the foreseeable future, but then there are a host of -- meaningful -- differences in execution," Peters said.
Peters added that the variance include the databases themselves and the degree of services sophistication, performance, security and value, among other things.
Why hybrid cloud database matters
Organizations want to use hybrid cloud databases for a variety of reasons.
A hybrid approach is often to accommodate compliance with different regulations and executive preferences, Peters noted. Ellison underscored that, pointing out that enterprises that need to keep data in a certain location due to data sovereignty rules can do so with an on-premises option.
Olofson said that IDC research shows that most larger enterprises are committed to a hybrid path to cloud migration. That approach involves building and convert applications on premises in a cloud or cloudlike environment, then gradually moving them to the cloud.
"Being able to bring the actual cloud environment into the data center makes that effort simpler and less risky," Olofson said. "This applies, in particular, to what one might call traditional operational applications, which are the trickiest to replatform and move."