kentoh - Fotolia
Ataccama automates data governance with Gen2 platform update
Data management vendor Ataccama adds new automation features to its Gen2 platform to help organizations automatically discover metadata and build an accurate business glossary for data.
Data governance vendor Ataccama is set to advance its namesake platform with its Gen2 offering that brings more automation and data processing capabilities.
The vendor, based in Toronto, introduced its Ataccama One Gen2 platform on Nov. 16, with general availability set for February 2021.
Ataccama's first generation platform had a strong focus on master data management (MDM); it has now been expanded with a series of enhanced data governance capabilities.
Among the updated features are data quality improvements as well as a data catalog that benefit from Ataccama's new AI core to help enable what the vendor refers to as "self-driving" capabilities for data governance.
Among the early users of Ataccama's platform is security vendor Avast, which is using the technology to help meet its data governance requirements.
Miroslav Umlauf, chief data officer at Avast, said Avast started out using Ataccama for MDM.
He noted Avast has grown over the years through mergers and acquisitions and has had to integrate multiple data sources and systems.
The data that Avast collects and manages includes threat data from endpoints, which resides in a single data lake. Avast also deals with transactional and customer data that resides in different systems, including in what Umlauf referred to as a traditional data warehouse.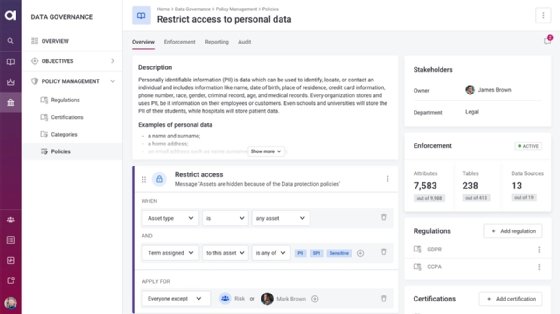 Ataccama Gen2 features for data governance
The new features in the Gen2 platform will further help Avast with the challenge of managing the data that comes from disparate sources, Umlauf said.
"With this new implementation of Ataccama, the features of data catalog and data lineage are important as we collect data and share it across the company," he said.
With this new implementation of Ataccama, the features of data catalog and data lineage are important as we collect data and share it across the company.

Miroslav UmlaufChief data officer, Avast
Another key area of the Gen2 update that will help Avast is an updated metadata management capability.
Umlauf explained that his company needed to have a company-wide semantic model for data as well as a business glossary to define data types and how they can be used. Going a step further, Umlauf noted that Ataccama's automated policy enforcement capabilities in the Gen2 update will also help define what the different data types are and which users within the company are authorized for access.
How Ataccama Gen2 improves data governance with metadata
A key part of the Ataccama Gen2 update is automation for data cataloging. Michal Klaus, CEO of Ataccama, noted that Gen2 benefits from artificial intelligence to help extract metadata information from data sources.
Klaus explained that once a user triggers Ataccama's data source documentation process, the platform will automatically import all available metadata about the content of a given system. Ataccama will also generate additional metadata automatically by using AI-augmented functionality in data profiling.
"The majority of the system would be documented automatically, and the users would just resolve provided suggestions and recommendations," Klaus said.
The ability of the AI system to expand an organization's existing business glossary is another key addition that will aid in the data governance process.
Klaus noted that Ataccama has for many years been able to automatically map business terms from the glossary to data assets in the data catalogs.
With Gen2, the platform can detect completely new business terms that are not yet defined in the glossary by looking for similarities between assets in the data catalog and automatically creating those business terms in the glossary, he said.
"This functionality can be used even when a business glossary is nonexistent. There are no prerequisites," Klaus said.
The challenges of enterprise data governance
A key challenge that Klaus said he sees across organizations is that they don't always fully implement and update data governance as situations change.
"Most governance initiatives fail because they put huge pressure on people, first forcing them to create and update it manually," Klaus said. "Gen2 is trying to change this thanks to its embedded automation."