How to create an emergency phone tree and template
When disaster strikes an organization, employees must be alerted. Using a call tree in emergency situations is a time-tested way to effectively communicate events and next steps.
Following a disaster, one of your first priorities should be to notify employees and relevant personnel of the...
Continue Reading This Article
Enjoy this article as well as all of our content, including E-Guides, news, tips and more.
status of the organization and how to proceed. Establishing an emergency phone tree -- where a designated call tree leader phones a small number of other employees, who are then responsible for notifying others -- enables an organization to contact many people in a relatively short amount of time.
This is especially important after a disaster when next steps -- such as information concerning building evacuations, employee relocation and status checks for important equipment, for example -- must be communicated quickly.
While considered a bit outdated in this age of mass text messages and automated emergency systems, a phone tree enables direct, two-way notifications between employees and is a time-tested approach to communication.
This article provides the information needed to implement an emergency phone tree and discusses the benefits and limitations of the process. Our free downloadable template will help you diagram your own call tree.
How to set one up
In a typical emergency phone tree, a designated call leader launches the phone tree by contacting the next people on the list. Those recipients then notify others, and the process is repeated until everyone has been contacted. In large organizations, each person is usually responsible for calling at least two others. An alternate call tree lead should be designated in case the lead is not available following the disaster.
All contact information should be detailed in an incident response plan, updated as changes occur and kept on record in the HR department.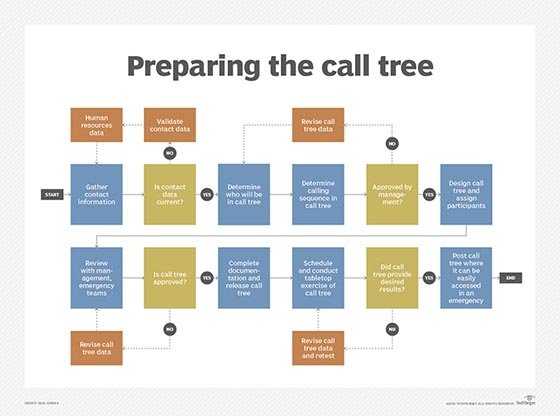 Information conveyed in the emergency phone tree should be brief, but thorough. Because it is a time-consuming process, ideally, all of the necessary information should be contained in the first message. As the call tree goes on, staff may not know any information outside of what is contained in the call, so everyone should be provided with enough information to answer any potential questions.
Members of the phone tree should also be informed what to do in the event that someone is unresponsive to all methods of communication or unable to perform any next steps. A central contact should be in place to report that information.
Benefits of having one
Using a call tree as part of an incident response strategy establishes a clear and easy-to-use system. As long as the contact information is kept current, a call tree is an effective way of communicating with a large number of employees. Because each staff member only has to contact one or two additional employees, information can be conveyed quickly, without overloading one person or system.
Unlike most automated messages, a phone tree also enables two-way communication between the caller and recipient. If an employee does not answer a call or has information to report back about their status, that can be conveyed.
This method of communication in an emergency response is also effective in creating a communal source of information for members of an organization. A call is more personable than an automated message and signifies that an organization is invested in the welfare of its staff.
Limitations
While effective, call trees are subject to human error. If an employee is unclear as to whom they are supposed to contact or they forget to initiate the call, the next person on the list may never be notified of the event. Depending on the type of emergency, some participants in the call tree may even be unable to make or receive calls if they have been evacuated or are unable to use their phone. If employees are unable to reach someone after multiple attempts, they should contact the call tree leader to inform them of the issue.
In addition, a process for tracking the progress of the calling tree should be implemented to ensure that calls have gone out and that people have responded to them. If there is no indication that an employee has responded to a call, other methods of communication can then be attempted.
Alternatives
Possible lapses or breaks in a calling tree can often be reduced or eliminated by automating the process. An automated emergency notification system sends audio messages or text, simultaneously to cellphones, landlines, email addresses and SMS contacts. These systems keep track of all calls and responses and can flag system administrators if individuals have not responded after a preset number of tries. Following an incident, the system can also provide a report as to how it performed.
Emergency notification systems can be in-house devices, often rackmounted, that can be programmed to generate many outgoing notification messages to preprogrammed contacts stored in databases. They can also be managed services, in which the user accesses the emergency notification system via a phone call or the internet. These systems come at a variety of price points to suit the needs of different organizations.
Mass texts are an increasingly common form of emergency message communication because they enable organizations to send out detailed facts about an emergency. While mass text messages are a faster alternative to an emergency phone tree, they offer no guarantee that all intended recipients have seen or read the message. Automated systems may be enabled to collect information about who has received and read the information, but they cannot gather information as to why someone did not respond. Since gathering that information would likely involve a call to follow up, using an emergency phone tree might be a more efficient process in the long run.
Dig Deeper on Disaster recovery planning and management