5 crucial multi-cloud disaster recovery principles
A multi-cloud DR plan looks different for every organization, based on its needs. However, there are five universal precepts that can be applied to most multi-cloud strategies.
When a cloud provider's services suddenly become unavailable, the business impact can be serious and even traumatic. In addition to lost productivity, employees, customers and business partners may become frustrated and angry if order is not restored quickly. The longer the outage continues, the greater the likelihood that your organization will experience a significant loss revenue, not to mention major and perhaps even long-term damage to its reputation.
By creating a reliable multi-cloud disaster recovery (DR) , these issues can be more easily avoided. A well-designed strategy will help you maintain essential business operations, even if your usually reliable cloud partner experiences a hiccup. As you begin mapping out your multi-cloud strategy, consider these five key points.
1. Location, location, location
If your cloud provider stores your applications and data in a single location, it's time to look for a partner that can supply a wider and more flexible multi-cloud footprint. Adopting a multi-cloud disaster recovery approach will make your assets more accessible and better protected from accidental deletion.
The safest strategy is to use multiple clouds within the same country but located in different geographic regions. Moving data across international boundaries isn't usually a good idea, since it creates unnecessary legal and regulatory constraints and complications.
2. Safety in numbers
For maximum protection, include at least two different cloud providers in your multi-cloud disaster recovery strategy. Many providers operate separate regional cloud infrastructures, but if one infrastructure fails, the firm's other infrastructures may become overloaded to the extent that they become unusable.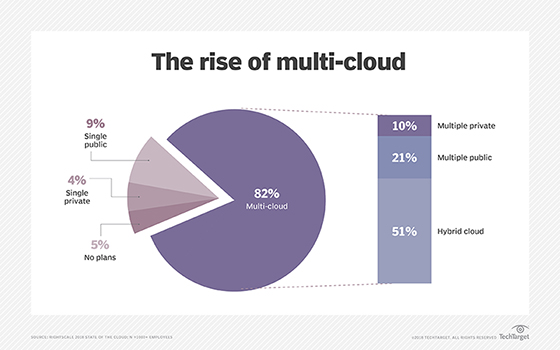 On the other hand, the odds two providers faltering simultaneously, even if they are based in the same country, are relatively infinitesimal.
3. Test your initiative
As with any new initiative, it's wise to begin a multi-cloud disaster recovery with a small, limited-scope test project. Many organizations launch their strategy by replicating a select number data sets in a nonessential area, using two or more cloud providers.
The next step would be to analyze the results and, if the outcome warrants it, move on to progressively more critical assets.
5. Conduct regular drills
Cloud technologies and provider requirements are continually evolving, so a best practice is to regularly run drills of your multi-cloud disaster recovery to ensure smooth and rapid failovers. This enables you to learn how every function will perform in the event a disaster.
While testing typically targets and analyzes separate components a , a drill runs through the strategy from start to finish. Similar to a tabletop exercise, DR drills more closely simulate how a will be used following a disaster. If the results aren't satisfactory, work with your cloud provider(s) to iron out any problems.