your123 - stock.adobe.com
AI for video editing: How one startup is doing it
The vendor's Magnifi platform enables enterprises to generate clips from live or prerecorded videos. The platform uses AI and computer vision to create short clips.
An AI system that edits live video in real time is gaining momentum.
Magnifi is an AI-powered video editing SaaS platform created by VideoVerse, a six-year-old startup based in Mumbai, India, and formerly known as Toch.ai. VideoVerse uses computer vision and AI to generate key moments and short clips for broadcasters, sport teams, e-gaming platforms and other enterprises.
In April, VideoVerse raised $48.8 million in series B funding led by A91 Partners, Alpha Wave Global and tech investor Binny Bansal. The startup said it plans to use the funding to expand in India and build new products.
VideoVerse, Magnifi and AI
VideoVerse uses AI for data sampling of different moments during livestreams of events like soccer matches or football games.
Enterprises feed either their live or prerecorded events from sports games or newscasts into the Magnifi dashboard. The system then creates key moments from the events and highlights them for users, who can in turn publish those highlights onto their website or social media platforms for customers to consume.
The vendor uses AI to speed up the video editing process and hyperpersonalize content for the appropriate audience, customizing "bite-sized" short videos for social media platforms and the internet.
Currently, most organizations edit videos manually.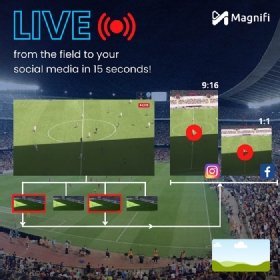 "AI plays an important role because now [enterprises] can identify all these exciting moment [with the product and] create key moments automatically," CEO Vinayak Shrivastav said. By doing it automatically, enterprises save time that they would have otherwise spent looking for those engaging moments and editing themselves, he said.
One problem VideoVerse faces is obtaining relevant data sets. Since Magnifi uses data sampling of past data, the AI technology that it uses tries to pull out the same type of key moments when analyzing live events. However, that can prove challenging.
"Analyzing live events is a challenging task because what might be exciting today might not be exciting tomorrow," Shrivastav said. "So, it becomes very important to identify key moments and understand them across multiple contexts."
Video editing, AI and challenges
Although the growth of vendors such as VideoVerse and competitors including Aivo.ai and RunWayML shows that AI for video editing is advancing, the technology raises some ethical questions.
It's basically getting harder for us to tell the difference between information that's being developed by human or by technology.

Craig Le ClairAnalyst, Forrester
"It's basically getting harder for us to tell the difference between information that's being developed by human or by technology," said Craig Le Clair, an analyst at Forrester. "That's something we need to be concerned about."
While VideoVerse is aimed mainly at the sports, news and entertainment industries, using the tool in a political context could lead to AI technology creating videos that are pieced together dishonestly or inaccurately with the intent to mislead.
Also, the idea of using AI in video editing can also bring into question creativity, Le Clair said. Many video editors see their work as art, so having a tool like this may inhibit creativity.
"What effect is this type of technology going to have on our creativity and our appreciation of creativity?" he said.
Meanwhile, VideoVerse's most notable power comes from its ability to scale and reduce the number of people working in a studio generating video content, LeClair said.
"They scale much better than having humans generate the information content and videos," Le Clair said.
Another positive aspect of AI for video editing is being able to create training videos on a large-scale basis.
"We have a real skills gap in the country," Le Clair said. "We need millions of people that can do more digital things."
Although the gap can be filled with training, that is inhibited by the need for a large amount of human labor. Vendors like VideoVerse may be able to help fill that gap with AI-driven products that automate aspects of training.
In any event, using AI for video and broadcast editing will inevitably bring up the question of transparency, Le Clair said.
"How can we distinguish between information that was created with a bot, with a natural language generation, video creation or from an actual human? We don't know," he said.