Laurent - stock.adobe.com
AI in mining takes root in the industry
Executives from data science vendors Kespry and Descartes Labs discuss the importance of AI in the mining industry, a sector that is still fairly new to AI technologies.
The mining industry has used technologies such as advanced machinery, satellite imagery and hypersensitive measurement tools. However, the industry is just beginning to use AI in mining, which has the potential to save workers time and companies money.
Geospatial analysis and data science vendor Descartes Lab has many customers in the mining sector, with a few packaged products specifically for customers in that area. Based in Santa Fe, N.M., the 2014 startup spun out of Los Alamos National Laboratory, a U.S. Department of Energy weapons research center.
The mining sector is in the early stages of using AI technologies, said James Orsulak, senior director of enterprise sales at Descartes Labs. Still, he said, almost all of the company's clients have small data science teams made up of highly skilled experts.
"We're seeing a transition where there are more former geologists who went back to school to get a data science degree," Orsulak said.
Astral imagery
The Descartes Labs platforms for mining companies combine data sets from NASA's Advanced Spaceborne Thermal Emission and Reflection Radiometer (ASTER), an advanced imaging instrument on the Terra satellite, with AI and analytics.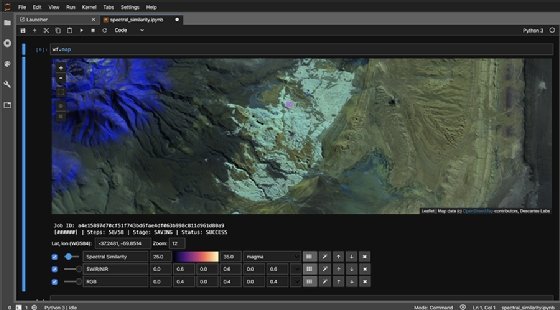 Descartes Labs ingested the entire dataset from ASTER, a process that took many CPU hours, Orsulak said. Using machine learning, Descartes Labs then removed all the structures, clouds and snow from the satellite images, leaving only a bare earth model.
We're seeing a transition where there are more former geologists who went back to school to get a data science degree.

James OrsulakSenior director of enterprise sales, Descartes Labs
Mining clients then combine their data with the platform and layer in other types of data on the model, including mineral classification, geochemistry and geophysics data.
The platform, among other things, can be used to find new mineral deposits with machine learning, as it can use data on known deposits to find similar, previously unknown deposits.
Manually, that can take months or years, said Lori Wickert, a geologist and principal remote sensing consultant at Newmont Corporation, a gold mining company.
"Working with the Descartes platform is providing an opportunity to shortcut that process in a major way," Wickert said, adding that the software has saved her countless hours of manual work.
Another style
Meanwhile, Kespry, an industrial drone software and analytics vendor, also focuses on the mining sector, but with a slightly different approach.
The 2013 startup, based in Menlo Park, Calif., uses industrial drone imagery to fly over mining sites for mine planning and inventory management, said George Mathew, CEO and chairman of Kespry.
Using drone imagery either collected from its own drones or mining industry customers, along with its data science platform, Kespry maps daily topography changes in active areas, identify slope stability, identify draining patterns and more.
The company can also use the imagery and platform to automatically measure stockpile volumes of mined materials.
For mining companies and other industrial businesses that aren't yet using AI and machine learning, the time to start is now, Mathew said.
"The companies that end up making those investments now, they end up with a head start," he said.