il-fede - Fotolia
Accounts payable automation eliminates invoice backlog
Purple, a mattress company, struggled each week to manually process its myriad invoices and bills. It found relief in automated accounts payable software from a startup vendor.
At the start of 2019, comfort products company Purple, an early and well-known entrant in the online mattress business, was overwhelmed with invoices. An accounts payable clerk had just left, and the remaining clerk and supervisor struggled to manually process the myriad invoices and bills that populated the company's accounts payable email inbox.
With the two employees working overtime and still unable to fully catch up, Purple decided to turn to accounts payable automation software.
Automating accounts payable
Purple signed up for accounts payable automation software from a multibillion-dollar vendor on a month-to-month basis. Yet, according to Peter Taylor, corporate controller at Purple, the vendor oversold the capabilities of the accounts payable tool and employees found it difficult to use.
"This wasn't a tool that they were going to adopt quickly," Taylor said.
Purple started looking into other options, and eventually settled on 2014 startup Stampli.
Headquartered in Mountain View, Calif., Stampli sells accounts payable automation software that works with existing accounting systems, enabling customers to deploy the software within hours, Stampli CEO Eyal Feldman said.
Using computer vision, Stampli automatically captures information from invoices and bills and populates fields, using the data to fill out the correct forms. Machine learning enables the platform to absorb customers' processes, automatically suggesting whom to send a bill or invoice and which department should bear the cost. It's not a new technology, but still, many enterprises have yet to switch to automated accounts payable software.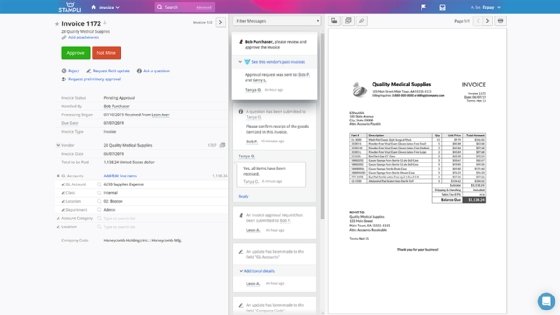 The software also helps centralize communication, as it features in-platform, audit-ready communication tools that enable approvers, contributors and vendors to easily talk with each other.
While users can get the platform working within hours, it generally takes a week or two for the system to learn users' processes, Feldman said. The system learns partly from historical data, and partly from real-time input.
Easy setup
For Taylor, the initial setup was fairly painless. Unlike past software, Stampli was easy to pick up, and didn't require him to navigate multiple layers of tech support for help. It integrated well with Purple's older systems, too, he said.
Almost immediately after getting it set up, Stampli began saving Purple's accounts payable department time.
Before the platform, the accounts payable manager and clerk stayed up until midnight some nights, parsing through the many different invoices from that week. The company had a large backlog of invoices, and only a few of them were properly documented.
"It was really a complete mess every weekly pay run," Taylor said.
With Stampli, however, Purple has reduced much of its backlog and has now properly documented all of its invoices.
Stampli allowed us to take on the extra scale of growth that we were experiencing as a company.

Peter TaylorCorporate controller, Purple
The platform "allowed us to take on the extra scale of growth that we were experiencing as a company," Taylor said.
The platform automates 80% of the previously manual work, Taylor said, taking stress off the accounts payable employees and ensuring bills and invoices are dealt with expeditiously.
While he said he doesn't have major gripes with Stampli, Taylor said he struggled to configure mapping certain sales when he first installed the platform. He was unable to map customer sales to Purple's ERP data, so that the data didn't come into the platform correctly. Eventually, he noted, after some help from Stampli, Purple resolved the problem, but it was a hassle.
Still, he said, Stampli has responded well to Purple's suggestions and occasional questions. Stampli is a fairly small company -- business information aggregator Crunchbase notes it has raised $34.7 million -- and responded quickly to any of Purple's concerns.
"You're not just one little fish in a giant pond," Taylor said.