peshkova - Fotolia
Medline streamlines workflow by automating accounts payable
By using Abbyy for OCR and UiPath for RPA, Medline is automating accounts payable. This speeds up the filing of the 2,000 invoices the healthcare distributor receives daily.
Medline Industries, a manufacturer and distributor of medical supplies, based in Northfield, Ill., is growing quickly, said Sarah Stokes, director of accounts payable at the company. That means double-digit sales growth year over year, she said, but it also means more paperwork.
"Our biggest challenge is trying to keep up with the volume," Stokes said.
To help tackle the 2,000 invoices the company receives each day, Medline has turned to optical character recognition (OCR) technology from vendor Abbyy, paired with platforms from several RPA vendors. The combination has gone a long way in automating accounts payable, Stokes said.
Automating accounts payable
Setting up automation for the accounts payable invoice paperwork took around seven months, Stokes said. The accounts payable department first brought in a few RPA vendors, eventually choosing UiPath.
UiPath, a major RPA vendor, provides a bot platform for automating routine tasks. It partners with other vendors, including computer vision and machine learning vendors, to enable customers to imbue their bots with additional skills.
Understanding they needed an OCR vendor as well, the accounts payable team asked the RPA vendors they brought in for recommendations. The vendors, according to Stokes, recommended Abbyy.
OCR and RPA
A longtime vendor of content capture and document data extraction software, Abbyy maintains partnerships with a number of RPA vendors, Abbyy CEO Ulf Persson said.
Through a suite of intelligent document capturing products, Abbyy can enable RPA users to take "unstructured data or semi-structured data [and turn it] into structured data that can be used in the process automation," Persson said.
There are literally hundreds of processes in a company that can, or should, undergo automation.

Ulf PerssonCEO, Abbyy
By pairing traditional OCR and document capture technologies with RPA and intelligent content management, Abbyy can touch more markets, Persson said.
"As a capture vendor, you would touch maybe 20% of the automation enterprise. ... Now, we can touch 100%," he said. "That's tremendously exciting."
Abbyy works within a range of industries, Persson said, as automation can benefit virtually any company.
"There are literally hundreds of processes in a company that can, or should, undergo automation," he said.
Saving time
That holds true for Medline. In addition to automating accounts payable invoices, the cash application group is looking at implementing Abbyy, Stokes said. Other divisions of the company also automate processes, she continued, although she couldn't point to exactly which ones.
Abbyy has been useful, she said, and pairing it with UiPath has saved employees a lot of time. Using automation, only "half of our total head count" works on invoices, she said.
Still, her department did initially face some challenges with Abbyy.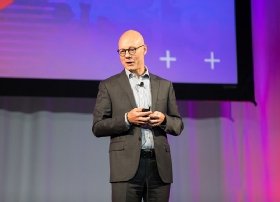 "Our biggest struggle is we didn't realize how important the view to the vendor database was," Stokes said.
Because of the way Abbyy is set up, it needs a clean view of the vendor database. If it sees duplicate vendors, then training batches aren't understood, she said.
In order to use the platform properly, accounts payable had to identify duplicates and fix them. The process took about three months, she said.
Now, however, Abbyy and UiPath are up and running, and those initial challenges have been ironed out, Stokes said, and adoption of those tools are growing. "It's getting bigger," she said.