Abbyy Vantage eyes easy AI infusion in content automation
The Abbyy Vantage platform aims to enable customers to infuse intelligence skills and automation into their content-based platforms, including RPA and BPA software.
Abbyy, the longstanding vendor of content capture and document data extraction software, released Vantage, a new content automation platform designed to simplify intelligent automation processes by enabling users to embed data extraction tools into their RPA and BPA platforms.
Released April 2 in beta, the content automation and management platform exemplifies how the company, founded in 1989, is adapting well to modern RPA, data extraction and data analytics technologies, IDC analyst Holly Muscolino said.
"This whole idea of intelligent capture is not new," Muscolino said. "It's something that we've been doing for at least a decade, even with some basic machine learning embedded."
Vantage represents "an evolutionary process, not a revolutionary process," she added. Abbyy is a client of Muscolino.
Abbyy, old and new
Abbyy, based in Milpitas, Calif., has been one of the dominant vendors of intelligent capture software, with its FlexiCapture product one of the most widely recognized and used data capture platforms.
FlexiCapture, now available in a double-digit iteration, has kept up with technology changes, adding intelligent image to text conversion, OCR, data extraction and data analytics capabilities as AI has become more available and affordable.
[Vantage represents] an evolutionary process, not a revolutionary one.

Holly MuscolinoAnalyst, IDC
Vantage, however, is what Mathias Fransen, a managing partner at Abbyy partner RoboRana, described as a "lightweight version" of FlexiCapture. It enables users to embed intelligent skills such as text and data extraction tools into their RPA or BPA platforms, he said.
Clients of RoboRana, which helps businesses automate their processes and set up RPA, have sometimes found FlexiCapture to be "cumbersome," Fransen said.
"It can be hard to understand and hard to set it up by themselves," he said.
However, Fransen added, the Vantage content automation platform is simple. For example, in an early version of the product, RoboRana was able to add extra data fields requested by a customer and learn the algorithm behind that process within half an hour.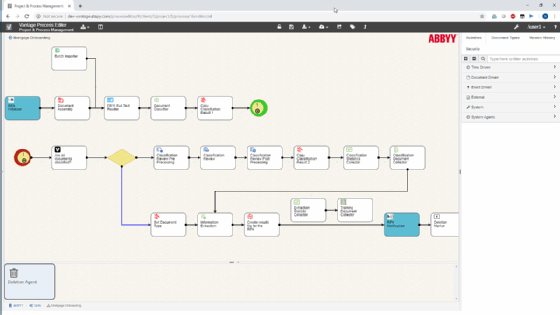 Easier, simpler
Neil Murphy, vice president of global business development at Abbyy, said with Vantage, Abbyy has tried to create a product that uses advanced AI technologies but is simple for people on the business side to use.
For RPA users especially, Murphy said, "it should be relatively easy for them to build a purpose or skill" with Vantage.
The content automation platform, which Abbyy said will be fully available sometime in the second quarter, will ship with a number of preloaded intelligent skills that can be applied to various content-based processes, including RPA and BPA.
Those preloaded skills include OCR, data classification and data extraction, which can be adapted and trained as necessary, Murphy said. Users also can create and deploy skills using a relatively simple user interface.
On the hunt for new users
Because it is easy to use, according to Abbyy, Vantage is expected to tap a new market of business users who might not have technical backgrounds.
According to Muscolino, the Vantage content automation and management platform is a reaction to current technology trends.
While Vantage isn't unique -- RoboRana works with similar products from other vendors, including Kofax, based in Irvine, Calif., which also sells a content automation platform -- it should attract new customers and appeal to current ones, Muscolino said.
"Abbyy's approach is very positive because they've understood that they're marketing to a new buyer," Muscolino said.