Fotolia
Automated document processing helps PPP applications
Using its own AI models, as well as technology from Abbyy, PwC can rapidly and correctly file a large volume of PPP loan applications.
When COVID-19 hit, PricewaterhouseCoopers (PwC) was slammed with work.
In about two months, the US government's Paycheck Protection Program portal received 10 years' worth of loan applications. PwC, a major financial and professional services company, helped many organizations deal with those applications.
"Banks were scrambling to deal with this influx of loan applications," said Scott Likens, principal at PwC Emerging Technology Lab. "A lot of the forms that are required for the submission of the application are paper-based."
If it had to do it manually, PwC would likely be unable to process all, or even most, of the applications. So the company uses optical character recognition (OCR) and natural language technology from vendor Abbyy, as well as AI tools from other vendors and its own natural language and machine learning models.
Millions of documents
PwC is familiar with handling huge workloads. As the second biggest professional services network in the world, PwC processes hundreds of millions of documents each year.
The professional services company handles thousands of model training and inferencing workloads each week processing documents including tax forms and loan applications.
Meanwhile, Abbyy's FlexiCapture, an intelligent document processing platform, uses natural language processing technology to automatically capture and extract data and text from structured and unstructured documents. The platform learns from user interactions and can automatically classify extracted data.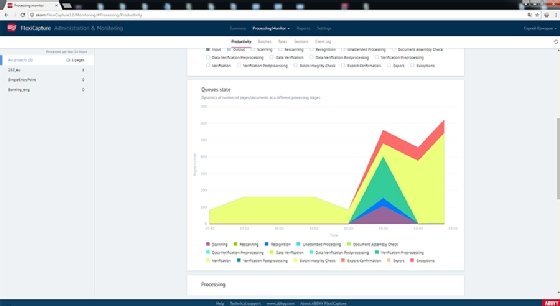 That, along with the OCR platform Abbyy FineReader, works well for PwC, but not perfectly. FlexiCapture is unable to collect data from certain non-standard documents. PwC uses custom-developed natural language capturing models to compensate for that, as well as human review.
Manually finding 50 terms across 100 pages would take at least an hour, Likens noted.
Banks were scrambling to deal with this influx of loan applications.

Scott LikensPrincipal, PwC Emerging Technology Lab
An automated approach with a containerized pipeline takes only a matter of seconds. Adding human review on top of that adds about 10 minutes.
That approach enables a high level of accuracy, while still greatly reducing the time it would take to do it completely manually.
The process makes sense for the PPP loan applications, because the Small Business Administration, which handles PPP claims, banned organizations from using robotic process automation to submit completed applications because they overloaded the agency's systems. Through PwC, organizations could still tackle their applications quickly, but accurately and without swamping IT networks.
Dig Deeper on Enterprise applications of AI