Syda Productions - stock.adobe.c
SBA bans RPA for PPP loan applications after bots clog system
After a deluge of Paycheck Protection Program loan applications overwhelmed the SBA's electronic loan transfer system, the agency said it would no longer accept loans filed by RPA systems.
The U.S. Small Business Administration banned Paycheck Protection Program loan submissions that use robotic process automation tools after RPA-compiled applications overwhelmed the government's systems.
RPA software is designed to automate rule-based business operations quickly and efficiently, far faster than if those tasks were completed manually. As lenders turned to RPA technology to file millions of loan applications, the sheer volume of applications dramatically slowed the SBA's electronic loan filing system, E-Tran.
On April 28, the SBA issued a notice to lenders saying they cannot use RPA systems to submit Paycheck Protection Program (PPP) applications. The agency said RPA burdens the loan processing program and by banning RPA, "the loan processing system will be more reliable, accessible, and equitable for all small businesses."
The agency, which is part of the U.S. Department of the Treasury, said APIs will still be allowed for loan applications.
The RPA problem comes amid ongoing processing problems in the multibillion-dollar loan program designed to help small businesses stay afloat and keep staff on payroll during the economic devastation spawned by the COVID-19 pandemic.
Similar problems with RPA can plague commercial users, and even some RPA vendors said the technology can't be used properly unless a system is scaled up to accommodate it.
Meanwhile, the main technological dynamic behind the government's decision to exclude RPA platforms from the loan process appears to be that RPA bots submit applications too quickly for the E-Tran system to keep up with.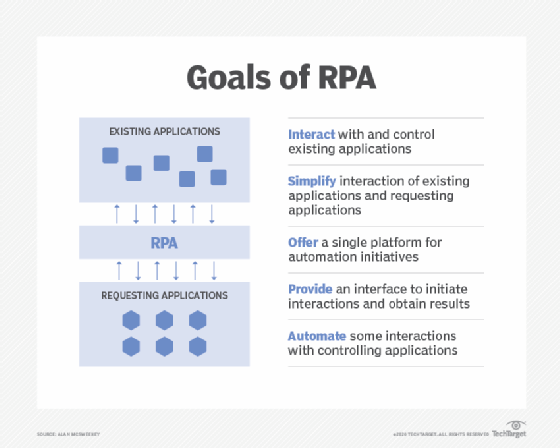 RPA defenders blame SBA
Burley Kawasaki, chief product officer of process automation vendor K2 said RPA can expose the limits or constraints in a system that hasn't been fully digitized and may not scale rapidly.
"That is probably the case with SBA's E-Tran electronic loan system. It likely was built on top of existing underlying systems that weren't ready for the rapid scale that was going to be generated by the surge of applications during the COVID-19 pandemic," he said.
The SBA did not respond to requests for comment.
The SBA's problems with the technology are not the fault of RPA itself, Kawasaki asserted, but it reflects that RPA is sometimes overpromoted. It's useful for replacing parts of a process that deal with the manual entry of data, but it isn't an end-to-end system, Kawasaki said.
"RPA isn't an 'orchestrator,' it's much more focused on automating individual tasks but is not focused on connecting each of those tasks into a fully orchestrated process," he said.
And it's not fair to blame RPA entirely for the snafu, said Maureen Fleming, program vice president at IDC's business process management and middleware research area.
"Logical" to use RPA for loans
"It is completely logical to use RPA to submit loan applications, especially with the urgency small businesses have in getting their applications submitted and processed as quickly as possible," Fleming said.
That wouldn't have been a problem if the architecture of the SBA's portal was scalable, Fleming said, adding that commercial businesses likely would have addressed the problem quickly by moving the application or the application front end to a public cloud.
The SBA could have also provided electronic forms to banks to enable them to "allow loan applicants to fill in the form and internal supplement using RPA to add bank information and convert to a data-readable format as a file and submitted to a secondary upload site to bypass the portal," she said.
The reality RPA faces is that it is only as fast as the system it interfaces with.

Alan Pelz-SharpeFounder, Deep Analysis
The federal government's move, while frustrating for some vendors and applicants and financial institutions scrambling to file applications, doesn't come as a surprise.
What happened with the SBA's loan program is actually a fairly common problem with RPA systems, which often are designed to generate thousands of computed transactions per minute, said Alan Pelz-Sharpe, founder of market advisory and research firm Deep Analysis.
"The reality RPA faces is that it is only as fast as the system it interfaces with," he said.
Loan program overloaded
The PPP has faced numerous problems since it launched on April 3. Originally approved for $349 billion, the PPP ran out of funding after only 13 days on April 16, after close to 5,000 lenders approved more than 1.6 million loans. It received additional funding days later but met upheaval again after reports that large businesses were approved for loans, even while the program was intended for small businesses.
The E-Tran system has also experienced other technical problems and faces a big backlog of stalled applications.
While some in the RPA business blame the SBA for the problem, enterprises can meet similar challenges.
"Enterprises deploying RPA hit the same barriers, Pelz-Sharpe said. "The RPA system itself may be designed to be superfast, but the RPA system has to access, pull and update fields and data in other systems; that is its purpose."
"The actual efficiency of the RPA is dependent on the typically legacy systems it connects to," he added.
In related news, Google Friday released a free AI tool to help lending agents or loan applicants create and submit loan applications.
The PPP Lending AI Solution, detailed in a blog post, has three components: a web-based application that allows lenders and applicants to create, submit, and view the status of the PPP loan application; a document parser API that enables lenders to extract structured information from PPP loan documents; and an analytics tool that enables lenders to onboard historical loan data and perform data analytics on it, store data securely and assist with the anonymization of data.
Fleming said she assumes Google's new tools will format data to be compatible with the SBA API for submission.