chris - Fotolia
Abbyy TimelinePI acquisition boosts process intelligence
With its acquisition of process intelligence software startup TimelinePI, document capture vendor Abbyy streamlines its content analysis and NLP capabilities.
Abbyy, a longtime vendor of content capture and document data extraction software, intends to buy 2015 startup TimelinePI to enhance Abbyy's intelligent business offerings for enterprises.
The price of the intended acquisition was not disclosed. It is expected to be disclosed in the second quarter of 2019, when Abbyy said the vendors will finalize the deal.
Enhancing Abbyy products
If finalized, the Abbyy TimelinePI acquisition would provide Abbyy with access to the Springfield, Pa., startup's process intelligence platform, which TimelinePI claims enables business users to visualize and quantify how processes behave.
"From what I see from the announcement, it's ABBYY rounding out its analytics software portfolio," said Boris Evelson, principal analyst at Forrester
[Abbyy is] rounding out its analytics software portfolio.

Boris EvelsonPrincipal analyst at Forrester
"We often talk about structured and unstructured -- Abbyy's sweet spot -- data analytics, but fail to mention that process analytics is an equally important piece of the puzzle. In order for a company to have [a] truly 360-degree view of its customers, products and operations, process analytics must become an integral part of the total picture," he said.
The deal comes as Abbyy, based in Milpitas, Calif., works on using AI and automation to simplify its content capture and data extraction products, as well as expand its product integrations with robotic process automation (RPA) vendors.
"Abbyy has become a major contributor to the success of RPA projects," said Ulf Persson, CEO of Abbyy. "In parallel, TimelinePI has become a key tool in the analysis and identification of existing processes."
"By bringing Abbyy and TimelinePI together, our common customers will be able to greatly improve their returns on investments for their automation initiatives," he continued.
TimelinePI's process intelligence platform, designed for nondata scientist users, claims to provide easy-to-use tools for analytics and monitoring processes, including timeline analysis, predictive analytics and workflow mapping.
Abbyy aims at taking a leading role in the process mining and process intelligence markets, Persson asserted.
But, he continued, "we also see opportunity for TimelinePI to add differentiating value to Abbyy core products and technologies by adding process intelligence."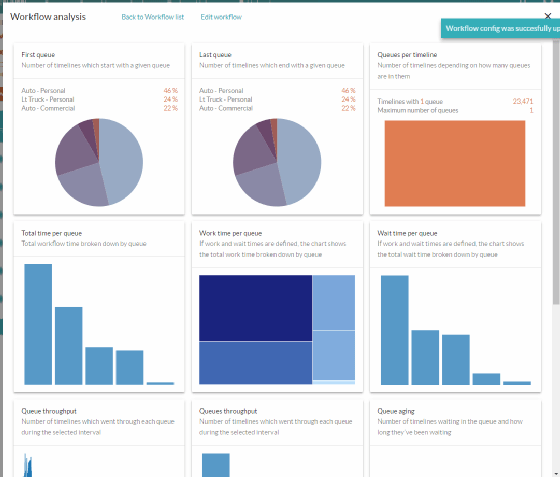 More Abbyy updates
A few days before the Abbyy TimelinePI acquisition, Abbyy unveiled updates to its intelligent content platform, Abbyy FlexiCapture. The vendor also launched a cloud REST API intended to simplify third-party integration with the platform and released in beta a cloud-based real-time document processing system.
After it closes the TimelinePI acquisition, Abbyy said it will continue to update the TimelinePI platform and sell it separately to customers, as well as integrate TimelinePI technologies into Abbyy products. TimelinePI's office locations will stay open.
Previously, Abbyy acquired Atapy Software, a software outsourcing vendor, in 2018, and Digital Documents, vendor of content intelligence and data extraction software, in 2012.