Rawpixel - Fotolia
DroneBase uses analytics-powered freelance payment system from Qwil
DroneBase uses Qwil, vendor of an analytics-based payroll and payments system, to automatically manage and pay the freelance drone pilots who use the DroneBase platform.
With more than 60,000 pilots in its network, DroneBase maintains the largest network of drone pilots in the U.S.
The California-based startup provides a platform for licensed drone pilots looking for freelance work, pairing pilots with clients in some 70 countries.
To ensure its extensive network of pilots gets paid correctly and on time, DroneBase turned to Qwil, a vendor of a freelance payment system that relies on predictive analytics to automatically predict and provide payments to freelance workers.
DroneBase freelancers
Founded in 2014, DroneBase, through its network of freelancers, has completed more than 100,000 drone missions throughout the world.
The missions are varied, but ultimately they all aim to provide clients with fast and reliable data from the air, said Nick Osgood, head of operations at DroneBase.
The company works with clients in industries that include architecture, property management, real estate, construction and insurance. Using drones, clients can complete data gathering work much faster than if they relied on manual labor, Osgood said.
Take, for example, insurance assessments after a natural disaster.
"Traditionally, it would take multiple weeks for insurance carriers to get an adjuster up on a ladder to review a claim," Osgood explained. With DroneBase, an adjuster can review high-quality images taken by a drone, rather than inspect the damage in person, saving the insurance company both time and money.
All pilots in DroneBase's extensive network are required to hold federally granted Remote Pilot Certifications and frequently undergo exams. While the platform is meant for freelance work, some pilots have completed hundreds of missions solely through the DroneBase platform, using it as their primary source of income.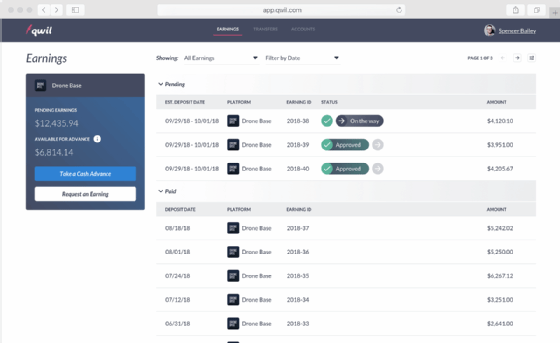 On-time payments
So it's vital that DroneBase pilots receive payments on time. Qwil, Osgood said, with its predictive analytics-powered freelance payment system, provides automatic and accurate payments. It automatically syncs with DroneBase's data and requires little work on DroneBase's part.
Qwil's platform is great for the gig economy.

Nick Osgood Head of operations, DroneBase
"Qwil's platform is great for the gig economy," he said.
Qwil began in 2015 after co-founder and CEO Johnny Reinsch, working as a freelancer himself, took what he said was a "big hit" when a client didn't pay him on time.
"I realized there was this really big need to ensure a time frame for when payments will likely be received," Reinsch said.
Qwil, which has since raised more than $160 million in funding from investors and partners that include big-name companies like PayPal, Wells Fargo and MasterCard, uses predictive analytics to accurately predict within a day when funds will arrive from a freelance project, Reinsch said.
Reinsch declined to say how the system works specifically, saying the tools and algorithms are proprietary and developed in-house. But essentially the company's freelance payment syncs and captures time and location data, as well as past payment data, to predict when payment should arrive.
"It's happening basically in real time," Reinsch said.
Users can also track their payments and get insights into who are their most well-paying employers.
The company works with freelancers directly or with enterprises.
"We're committed to helping ecosystems like the one DroneBase has built to grow and retain the best workforce in the business," Reinsch said.