Use of AI in business requires education, understanding
AI adoption requires business leaders to have a clear understanding of the technology and its capabilities, as well as how AI can help automate and aid specific functions.
Over the last few years, capabilities of AI and RPA technologies have expanded, prices of AI-driven, enterprise-level software have dropped, and it has become steadily easier for average users to set up and run that software.
So, it is a bit perplexing that many organizations still have not started using AI.
The issue may lie with a lack of knowledge about how to use robotic process automation (RPA) and AI in business, or even an outright fear of the technologies.
Business leaders' beliefs
"One of the biggest gaps in [business leaders'] beliefs is that AI is a technology of now, not just of the future," said Nigel Duffy, global artificial intelligence leader at London-headquartered Ernst & Young (EY).
While most business leaders see AI technologies as important to the future of their organizations, leaders tend to believe AI is a technology of the future, not one they can deploy now, he said.
"The gap between where we are today in terms of what the technology can do and what it is doing is wide," Duffy said.
The technology, however, is ready now, and can help businesses get ahead, Duffy said.
In addition, Duffy, referring to a recent EY study, noted that about a third of business leaders said they lack the skilled personnel needed to adopt AI technologies.
"Many enterprises believe they need to be building this stuff in-house," Duffy said. In reality, organizations can rely on third-party AI-driven software, or a combination of third-party and in-house developed technologies, and still benefit from AI.
It can take time to deploy AI successfully, and business leaders should ask themselves how exactly AI can help in "my business, in my function, in my sector," before beginning to purchase or develop the technologies," he said.
"This is a journey and it's largely about bridging the gap between the technology and the business impact," Duffy said.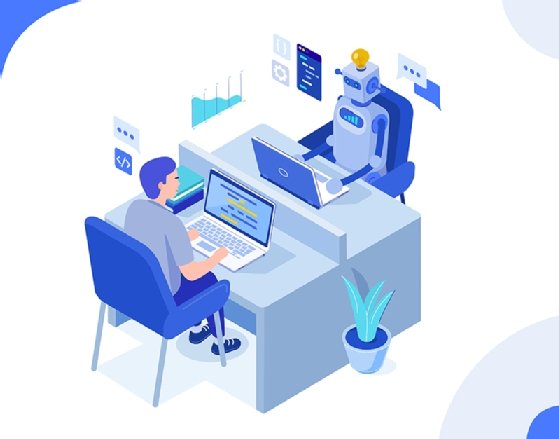 Education and evangelism
Education, trainings and technology evangelism are key to helping business leaders understand the capabilities and role of AI in business. They may also prove helpful for employees who fear that RPA or AI-driven software may replace them.
[AI] empowers people to change their lives in positive ways.

Nigel DuffyGlobal artificial intelligence leader, EY
"If you look at how these technologies are discussed in the media, there's a strong preference to talk about the downside and challenges, and we often neglect to talk about the upside," Duffy said.
Yet, he said, generally, people whose jobs will be affected by AI tend to have a positive reaction to the technology after its implemented.
AI-driven software can help automate mundane tasks, and help people focus on more important tasks in their jobs. It can reduce stress, Duffy said, and generally improve people's working lives.
"[AI] empowers people to change their lives in positive ways," he said.
Addressing worries
People do tend to worry when their organization makes steps to adopt AI and RPA technologies, said Chris Huff, chief strategy officer at Kofax, an automation platform vendor headquartered in Irvine, Calif.
Huff, who formerly worked at consulting firm Deloitte as the robotics and intelligent automation group lead, said the human element is the biggest challenge when deploying RPA and AI in business.
Before deploying RPA, business leaders should meet with employees and address whether people will lose their jobs or if they are likely to be displaced.
"You need to be empathetic and genuine and appreciate that perspective," Huff said.
Yet, in many cases, Huff said, the technology helps empower people and create new jobs. RPA helps eliminate repetitive work and shift employees to do more "value-based work."
RPA and AI can help replace parts of jobs employees don't want to do anyway, leaving most people enthusiastic about the technologies, he said.
According to some experts, as well as several studies, however, inevitably at least some people will lose their jobs to AI and RPA technologies, especially as more organizations continue to use the technologies and as they mature to include more capabilities.