Laurent - stock.adobe.com
AI in procurement creates searchable, sorted data
Canadian startup Tealbook uses NLP and machine learning to automatically create sorted and searchable supplier data, enabling its customers to spend less time looking for data and more time using it.
When Tim Herrod, senior external advisor at Bain and Company, was asked to transform the procurement process of Federated Co-operatives Limited, a manufacturing, retail and distribution cooperative in Western Canada, he wanted to start with the basics -- data.
The procurement strategy at FCL, headquartered in Saskatoon, Canada, and owned by 170 retail associations, was messy in many ways, said Herrod, who holds the contract position of head of procurement strategy at FCL.
"Procurement had been very decentralized," he said. Without a centralized database, it was often difficult to search through data for the right information.
After having learned from many past transformations, Herrod decided to start with data, as well as AI in procurement, to revamp FCL's procurement strategy.
FCL sources and distributes food, home products and building supplies to co-ops across Western Canada. The company also provides IT infrastructure and marketing support to its co-ops and supports manufacturing in various sectors, including the oil industry.
AI in procurement vendor
Herrod turned to Canadian procurement software vendor Tealbook after evaluating the capabilities of several established and startup procurement software vendors.
"This is a space where there is a lot of players," Herrod said. "Nobody does exactly what Tealbook does, but they're all trying to figure out how to play a part."
Founded in 2014 and based in Toronto, Tealbook uses natural language processing (NLP) and machine learning to help users organize data and quickly find suppliers they are looking for, said Stephany Lapierre, CEO and founder of Tealbook.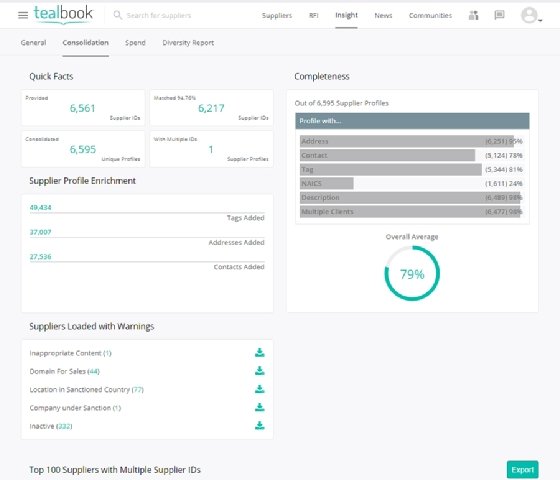 Using NLP, the Tealbook platform enables procurement teams to intelligently search for the correct supplier profiles in seconds, a task that would normally take many times longer if done manually.
Tealbook also gives users recommendations based on past profiles they viewed and the types of suppliers the platform anticipates the user might look at, based on data such as the industries the users work with.
Nobody does exactly what Tealbook does.

Tim HerrodHead of procurement, Federated Co-operatives Limited
To help build supplier profiles on the Tealbook platform, the software automatically identifies and extracts keywords from the supplier websites.
"We proactively grab information," Lapierre said. "We scout hundreds of millions of websites."
"When we grab data from our customers, we enrich it significantly," she continued. "By mining and bringng all this data together in one record, we add more value to it."
Real-time data
For FCL, the Tealbook platform appears to be a good choice.
In addition to the AI in procurement technology, the platform integrates well with other data sources and products, Herrod said.
In the past, suppliers had to send data, such as up-to-date information about their supplier certifications, for example, manually to FCL. Herrod said. Now, with Tealbook and other procurement transformation efforts including a new training platform and expense management software, FCL can get supplier and payment information automatically and in real time.
The Tealbook platform has been easy to use for some FCL employees, but more difficult for others. It's intuitive, Herrod said, but for some employees, it's a big change from what they're used to, so it took a while for them to learn how to use it.
"The users are really motivated to take it on. It's just tough," he said.
Overall, though, major challenges with the Tealbook platform have been few for FCL. The organization is starting small with Tealbook, trying to tackle any potential problems before it expands the platform to more areas within the organization.
Now, between 60 and 70 FCL employees are using Tealbook, out of the 300 or so that IT managers want to start using the platform. That's in line with FCL's three-year procurement transformation roadmap, Herrod noted.
Dig Deeper on Enterprise applications of AI