How CMT, MDM and EMM merged into UEM software
The differences between CMT, MDM, EMM and UEM can be confusing. Learn how they differ and how vendors offer these capabilities in a single UEM product.
Since the introduction of smartphones in the early 2000s, IT admins have turned to device management platforms to handle a disparate group of both corporate and personal devices. Device management vendors, however, have changed their products as enterprise needs shift.
In the past two to three years, the device market has exploded with IoT devices and wearables, such as smartwatches, that can contain company data in apps or email. Organizations need a single console to manage all devices, from desktops and laptops to IoT devices and smartphones. Unified endpoint management (UEM) entered the market to fill that need.
Differences among CMT, MDM, EMM and UEM
Device management vendors have played catch-up to accommodate this influx of devices, developing a series of products in categories that has become slightly confusing. They include the following:
Client management tools (CMT). These are legacy tools that manage desktops and laptops. One example of CMT is Microsoft System Center Configuration Manager (SCCM). These desktop management products were mature but inept at managing smartphones. This was especially problematic as BYOD became more popular because those devices could contain corporate sensitive data that left with the employee and that the company did not own.
Mobile device management (MDM). Built for tablets and smartphones, MDM can enforce policies and secure these devices in both BYOD and corporate environments. An example of an MDM platform is Citrix XenMobile, now Citrix Endpoint Management.
Enterprise mobility management (EMM). EMM filled in security gaps from traditional MDM products and added mobile application management (MAM) and mobile content management (MCM) capabilities. This supported a wider variety of devices and widened the scope of mobility management.
UEM. In the past two years, UEM has taken over the enterprise mobility market. While MDM and EMM focused on mobile devices, they lacked the capabilities of the mature CMT software to manage desktops and laptops. With the introduction of Windows 10 and Mac OS X, new management APIs became available that mobility management vendors could take advantage of to close the gap, which finally brought the management of traditional desktops and mobile devices in the scope of a single tool. In addition to CMT, MDM and EMM, UEM also incorporates MCM, identity and access management (IAM) and MAM.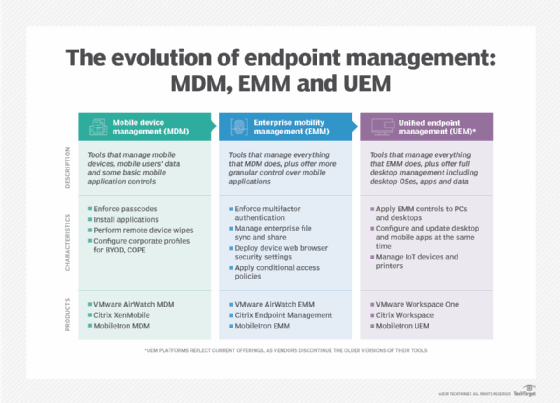 Comparing enterprise mobility vendors
In 2018, Gartner published its first Magic Quadrant for UEM. In early 2019, many vendors had a variety of products that weren't truly unified, however, leaving IT admins confused. Today, vendors consolidate EMM, MDM and CMT products to form truly unified UEM. While vendors will define EMM, MDM and UEM capabilities in their products, most offer only a UEM product.
UEM is now mature enough to be truly unified. Organizations don't need to figure out if they need UEM or EMM, or EMM and MDM with a dash of MAM; it's all UEM. Now, admins can focus on which features they should prioritize, such as applications, security, scaling and deployment, cloud or on-premises.
Let's look at how major vendors market their enterprise mobility products and which MDM, EMM and CMT features they offer.
| | |
| --- | --- |
| Vendor | UEM product |
| IBM | MaaS360 |
| BlackBerry | Unified Endpoint Management |
| ManageEngine | Mobile Device Manager Plus, Desktop Central |
| Microsoft | Endpoint Manager |
| Citrix | Endpoint Management (formerly XenMobile) |
| MobileIron | Enterprise Mobility Management |
| VMware | Workspace One |
| Sophos | Mobile |
| 42Gears | SureMDM |
IBM. IBM's enterprise mobility products progressed as the market transitioned from MDM to EMM to UEM. IBM prices its UEM product, MaaS360, by features such as security levels and applications such as email. Like most other enterprise mobility vendors, IBM doesn't offer separate MDM, EMM, MAM and MCM products but instead wraps these features up in the MaaS360 UEM product.
BlackBerry. In the early days of enterprise mobility, BlackBerry began by managing its own devices in the enterprise. BlackBerry devices are now discontinued, but BlackBerry continues to offer UEM with its product, Unified Endpoint Management. The vendor offers multiple pricing options: its Choice, Freedom and Limitless suites. MDM, UEM, IAM and MCM features are product differentiators in these suites.
ManageEngine. This vendor takes a different approach for its two UEM products, Desktop Central and Mobile Device Manager Plus. The former caters specifically to managed service providers, and the latter is for everyone else. Each one has options for either on-premises or cloud versions.
Mobile Device Manager Plus comes in three editions: a free edition for SMBs, a standard edition for basic MDM and a professional edition, which boasts scalability. Like its competitors, ManageEngine includes elements of MDM, EMM and MAM in both UEM products.
Citrix. Citrix Endpoint Management, formerly XenMobile, can enhance the free version of Microsoft's UEM product included with Office 365 to provide better security and support more apps and OSes. Citrix also offers a UEM resource kit and integrates Endpoint Management into Citrix Workspace. Citrix does not differentiate among UEM, EMM and MDM and bases pricing on a stand-alone version or integration with Workspace (Premium or Premium Plus).
Microsoft. Microsoft takes advantage of its huge install base by adding new features to existing tools. In 2019, Microsoft merged Intune, its UEM product, and SCCM, a legacy CMT product, into Microsoft Endpoint Manager. This product now includes Configuration Manager, Intune, Desktop Analytics, Autopilot and Device Management Console.
VMware. In 2014, VMware acquired AirWatch, an MDM vendor, and eventually integrated the MDM components as part of its broader, more mature Workspace One UEM offering. Today, Workspace One is noted as a leader in Gartner's Magic Quadrant for UEM. VMware offers four editions of Workspace One: Standard, Advanced, Enterprise and Enterprise for VDI. Workspace One also supports IoT devices via Android Enterprise and Microsoft's IoT OS.
42Gears. 42Gears' SureMDM joins only a few other UEM products to support IoT devices, primarily smartwatches. SureMDM incorporates MDM, EMM and UEM features and supports Android, iOS, Windows, Linux and macOS devices.
Finding the right UEM vendor
Most UEM products have elements of CMT, EMM and MDM. Still, organizations should understand their needs and priorities to find the right vendor.
Heavy investment in existing products. If the organization has a heavy investment in applications or other products from a vendor, it makes sense to continue with that vendor's UEM product.
Security features. Some vendors provide minimal security in the entry-level product; others provide proper security in all versions. Organizations should determine which level of security they need and how the UEM product will support that need.
Pricing requirements. UEM vendors vary greatly in pricing strategies, including per user; per device; a choice of per device or per user; user and device pricing in quantities (i.e., blocks of 50); and monthly or annual subscriptions. Organizations should choose a pricing structure that works best for them.
Support for IoT. Some vendors, such as 42Gears, have extensive support for wearables, such as smartwatches. Many vendors use Android Enterprise to provide IoT support. Organizations that anticipate a heavy investment in IoT as a consumer or producer should purchase a UEM product that supports these devices.
Other factors in the purchasing decision include the UI, completeness of the tool, integration with Microsoft Active Directory, agent deployment, support for patch and OS deployment, and the vendor's tech support. All vendors offer free evaluations of the products, and some offer live demos; organizations should take advantage of these offers.