Ronald Hudson - Fotolia
Good budgeting strategy ties business plans to budgets in CPM software
A well-prepared budget is both the product and the driver of strategic planning that gets results. Here's how the components relate, and how software oils the gears.
When developing a corporate performance management and budgeting strategy, most companies begin with automating the budgeting function. But before selecting budgeting software, implementing key functionality and building a budget, you have to conduct a careful review of current business plans.
Planning should drive budgeting strategy
Though the time frame for a budget is generally a year, the budget may also be thought of as the first step in ensuring that an overall business strategy is successful. First, you have to determine what the strategic goals of the company are, which then leads to an analysis of what products and markets will drive the company forward. Those markets will require extra resources, and products may need to be enhanced, to deal with the likely response from competitors.
Making the first year of the business strategy work is a major purpose of the budget. This is not to say cost management is unimportant (especially in administrative departments), but companies that view budgeting as part of planning and business strategy are most likely to thrive.
One small caveat is in order. Some companies buy budgeting software to improve the efficiency and effectiveness of their budgeting cycles. While this approach can be useful operationally, it shouldn't come at the expense of giving adequate attention to the formal planning that is essential in having an effective budgeting strategy.
Know the budgeting best practices
Before beginning a formal budget process, it is useful to review the best practices for budgeting.
I have already written about budgeting best practices, but as a refresher, the figure shows the five practices I described.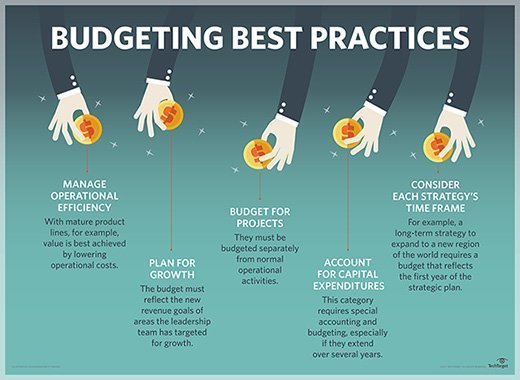 There is some very good writing in the area of budgeting best practices -- in Harvard Business Review, for example -- that can help you execute the strong goal setting and best practices that will provide an invaluable foundation for the success of your budgeting strategy.
Choosing a budgeting methodology
The next logical step is to decide on the project-management approach you will use to prepare the budget. Determine the tasks, who will perform them, how budget steps will be reviewed and how a final budget will be created. A strong methodology will help with consensus building, midcourse corrections and the ability to extend the budget each quarter, once actuals come in.
Budgeting strategy and software vendors
While I would never minimize the importance of software features that help with preparing quality budgets (workflow, business intelligence and driver-based planning come to mind), there are other factors to consider and questions to ask when gauging particular vendors' expertise in budgeting strategy. For example, what is its approach to goal setting and best practices? Does it have a methodology? How have its customers been successful in their budgeting strategy, especially in reaching the strategic goals that drove the budgeting process?
Vendors may have their own consulting groups or consulting partners. The challenge is to review their record with goal-driven results, which should be available in their customer success stories.
Here are success stories from two vendors of corporate performance management (CPM) software.
Henkel uses Tagetik for driver-based enterprise planning
Henkel AG & Co. operates worldwide, with leading brands and technologies in three business areas: laundry and home care, beauty care, and adhesive technologies. The company's goal was to streamline its enterprise planning process.
Henkel hired pmOne AG because it decided the consulting firm best understood its business requirements, and pmOne proved that CCH Tagetik Software's CPM software was the right product to unify budgeting and planning. This case shows the value that third-party consulting firms can offer and illustrates that you can pick a consultant before choosing a software vendor.
In previous years at Henkel, the process of developing and validating strategic plans was just too slow. Now, with a well-designed, consensus-driven approach to budget strategy, the plans are published top-down to individual departments and the departments create their own budgets (bottom-up) to support the plans. The company's planning department also used the new system to see which drivers were most important in final plan results.
More than 1,000 departments provided inputs to the planning process. The result was a transparent planning system with shorter planning cycles and the ability to visualize value drivers.
Henkel had a vision for enterprise planning and employed Tagetik and pmOne to build a system that is both faster and driver-based.
Panariagroup's multidivision production planning in Prophix
Panariagroup is a leading manufacturer of ceramic wall and floor coverings with 9,000 customers and six production plants. The company's goal was to understand what to manufacture and where to most profitably meet customer requirements.
Panariagroup wanted to build an integrated budget across all divisions, and with CPM software from Prophix, it was able to create a uniform approach and shrink the budget cycle from four months to two.
With the new system, Panariagroup could make intelligent choices regarding raw material purchases, which production lines to use, how much labor to use and where to produce tiles across its six plants.
Renato Martelli, the company's vice president of corporate controlling and investor relationships, said, "With the help of Prophix's software, we now build a high-level production plan that drives Panariagroup's decisions related to raw materials purchasing, inventory volumes and utilization of resources."
These two stories show how budgeting can be strategic when linked to business plans and how integral it is to great planning. The first year of a strategic plan requires careful budgeting, and managing goals, plans and best practices together is critical to business success.
Next Steps
Learn more about integrated business planning
Get a handbook on budgeting, planning and forecasting
Prepare a service department budget