JDA's WMS technology integrates with virtually any ERP system
JDA provides WMS technology that helps organizations manage all aspects of their warehouses, including people, products, space and equipment.
JDA Software provides a warehouse management system that addresses inventory accuracy, inventory track-and-trace, light manufacturing, and order throughput and accuracy. JDA's WMS is an integral part of JDA's Intelligent Fulfillment software which integrates the WMS with supply chain planning, distributed order management and a transportation management system.
The supply chain management and logistics company's WMS technology is also packaged in a system integration framework that allows it to integrate with virtually any ERP and warehouse control system (WCS). Most often, adopting companies integrate the JDA WMS with SAP, Oracle, Microsoft and Infor on the ERP side; and with Dematic, Schaeffer and Intelligrated on the WCS side.
How does JDA's WMS technology help execute warehouse operations?
The primary functions of JDA WMS include yard management, receiving, put away, inventory management, kitting, labor management, order allocations, picking, replenishment and loading. These capabilities allow enterprises to better manage their assets (i.e., people, space, inventory, equipment) and to more efficiently process orders for their customers. JDA WMS leverages mobile technology like radio frequency-enabled devices to help manage order throughput.
Due to its strong ability to track and trace, this software is particularly well suited for the goods and beverage and pharmaceutical industries. Those two industries and third-party logistics providers (3PL) are the primary industry verticals using this WMS technology, although the product has the flexibility to run in virtually any business vertical.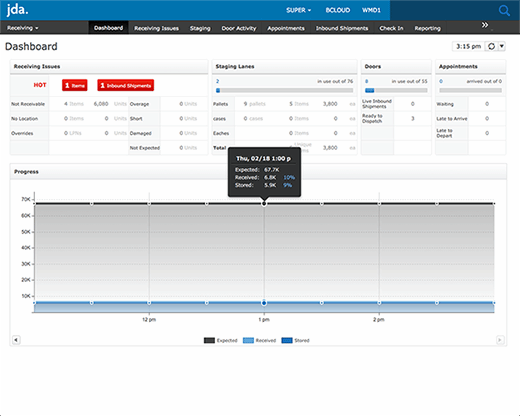 Since the system is designed to scale to any organization size, both SMBs and large enterprises can put this software to good use. The main difference in approach is that smaller organizations use vendor-furnished best-practice templates to simplify the system's implementation process, which in turn reduces the cost of implementation. Because the JDA WMS is scalable, any company can use the system and not worry about outgrowing the full range of capabilities available. JDA also has hundreds of sites internationally and currently supports 12 different languages in its standard WMS product.
Deployment options for JDA WMS
JDA WMS is available as a cloud-based offering, a software as a service (SaaS), an on-premises system, or a hybrid (cloud and on-premises) offering. This range of choice gives companies a great deal of flexibility to deploy the system as they want to. If the choice is to run the WMS technology as an on-premises or a hybrid system, WMS runs on UNIX, LINUX or Windows operating systems. The software uses a UNIX or SQL Server as its server platform. For sites opting to run the JDA WMS as a cloud or SaaS implementation only, the entire JDA WMS user interface has been architected to support user access from a desktop computer, laptops, tablets and phones. JDA WMS understands the device being used and automatically adapts to its capabilities, so businesses don't have to custom configure any device access for it.
The initial implementation of the WMS technology requires help from trained resources from JDA and/or other system integrators. Much of the implementation work is focused on establishing new business processes and also on configuring the system to match these goals. Because the system is already highly configurable, most implementations require few or no modifications. Companies that are implementing the JDA WMS at multiple sites usually find that they can perform these implementations and system configurations on their own after the first couple of sites are executed. During and after implementation, JDA provides product support on an ongoing 24/7 year-round support basis.
Pricing for JDA WMS is based upon the type of system implemented (cloud, SaaS, hybrid or on-premises). On-premises systems are licensed, and cloud-based systems are typically priced on a per--user basis.
Next Steps
Read about how WMS software can help your organization.
Learn how to examine and deploy WMS software.
For better operational insight, integrate WMS with TMS software.