photonetworkde - Fotolia
Mega-suites, cloud shape 20 years of ERP history
Big suites from SAP and Oracle showed how ERP could run an entire business. The same complexity that led to lawsuits and cost overruns now makes the move to cloud challenging.
The past 20 years of ERP history have been punctuated by false starts and spectacular failures.
It started hopefully with the broadening of ERP systems into on-premises mega-suites designed to handle every major aspect of a business -- and is ending with vendors and users still struggling with how much of those suites to move to the cloud, if at all.
As ERP entered the second decade of the 21st century, the internet had become firmly established as the software's networking standard and the World Wide Web as its visual inspiration. Almost all the significant trends in ERP history since the early 2000s that continue to shape business systems today could not have happened without the web's cheap connectivity.
Browser-based UIs that started to become commonplace in the late 1990s have evolved into today's tiled, highly interactive and hyper-connected mobile ERP UIs. SaaS enterprise applications and services now connect ERP across companies and continents, and social media brings the voice of the consumer to ERP-based product design, manufacturing and CRM. The data-collection capabilities of the internet of things promises ERP customers finer-grained control of factory floors and global visibility into supply chains down to individual packages on store shelves.
Understanding this phase of ERP history means delving into the shift to the cloud and the implementation challenges that came along with the software.
ERP history obscured by clouds
Despite all the benefits of cloud, few people would dispute that ERP's move to the cloud has been slow, painful and clouded with confusion -- some of it deliberate.
Two factors were at play, according to Rondy Ng, senior vice president of Oracle applications development. Companies were reluctant to change back-office ERP systems that were working fine and instead sought their cloud fix by digitizing front-office systems such as CRM. The cost and time involved in switching out ERPs was the other major drag on cloud migration.
Extreme customization of on-premises ERP didn't help, because multi-tenant SaaS, by definition, isn't customizable. When ERP suites first became popular, companies called in systems integrators to essentially finish their ERPs for them, which resulted in pockets of customization, said Ng, who has worked on several ERP generations in his two decades at Oracle.
"It does the job of completing the transactions, invoices, [financial] close and reporting cycles, but frankly has not changed too much ... until we get into the new generations of SaaS applications," he said.
As perhaps the purest form of cloud, SaaS forces the most drastic changes to the underlying code and capabilities of ERP software. Older vendors that started with on-premises ERP have struggled to move their complex suites to SaaS without losing so much in translation that buyers fear disrupting their business. A SaaS ERP system that lacks a supply chain management module, for example, won't suffice for a multinational food distributor, no matter how complete its accounting and HR features.
The old problem of customization remains challenging in the shift to SaaS, said Hasso Plattner, co-founder of SAP, in an email interview. Companies that invent entirely new business processes aren't likely to find them covered in the standard edition of a SaaS ERP system.
"Therefore, it is important to allow companies to build their own applications and connect where appropriate to the standard," he said.
Companies that try to tailor their SaaS ERP by integrating third-party applications may find the process too slow, in part because software is more advanced and consequently, more complicated.
"Integration across different software manufacturers and the harmonization of data structures and user interfaces is an ongoing challenge," Plattner said. "To bring everything back into one single system is not a practical solution anymore."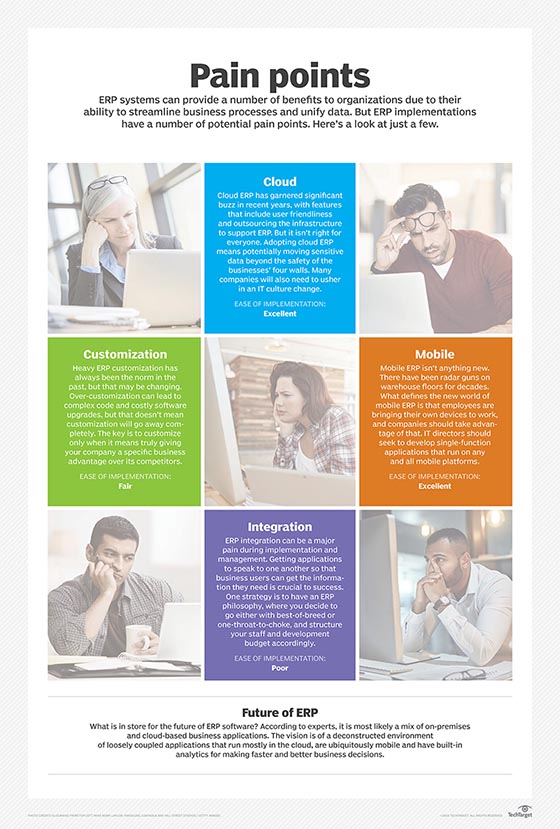 The explosion in cloud deployment options has also allowed ERP vendors to slap the cloud moniker on applications and delivery mechanisms that vary widely. Private cloud ERP, for example, is usually little more than on-premises ERP running on external data centers and accessed online. Offerings that vendors often label as cloud ERP software are not much different from their products of a decade ago.
Private cloud and other hosted cloud options spare ERP owners most of the hassles of maintaining their own system, but don't change the pace of innovation the way SaaS does, according to Ng.
"The hosting type, I think, is no more than just replacing data centers," he said. "The industry has been let down by that traditional model still being out there."
Notable successes and failures in ERP history
The high-cost and lengthy implementation time of huge ERP suites -- not to mention the errors and downtime that result from its complexity -- have been the butt of jokes and the bane of CIOs' existence ever since mega-suites from SAP and Oracle took off in the early 2000s.
ERP became the poster child for the overbudget IT project from hell, and the failures often make headlines, especially when they lead to lawsuits.
Among the 10 biggest ERP failures of all time, SAP dominates, but has good company in Oracle PeopleSoft and i2 Data Systems, a vendor of supply chain management software, and system integrators Deloitte, Electronic Data Systems, HCL Technologies, IBM and Wipro, according to a blog post by Eric Kimberling, CEO and founder of Third Stage Consulting Group. Two of the projects cost $1 billion each.
A prominent recent example is the SAP ERP problems at Revlon in 2018. Investors filed suit again the cosmetics maker -- not SAP or its implementation partner -- claiming manufacturing operations were disrupted after an SAP implementation allegedly delayed shipments and caused Revlon's stock price to drop. German retailer Lidl and Haribo, the maker of gummy bears, also had well-publicized SAP ERP failures. Haribo's was tied to an SAP S/4HANA implementation, a move to adopt SAP's next-generation ERP platform.
Despite the bad publicity, ERP sales continued their strong growth, with research firms showing revenue roughly doubling in the past decade to reach $35 billion in 2018, according to Gartner.
It is hard to imagine today's business world without ERP systems. Manual processes would have constrained growth, and global manufacturing and other forms of internationalization, as well as conveniences such as e-commerce, would have been impossible.
But considering this ERP history, has the technology been good for the world?
"ERP systems are a huge success story," Plattner said. "Many companies experienced significant improvements in their business processes [and] customer relations and a reduction in costs."
ERP has lived up to expectations and delivered solid ROI for many companies, said Holger Mueller, vice president and principal analyst at Constellation Research.
"If ERP hadn't been invented, we would probably be 10 to 15 years back in economic growth and maturity in the enterprise," said Mueller, who worked in application development at SAP and Oracle. "Technology enables new business best practices, and standard software means building best practices [into] bits and bytes and hoping to sell it to hundreds and thousands of companies."
Part one of this three-part series covers ERP evolution from the coining of the term in the early 1990s through the era of on-premises suites and the start of cloud ERP. Part three examines the instrumental forces affecting the ERP landscape today and where it's going in 2020 and beyond.