agsandrew - Fotolia
Panorama ERP report shows continued satisfaction
Panorama Consulting Group's 2020 ERP report finds that satisfaction with ERP remains high and the cloud is now the main deployment choice.
ERP customers continue to be satisfied with their systems and the cloud has solidified as the deployment option of choice.
These are two of the major findings from the Panorama Consulting Group 2020 ERP Report, which surveyed customers on ERP implementation trends and software selection. The report accumulated 181 responses from customers in a variety of industries from June through December of last year.
The ERP report's results indicated that most respondents are "satisfied" (52.66%) or "neutral" (38.14%), while just a few are "dissatisfied" (6.54%) or "very dissatisfied" (2.66%). The results did not vary widely from the 2019 Panorama ERP report, which found a total satisfaction rate of 66% and a dissatisfaction rate of 8%.
Panorama Consulting Group is an independent firm based in Denver that consults with organizations on ERP software selection and implementation, as well as business digital transformation projects.
The ERP satisfaction trend may be attributed to better functionality of ERP systems, said Vanessa Davison, Panorama Consulting Group managing director.
"Satisfaction is very similar to the data from last year. Part of that is that there have been big improvements from a technology functionality standpoint, and a lot of people are coming off of legacy systems to more modern ERP systems," Davison said. "The functionality pickup is so great that most people are satisfied with things like the ability to pull reports and all the analytics."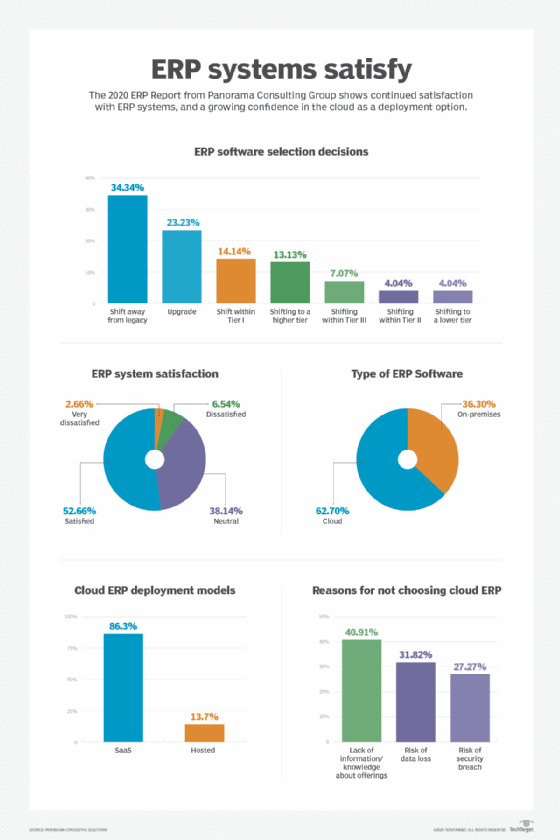 More realistic expectations
Another reason for the high satisfaction marks may be that customers are more educated about what ERP systems can -- and cannot -- do, and their expectations are more realistic, said Chris Devault, Panorama Consulting Group director of industry relations.
"Most people are more educated and experienced in these large ERP projects, and they don't expect the ERP systems to over-perform and deliver the world," he said.
Although the movement of ERP systems from on-premises to cloud deployments is largely seen as slow, the 2020 Panorama ERP report shows that the cloud has become entrenched for ERP systems. Cloud was named as the primary deployment option by almost 63% of respondents, and on-premises by about 37% of respondents. This is virtually unchanged from the numbers in the 2019 Panorama ERP report.
Devault said the apparent confidence in the cloud likely stems from more education, a variety of cloud deployment options such as pure SaaS, multi-tenant, single tenant, hosted and hybrid, as well as a variety of vendors that offer applications developed or redeveloped in cloud environments such as Microsoft Dynamics 365 applications, which were developed on Azure cloud technology.
The cloud offers benefits particularly for midsize organizations that want to move off legacy on-premises platforms, Devault said. Indeed, Panorama Consulting is seeing an uptick in SaaS adoption, and vendors are responding.
"More vendors are moving to the SaaS -- the single tenant or multi-tenant deployment model and not just only in a perpetual license in a subscription mode, so there's more availability of systems like some of the Microsoft applications or Acumatica," Devault said. "This is more prevalent in the small to midsized market where companies are more apt to quickly adjust their processes to meet the software."
Feeling more secure in the cloud
That said, the stats on companies staying with on-premises ERP deployments have remained stable. The reasons why, however, have changed somewhat.
In 2019's ERP report, 31% of respondents reported that the risk of a security breach was the top reason for not moving to the cloud. In 2020, that number dropped to 27.27% of respondents, indicating that "the security issues have lessened over the year," Davison said.
This year, more than 41% of respondents indicated that a lack of information and knowledge about the various cloud offerings was the top concern for not moving to the cloud.
Upgrades becoming less common
One noticeable development in the ERP report is the move away from upgrading existing ERP systems. Instead, the respondents reported that they planned to adopt new systems. According to the ERP report, 34% of respondents are planning to shift from their current legacy system, compared with just 14% from the 2019 report. Upgrading an existing system was chosen by 23%, a drop of 14% from the 2019 report.
The authors of the report believe this change in mindset is due to the general lack of advanced analytics and next-generation functionality that organizations need today in legacy systems.
"Legacy systems fall short in many areas, but one of the most important areas is advanced analytics. Legacy systems are unable to integrate and analyze large amounts of data," the report stated. "If organizations want to build competitive advantage, they must have access to real-time data insights. These data insights are especially important when it comes to improving the customer experience or optimizing a supply chain."
However, because the shift off a legacy system to a more modern ERP -- such as an SAP S/4HANA migration or a move from legacy Oracle systems to Oracle Cloud ERP -- is more like a complete reimplementation than an upgrade, organizations are taking time to properly plan and budget the projects, Devault said.
They are also evaluating different vendors or technology options, he said. Some large enterprises with top-tier ERP systems, such as SAP or Oracle, are exploring lower-tier ERP systems or niche products for some operations.
"Historically, people jump into an upgrade and they get halfway through the project and start having some second thoughts, but now more are realizing the severity of those upgrades and reaching out for help earlier on and putting those upgrades off," Devault said. "It also means they may be opening up and evaluating other vendors and maybe evaluating the possibility of going best-of-breed."