kuzmichstudio - stock.adobe.com
Compass Coffee's post-pandemic plan starts with bulk hiring
The owners of Compass Coffee believe that most HR functions can be automated and there's no need for an HR staff. It's now looking at bulk hiring to speed up its reopening.
In February, Compass Coffee employed 190 people at 12 locations in Washington, D.C., and the metro area. By May, it employed 40, thanks to the COVID-19 pandemic. But Michael Haft, a co-founder of Compass Coffee, is starting to plan for rehiring as businesses reopen. For this, he wants a bulk hiring tool, which will enable the business to quickly fill multiple job openings.
Without a bulk hiring tool, Haft will have to onboard each hire individually, which means answering some 40 questions per new employee. The questions are basic, usually centered around hours and benefits. But the process can be time-consuming, taking up to 15 minutes per employee. That's why Haft wants a bulk hiring tool to automate as much of the recruiting and onboarding process as possible.
Compass Coffee doesn't have a dedicated HR staff. It relies on automation to handle most of the administration, Haft said.
"Are we going to hire somebody to do HR full-time to just manage benefits and pay?" Haft said. "Or would we rather have a software solution that takes care of most of those problems for us? Ultimately, we decided that it would be much better to automate it," he said.
From coffee syrups to hand sanitizer
The impact of the pandemic on Compass Coffee, a coffee roaster and cafe founded in 2014 by Haft and Harrison Suarez, former U.S. Marine infantry officers who served in Afghanistan together, has been hard. It closed downtown locations in Washington while other stores continued with takeout only.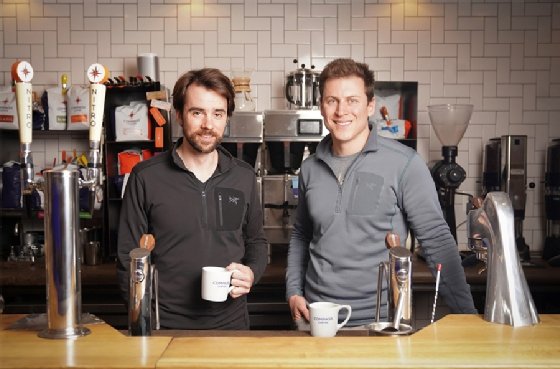 But the business pivoted. It operated a factory that produces vanilla syrup and other coffee flavorings. Rather than continue making coffee products, it started making hand sanitizer.
"That's largely what's keeping the business going," Haft said. Simple Sanitizer is sold at area specialty grocery stores and has been bought in bulk by local governments and businesses. The product is sold online as well.
As Compass Coffee staffing declined in mid-March, Haft's San Francisco-based HR vendor, Rippling Inc., adjusted its pricing to reflect the new payroll. The coffee company's monthly charge declined from $4,340 in February to about $1,150 in May. The shift in HR software spending may not be unusual.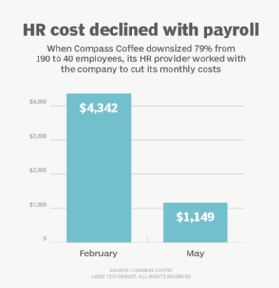 "Virtually all HR software is priced on a per-employee, per-year or per-month price -- so if the number of employees goes down, the price goes down," said Josh Bersin, an independent industry analyst and founder of the Josh Bersin Academy for HR professionals.
Bulk hiring on product roadmap
Haft is now focusing on the future and what it will take to reopen the business. D.C. officials last week extended their stay-at-home order to June 8. Haft believes downtown offices will begin to reopen soon after the order lifts. They have a number of coffee shops downtown.
To reopen, Compass Coffee will need to perform rapid hiring. Haft has been talking with Rippling about a bulk hiring tool, which is part of the HR provider's product roadmap this summer. The timing may align with Haft's plans.
Although the pandemic has been a massive disruption, Haft has decided he will not change the company's approach to HR. He hired Rippling last summer. The previous HR provider required Compass to maintain three separate databases to manage employees and payroll, which was time-consuming, Haft said. Rippling's approach is to create a single employee system of record for an entire firm, so all systems are updated at once.
Haft believes that Compass Coffee can double in size, from pre-pandemic employment levels, without a dedicated HR staff. "I really can't see why we couldn't," he said. "With so many of these automated [HR] tools, there really isn't any limiting factor on that."
What Haft found appealing about Rippling was its level of integration. In onboarding, for instance, it executes auto-enrollments in benefits and 401(k) plans. It generates new employee email addresses, creates Slack and PayPal accounts -- whatever integration is needed, he said.
Expanding HR automation
Rippling is taking this automation approach to business liability insurance. As it stands, Compass estimates its cost for workers' compensation and then pays the estimate. Last year, Compass overpaid by $25,000.
Rippling is enabling an integration with the third-party insurer. The HR system will use its data to auto-calculate insurance costs and autopay with every payroll. That approach means "there's a low chance of overages or end-of-the-year audits," said Jeremy Henrickson, vice president of product and engineering at Rippling.
"The point of having all these integrations is to eliminate the need to manually update employees' data and access in dozens of different systems every time someone gets a promotion, moves cities, has a kid," or makes some other change, Henrickson said.
Compass Coffee's plans to rely on automation for most of its HR services might be a harbinger of a trend, or a capability of this firm.
There's no rule of thumb for SMBs regarding HR staff, said Tony Lee, a vice president at the Society for Human Resource Management (SHRM). HR staffing decisions can vary widely, he said.
A manufacturing company with 40 employees, for example, may have a designated HR person because of manufacturing regulations, Lee said. There are also firms smaller than Compass with a designated HR manager.
But automation is playing a role in how HR works, Lee said.
Larger firms with a dedicated HR staff have turned to automation for routine tasks, such as relying on chatbots to field questions from job prospects as well as internal employee questions, Lee said. Doing so frees up HR to focus on more important work, he said.
Until the pandemic, the U.S. Bureau of Labor Statistics reported that an HR manager's occupation is expected to grow 7% from 2018 to 2028, "faster than the average for all occupations."
Lee doesn't see the push to automate HR as unique.
Businesses are "going to look across the entire organization and say, 'What can we automate and who can we replace with automation?'" he said. "I don't think it's limited to HR."
Dig Deeper on Core HR administration technology