Olivier Le Moal - Fotolia
General Electric performance review software eliminates ratings
General Electric is replacing ratings of workers with a new performance development application that emphasizes coaching and continuous touch points between employees and managers.
Kathy MacKenzie used to complete lengthy annual review forms of 10 employees at General Electric Co. and personally rate their performances, but she stopped doing it this year and said she does not miss the often-dreaded process.
Moving to end a 40-year-old system, GE is no longer using ratings and long forms for managing the performances of salaried employees. In October 2014, GE launched a pilot program of in-house performance review software called "Performance Development," or PD@GE.
GE expanded the pilot to 30,000 employees in 2015 and now is adopting it for all 180,000 salaried employees.
The performance review software, which can be used on a phone or desktop computer, emphasizes coaching and continuous contact between employee and manager. Employees are encouraged to give and seek feedback from both managers and co-workers, with goals of improving focus on performance and ongoing development and boosting results for customers.
"It was certainly a change from what I had been used to and there was concern we would be missing something in the employee discussion," said MacKenzie, senior executive of product management for GE Aviation, who was part of the pilot last year. "What I found is that the discussions were much richer, much more meaningful. We missed nothing by not having a rating."
Trend is to kill performance ratings
What I found is that the discussions were much richer, much more meaningful. We missed nothing by not having a rating.

Kathy MacKenziesenior executive of product management, GE Aviation
GE is among many companies, including Accenture, Adobe and Deloitte, using ongoing performance review software. In a movement that is gaining popularity, companies are scrapping annual reviews and ratings and replacing or supplementing them with performance management software centered on more frequent coaching and development.
In a 2015 survey of 3,300 business and HR leaders from 106 countries, Deloitte found that performance ratings hurt a company's culture and undermine employee engagement and self-confidence.
GE employees used to receive a single rating for performance annually. The rating was on a five-point scale ranging from "role model" at the top to "strong contributor" in the middle to "unsatisfactory" at the bottom.
A majority of employees believed the single rating was "demotivating."
New performance tool is easy and simple
MacKenzie said she uses the new performance review software tool about six times a week to communicate with those on her 120-member team.
The human capital management tool is easy and simple, she said. It has a menu bar with four key options including priorities, touch points, summary and insights.
If she clicks on "insight," she can send up to 500 characters to a team member and tag it as "continue" for continue the good work, or "continue/consider" or "consider."
For employees who directly report to her, she can click on "touch point" and include a note of up to 500 characters and use any of the same three tags or a fourth option called "contribution."
"Somebody might report on analytics they are developing for a customer and want to give me an update," she said. "I would give them a touch point or insight and comment on their presentation or the quality of the analytic, or if I thought it was great, or if they could have improved."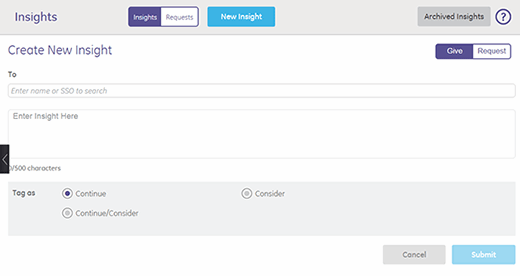 Traditional methods also work
She said she uses the performance review software less frequently with her 10 direct reports because old-fashioned ways still work well.
"We have a lot of conversations," she said. "The PD tool is not the only way to give feedback. You give feedback [in] personal interactions as well."
At the end of the year, the tool can summarize all insights and touch points an employee received. During the year, the tool stores the insights and touch points.
Instead of writing an annual review for her direct reports, MacKenzie said she uses the automated information in the summary to encapsulate an employee's accomplishments, strengths and development areas.
Annual review much lighter process
In the past, the annual review would be five pages long, she said. It's now a lighter process because employee and manager are in contact frequently during the year.
"Much simpler, much more to the point," she said of the new summary.
Employees also use the application to list priorities for their jobs. MacKenzie said she would check the priorities when writing quarterly reviews of the 10 employees who report directly to her.
Laura Paredes, a communications director at GE, said employees and managers share accountability under the new system for continuous performance development.
She said she does not believe there is a typical number of priorities, but she has four right now from her manager for the fall of 2017. Priorities can sometimes change during the year to accommodate the needs of customers.
Salary still tied to performance
Salary is still related to performance, outcomes for customers and market and business conditions, for example, Paredes said.
"Managers are still expected to differentiate among employees and the company still must consider business unit performance and benchmarks. In our no-ratings pilot of over 30,000 employees, we found that managers could still differentiate without a rating."
In addition to salaried employees, GE, which is moving its global headquarters to Boston, has about 75,000 hourly employees around the world. Not all of them use the new performance review software tool, she said, adding that the company needs to be aware of union agreements and local country guidelines.