Sergey Nivens - Fotolia
New Sierra-Cedar HR Systems Survey uncovers lack of tech adoption data
At the HR Technology Conference, Sierra-Cedar's survey investigated why tracking HR software adoption is important and how HRIS professionals play a role in ensuring data privacy.
LAS VEGAS -- A new report emphasized that data-driven HR is a difficult goal to achieve. And it's even more challenging...
Continue Reading This Article
Enjoy this article as well as all of our content, including E-Guides, news, tips and more.
because few companies track how much employees use -- or don't use -- HR applications.
The numbers from the 21st annual Sierra-Cedar HR Systems Survey illustrated the gap: Fifty-two percent of respondents indicated that HR tech influences their business decisions, but less than a quarter of those people possess data on employee buy-in, as illustrated by HR tech adoption in their organization.
"You have to know how people use your tech," said Stacey Harris, vice president of research and analytics at Sierra-Cedar, a tech consulting and managed services firm based in Alpharetta, Ga. "[Only] 10% of organizations are measuring HR technology adoption -- how their technology is being used. That's an issue."
She presented the findings at the HR Technology Conference here this week. TechTarget, the publisher of SearchHRSoftware, is a media partner for the event.
Michael Krupa, senior director of digitization and business intelligence at networking giant Cisco, told Harris he is not surprised by the statistics. To measure adoption, a series of detailed steps is necessary, including documenting HR users, creating metrics based on those personas and then presenting the data in dashboards. Along the way, companies must also determine who monitors adoption data.
"You have to do all that," Krupa said. "It's hard."
However, there is a statistical correlation between those who successfully track HR tech adoption and a 10% increase in favorable business outcomes, Harris said.
Methods to track employee buy-in and HR tech adoption
Sierra-Cedar HR Systems Survey respondents indicated lots of ways to ascertain adoption and use, including the following:
measuring mobile and desktop logins;
determining average transactions completed during a period of time;
running Google Analytics reports;
tracking employee self-service volume;
talking to employees; and
receiving vendor reports on activity.
[Only] 10% of organizations are measuring HR technology adoption -- how their technology is being used.

Stacey Harrisvice president of research and analytics, Sierra-Cedar
Chatham Financial, a financial advisory and technology company based in Kennett Square, Pa., tracks logins and sends out satisfaction surveys to users, said Lindsay Evans, director of talent. Chatham's approach is to think of employees as customers.
However, Evans -- who appeared with Harris and Krupa -- said it is not always a bad thing to find out employees don't use an application.
"At my company, we use a time tracker, and people hate it," she said. "I wish we hadn't rolled it out. It's not really saving us a lot of time."
Data-driven HR raises data privacy concerns
The big picture of human capital management has changed within the last 15 years. Software from back then focused on processes, whereas HR professionals now use a company's strategy, culture and data governance to evaluate technology, Harris said.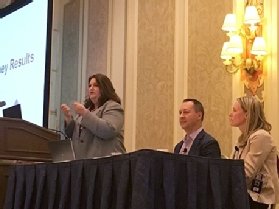 "Data is at the center of your HR technology conversation," she added.
Broadly, data governance describes steps to ensure the availability, integrity and security of digital information. "Data governance is important, because we need to know where data is stored, how people are using it and where it's moving," Krupa said.
With the emphasis on data-driven HR comes the need for cybersecurity and data privacy, and the Sierra-Cedar HR Systems Survey uncovered an interesting twist to those duties as it concerns HRIT professionals. HRIT and HRIS roles are the top choices to handle data privacy and content security, with 48% of organizations with all-cloud HR systems using HRIT in this way.
However, for 47% of companies with on-premises HR systems, IT departments deal with data privacy and content security, while only 18% use HRIT.
"In the cloud environment, [HRIT workers] are the people standing between you and data privacy," Harris said, adding that this rise in prominence for cloud-based HR indicates HRIT professionals are becoming more strategic in their duties.
Closing thoughts on HR cloud, mobile and spending
Beyond results on HR technology adoption, the Sierra-Cedar HR Systems Survey looked at a wide swath of HR tech issues, including these tidbits:
Cloud adoption of HR management systems continues to rise, with 68% of companies heading in that direction, compared with on-premises installations -- an increase of 14% from last year's Sierra-Cedar report.
Mobile HR has been adopted by 51% of organizations. So, if your company doesn't use this tech, it lags behind, Harris said. However, this statistic came with a warning, too, as only 25% of companies have a BYOD policy, which hints at data privacy risks, she said.
For 2018, 42% of organizations reported plans to increase HR system spending, which is a 10% increase over 2017. "There is no return on investment with HR technology ... but there is a return on value," Harris said. "But you only get more [value] if people are using it."
Dig Deeper on Core HR administration technology