daniilvolkov - stock.adobe.com
Tesla purges remote job openings after Elon Musk edict
Elon Musk has emerged as a leading critic of remote work, saying employees who work from home only pretend to work.
Until Elon Musk, CEO of Tesla Inc., ended remote work this week, the automaker advertised about 100 remote jobs on its career site. But by the end of Wednesday, a search for remote jobs turned up none. Some of the remote job openings now list Austin as the location.
Musk is requiring employees to return to the office, according to a leaked memo titled "Remote work is no longer acceptable." In the memo, he stated, "Anyone who wishes to do remote work must be in the office for a minimum (and I mean *minimum*) of 40 hours per week or depart Tesla."
To drive home his point and appearing to confirm the authenticity of the email, Musk tweeted Tuesday: "They should pretend to work somewhere else." He will make exceptions but said he "will review and approve those exceptions directly."
This decision to end remote work may be costly to Tesla. Experts and analysts said highly skilled workers put a premium on jobs that offer remote options, and eliminating those options may effect employee retention and recruitment.
And Musk's opposition to remote work might have been a surprise to Tesla's HR department.
On Wednesday morning, Tesla's career website included dozens of jobs that defined the location as "remote," including jobs in engineering, recruiting, project management, real estate, program management and others. Some jobs specified a hybrid arrangement.
Many remote job openings listed on the site involved significant travel. For example, a regional collision manager job stipulated the candidate must have an "ability to travel up to 60% or more if required."
On Thursday morning, Tesla continued to offer remote work as an option for jobs in Canada and Europe.
Tesla didn't respond to a request for comment, but generally, job ads may be used to fill more than one job, so the number of available remote jobs at Tesla may have been higher -- at least until the purge.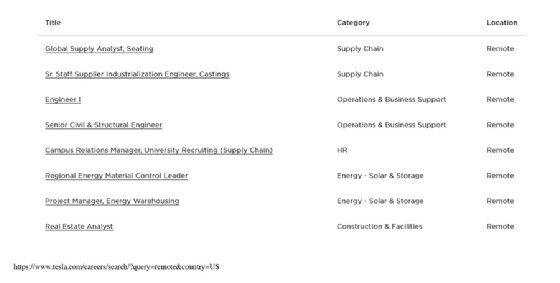 Retention troubles
If Musk is serious about banning remote work, he may have trouble filling jobs, experts said.
"The best people in the world are choosing to work in a different way," said Pat Petitti, CEO and co-founder of high-skilled freelance marketplace platform Catalant Technologies Inc. The platform is for people who have worked at management consulting firms and senior roles at large organizations, and the average age is 45. The Boston-based firm has raised more than $100 million in funding.
According to Petitti, highly experienced workers "demand more flexibility," whether they work full time or independently. Large enterprises "are all finding that if they want to access the best people for their strategic work, they have to take a more flexible approach," he said.
Forcing employees to work in the office full time has "serious risks," said Brian Kropp, chief of research in the Gartner HR practice. Organizations that force employees "back to a fully on-site arrangement could lose 33% of their workforce," he said, citing recent Gartner research.
Companies that demand that their workers come back to the office will have access to a smaller talent pool or will have to pay a compensation premium to force employees back to the office.

Brian KroppChief of research, Gartner HR practice
Some companies are demanding that employees return to the office because of concerns over collaborating in a virtual environment or concerns of "elevated turnover of employees that work remote or hybrid," he said. The risk includes not only retention but hiring.
"Companies that demand that their workers come back to the office will have access to a smaller talent pool or will have to pay a compensation premium to force employees back to the office," Kropp said.
The majority of firms are planning to have their employees work remotely or in a hybrid arrangement, according to Gartner's survey of 180 firms in late April. In that survey, 57% of organizations expect their employees to work in a hybrid setting and 24% remote. Only 19% require employees to work completely from the office.
Patrick Thibodeau covers HCM and ERP technologies for TechTarget. He's worked for more than two decades as an enterprise IT reporter.