Getty Images/iStockphoto
Skills-based hiring an HR strategy for IT talent woes
The global IT labor shortage will persist through 2023, and to compete, employers should consider skills-based hiring and compensation, according to Gartner.
ORLANDO, Fla. -- One of the themes at Gartner's annual HR conference is the problem of employee turnover. It is particularly acute in IT because of high demand for workers with technical skills. But a potential approach to improving retention and hiring prospects is skills-based compensation, according to the research firm.
The IT skills shortage is a global problem driven by the COVID-19 pandemic, which encouraged companies to digitize and automate processes. Now, reports of layoffs and hiring freezes might have some employers waiting to hire in the hopes that the IT labor market will cool down, but waiting is a mistake, Gartner analyst Lily Mok said during the research firm's ReimagineHR conference.
The IT labor shortage will persist through 2023 because organizations have realized that "digital technology has enabled them to weather this market," Mok said.
For conference attendees, Mok outlined a possible strategy for hiring and retaining employees: skills-based hiring and pay. This approach puts less emphasis on things like college degrees and gives more weight to specific skills employees and candidates have acquired.
Employers must find out "what skills are essential" for implementing business strategies, Mok said. She added that skills-based compensation connects "earnings to learning," as employees are rewarded for reskilling and upskilling and recognized for continuous learning.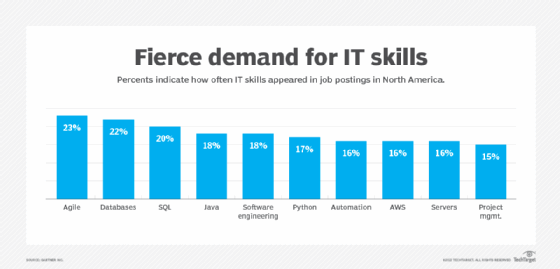 IT talent troubles
The IT talent problem Mok described rang true with Haitham Almedainy, chief HR officer at Bank Albilad in Saudi Arabia.
"There is a big demand for IT resources," Almedainy said. "It's very difficult to build a compensation system that could help retain and motivate people."
But the idea of skills-based hiring sounded promising to Almedainy, and he said he believes it can change employee mindsets from "chasing promotions to chasing career development."
Meanwhile, employers continue to compete aggressively to hire IT workers, especially those with high-demand skill sets such as Agile methodologies as well as experience with databases and SQL.
"The difficult thing now is to retain IT people," said Gustavo Pérez Padilla, a conference attendee and the people analytics global manager at Grupo Bimbo, a Mexico-based multinational food producer. He said wage competition and a desire for new challenges play a role in turnover.
Patrick Thibodeau covers HCM and ERP technologies for TechTarget Editorial. He's worked for more than two decades as an enterprise IT reporter.