Orbon Alija/Getty Images
ChatGPT makes gains in HR, one beta at a time
HR vendors are cautiously adopting ChatGPT to summarize text and create job descriptions, but concerns about bias and inaccuracy limit its use -- for now.
ChatGPT is changing HR tech vendors' products, but the initial offerings are in beta and require customers to opt in.
Beamery Inc., a talent management lifecycle provider, is the latest to adopt generative AI, but with an approach that relies heavily on its technology.
Sultan Saidov, co-founder and president of the London-based Beamery, said ChatGPT and similar technologies, such as Google's Bard, are timesavers for some types of work. But he said the tech is still too risky to use for any decision-making application because large language models (LLMs) can introduce bias and inaccuracy.
Generative AI can be used to summarize text or help to convert a question into natural language, Saidov said. He said Beamery is using GPT-4 for its natural language conversation capabilities and customer data built into the company's AI models to personalize job descriptions.
Without that customer intelligence, generative AI will have problems, Saidov said. "If you say, 'Write me a job description for a production manager,' GPT won't know whether it's in construction or whether it's in theater," he said.
Hireology, an HR recruiting systems vendor, recently introduced a ChatGPT-based tool for writing job descriptions. Its co-founder and CEO, Adam Robinson, believes the technology will broadly affect HR tech, and so does Saidov.
LLMs are 'transformational'
Saidov sees LLMs as "transformational" for HR and capable of becoming part of many day-to-day processes. For example, resume parsing turns resume content into structured data, and "there's a lot of areas where things like GPT-4 are outperforming software that people have used for a very long time," he said.
Beamery and Hireology have generative AI tools as a beta option for their customers, with customers opting in.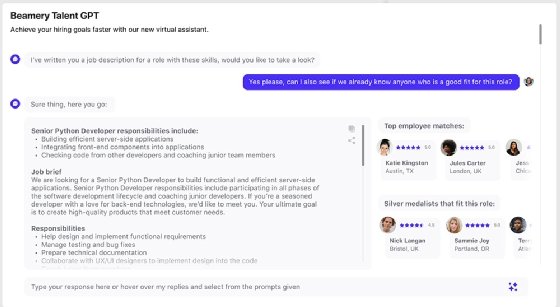 Josh Bersin, an independent HR industry analyst, believes "every HR tech vendor has to look at [generative AI] very seriously," he said.
"It's going to change the user experience radically and then give each vendor new opportunities to add content creation into their tools," Bersin said.
For HR, generative AI use includes creating job descriptions, job requisitions, training plans, tests, leadership tips and more. Learning and development platforms will "go crazy" with features such as learning assistants, AI tutors and AI teaching assistants, Bersin said.
AI applications still require a combination of artificial and human intelligence to get the right output.

Jason LappCEO, Beautiful.ai
Presentation software maker Beautiful.ai, which falls under the WorkTech software category, uses generative AI in its tool. For instance, someone creating a presentation can use the software to summarize a report and make bullet points to help with a visual display. It's a timesaver, CEO Jason Lapp said.
But Lapp is also curious about the long-term implications of technologies such as ChatGPT and generative AI. Beautiful.ai recently surveyed 3,000 managers about the future of AI, and a top finding indicated that 66% of managers would replace employees with AI tools if the work was comparable.
Lapp said AI isn't ready to replace people today.
"AI applications still require a combination of artificial and human intelligence to get the right output," he said. "However, I can see a future where there's less human intelligence required to get a better output."
Patrick Thibodeau covers HCM and ERP technologies for TechTarget Editorial. He's worked for more than two decades as an enterprise IT reporter.