FotolEdhar - Fotolia
During offboarding, exit interview best practices can gather data
Exit interviews present a great opportunity for HR professionals to collect data on why departing employees started looking elsewhere, as explained here by an HR consultant.
For some HR managers, exit interviews are rote exercises that outgoing employees merely tolerate.
However, it would be better for HR professionals to apply exit interview best practices to send departing workers out on a good note, while also collecting data on what caused them to begin a new job search, said Sharlyn Lauby, president of HR consulting firm ITM Group and blogger at HRBartender.com.
Plus, companies never know when a former employee might return.
"If you're being challenged finding talent ... this isn't the time to wash your hands of [departing] individuals," Lauby said during a session at the recent 2018 HR Technology Conference & Exposition.
Exit interview best practices include metrics on notice time
Among the exit interview best practices Lauby noted is to ask questions that produce data points about former employees that can be measured over time. That information might eventually point to poor performance management approaches, bad management habits or compensation gaps.
Further, your company should build metrics that uncover details about how much notice you need from employees to quickly fill their open positions. In some cases, two weeks' notice might be too much, but for other jobs where it's tough to find help, more notice should be considered, Lauby said.
Have an offboarding plan for tech equipment
Certain employee offboarding activities have software and other technology implications, said Sharlyn Lauby, president of HR consulting firm ITM Group and blogger at HRBartender.com. Consider the following:
How do employees file expense reports after they leave? Departing individuals may still need access to a company's travel and expense software, for example.
How does a firm collect hardware or equipment from employees who resign? Items such as laptops, keycards, electronic badges and company-issued phones all tie into the IT system and need to be accounted for during offboarding.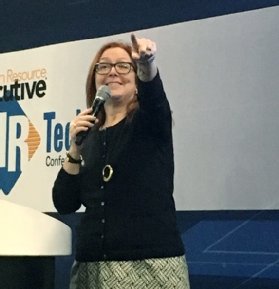 She heard of one company that hired a third-party vendor to conduct exit interviews by phone after an employee's last day. To nudge ex-workers to take the call, the employer let them keep their company-issued smartphones for 30 days following their departure. The usefulness of the data collected outweighed the cost of keeping the phone plans for an extra month, she said.
A final example of exit interview best practices is knowing that, in all cases, when someone leaves a company either voluntarily or involuntarily, you should wish them well, Lauby said. Doing so allows a person to depart with dignity and may lead to favorable talent referrals from the ex-employee.